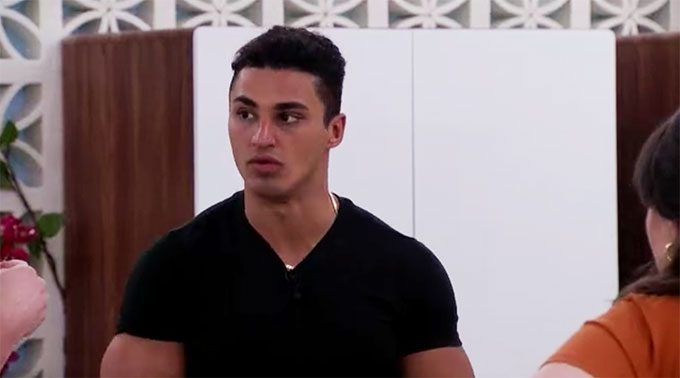 It's officially Week 5 in the Big Brother 24 house. There's a new Head of Household and a new target and backdoor plan brewing. Read on to find out who has the power this week, and what late night conversations indicated would be going down at Friday's nomination ceremony.
If you've got the Live Feeds (Free Trial) then you can watch all of these moments with the Flashback feature to go back and watch those important conversations or funny scenes you may have missed.
Big Brother 24 Live Feed Highlights – Thursday, August 4, 2022:
8:58 PM BBT – Feeds return. Michael is wearing the HOH necklace.

9:03 PM BBT – Michael and Brittany celebrating his HOH win. He says if this is the last week before jury then they might have at the very least made jury.

9:05 PM BBT – Michael says his thoughts are to backdoor Daniel. He says he wants to see if Monte and Joseph are OK going up as pawns. He says they could beat Daniel in veto. He says the other alternative is Turner and Jasmine. Michael says and if things go wrong and nominations don't change, then Terrance can go. He says he doesn't like that, but Terrance wouldn't really be there for them in the long run.

9:06 PM BBT – Michael says he is not putting Taylor up for a fourth time.

9:07 PM BBT – Michael says if he only puts guys up this week, that will be good for them with the girls. Brittany says this week they can score points with a lot of people.

9:10 PM BBT – Michael says Daniel lost the HOH competition by four seconds to someone whose name he was just throwing around.

9:12 PM BBT – Michael tells Taylor he doesn't want to put her up a fourth time.

9:28 PM BBT – Kyle wonders if Michael will try to backdoor Daniel. Monte says if he needs to put his group on the block as pawns, that's fine. They will just have to figure out how to talk Terrance off the ledge.

9:36 PM BBT – Kyle asks Michael how he's feeling. Michael says he definitely wants to talk to Daniel to see where his head is at. He says what happened today is a little concerning, but he doesn't want to cut off any potential options. Michael says he would also want to ask Monte and Joseph how they feel about going up initially.

9:37 PM BBT – Kyle tells Michael that he is cool with whatever. Michael says no matter what he wouldn't put Kyle and Daniel up initially. Kyle says that now Daniel is on an island and alone. He wonders if people will view it as Daniel is no longer a threat, so maybe they will want to take Kyle out instead. Kyle doesn't seem to really want to go up.

10:04 PM BBT – Turner tells Michael he's OK with going up if he needs to. He says or they could do Taylor again. Michael says he really doesn't want to put Taylor up. Turner says him and Jasmine might be the only good option. Michael says they will hash it out tonight.

10:11 PM BBT – Monte asks Michael what he is most excited about winning HOH. He says getting pictures.

10:30 PM BBT – Indy cam talks about the crazy night. She says Taylor joined them and Daniel was screaming at Monte. She thinks Taylor is no longer the target (which could have sent Indy to the Block) and thinks Daniel will probably be the target now.

11:00 PM BBT – Michael discusses with Monte if they should put Daniel on HNs this week so he's cornered upstairs away from everyone.

11:30 PM BBT – HGs discover there are no HNs this week.

11:25 PM BBT – Joseph tells Alyssa how Nicole confessed to being a former cop and then started crying about it even though he didn't care.

11:40 PM BBT – Daniel tells Terrance he doesn't want to spend more than fifteen minutes campaigning to Michael in the morning. Terrance encourages him to get back out there and mingle.

11:45 PM BBT – Joseph says he'll volunteer next week to be a HN and thinks Taylor should get a pass due to her repeat noms.

12:30 AM BBT – Indy tells Joseph she didn't want Taylor to join their pair.

12:35 AM BBT – Taylor and Joseph talking game. She wants to make sure Daniel gets BD'd this week. Joseph mentions Indy seems clueless.

1:05 AM BBT – Alyssa says she'd rather keep Turner over Jasmine.

1:10 AM BBT – Kyle thinks they could keep Daniel now that he's isolated and has no support. He tells Alyssa HGs just want him out because he was emotional today but if they stop and consider the numbers they may feel differently.

1:15 AM BBT – Jasmine is walking the house. There is half a cookie in her muffin bag and she doesn't know who put it there.

1:30 AM BBT – Indy worries to Joseph and Monte that she could go if she gets nominated this week. They tell her it'd be Alyssa before her.

1:50 AM BBT – Monte and Joseph discuss they can let Kyle, Brittany, and Taylor take some shots for the team now. Joseph worries that group has their own sub-alliance and may target them at the end.

2:10 AM BBT – Time for Michael's HOH room. HGs head upstairs.

3:05 AM BBT – Jasmine is getting her meeting with Michael. She says she's glad Nicole is gone. Jasmine says she would never put him on the Block. He asks if she could be a pawn for them to get out Daniel. Jasmine says she'd need to discuss that with Turner.

3:40 AM BBT – Kyle meets with Michael. Kyle is planting seeds that it may be time to look beyond the Leftovers. He says the alliance started to combat Daniel and Nicole but now they're going. Kyle identifies two groups from those who remain. Group 1) Terrance, Joseph, Indy, Taylor, Monte, and Jasmine. Group 2) Kyle, Michael, Brittany, Turner, and Alyssa. Kyle suggests maybe they could add Daniel to their numbers and instead get rid of Indy, Terrance, or Jasmine.

3:45 AM BBT – Leftovers gather and reaffirm their goal to BD Daniel. Turner says he'll go up as a pawn but Michael points out Jasmine may keep Turner from being able to play for Veto and he wouldn't be able to help secure it.

3:55 AM BBT – Alyssa talks with Indy and Jasmine how Daniel screamed at her to get away and called her a liar who was playing for others.

4:05 AM BBT – Monte worries about other influences breaking up their alliance and wants the group to stay strong.

4:30 AM BBT – Kyle and Alyssa head to bed together.
Well there goes Kyle messing things up for the Leftovers as soon as he gets his eyes stuck on Alyssa and loses track of the game. Kyle's suggestion to split up the alliance and form new groups appears to follow questionable criteria. Michael will still be in charge of the decision this week on noms and renoms, so we'll see what he decides and if he keeps the target on Daniel.
You can watch all of these Big Brother events using the archives Flashback, the DVR-like feature of this year's Live Feeds which means it's always live, even when you missed it! Sign-up now to get the free trial to watch it all live & uncensored.


Gallery: Live Feeds Highlights
Download our Big Brother App, join us on Facebook & Twitter, and get our Email Updates for more!