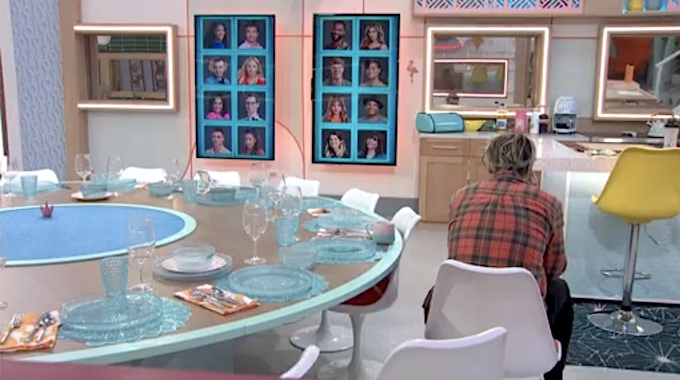 Daniel has been scrambling inside the Big Brother house trying to figure out what he should do at this week's Nomination Ceremony. He had a lot of conversations throughout the day yesterday with the other BB24 houseguests, but do we know who will be on the block in week 1 of Big Brother 24? Read on to find out!
The first conversation Daniel had yesterday was with Ameerah and he asked her if she had any advice on how to handle this week. She told him that she thinks that the focus should be on two strong players or a strong player and a pawn, leaving room for another strong player to go up.
Daniel made a F2 with Nicole and during their conversation, she told him that she would support his decision to go after a strong player if that's what he felt was best this week.
Last night after he finished talking to everyone who wanted to talk, Daniel did some camtalking and reflected on his conversations with the others. He's really excited about his relationship with Nicole and Paloma and thinks that they both have his back. He ran through all the options inside the house. He mentions that he thinks that Jasmine is so genuine that he thinks it could be fake, Kyle hasn't talked to him at all, he says he wants to put Monte up, but he's afraid that Monte will come after him if he stays.
Pooch and Turner came up to talk to Daniel and they compared notes about their conversations with the others. After their conversation, he says that he thinks that they are legit which knocks more people off his list.
Before heading to bed, Daniel mentioned that Terrance and Michael would be the easy route this week, but will this be the direction he goes in? After mentioning this option, he said that he really liked Terrance, but added that he likes everyone.
If you were Daniel, who would you put on the block this week? Stay tuned for spoilers later to find out who will be nominated on Big Brother!
Download our Big Brother App, join us on Facebook & Twitter, and get our Email Updates for more!