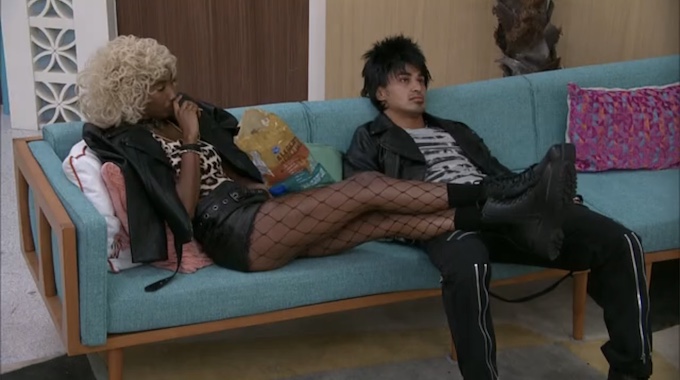 The Big Brother 24 houseguests have been speculating for a while that a prizes and punishments Veto Competition was on the way and this week they got their wish! This week's Power of Veto Competition on Big Brother will not only give the houseguests a chance to win the Golden Power of Veto but also other prizes and some hilarious punishments. Read on to find out the details of all the punishments going on inside the BB24 house right here!
The first punishment that was introduced was Terrance's punishment. His punishment will last all week and it involves him covering himself in temporary tattoos. Terrance will get a bag of tattoos in the Storage Room at random intervals to apply to specific parts of his body. If you check out the gallery below, you will see not only the size of the bag he gets but also some of the placements!
The second punishment that was introduced to the house was Indy's punkitard! This punishment will also last the whole week and it's your pretty standard unitard punishment. Indy will be called on to perform in the living room at random times and the houseguests will have to cheer for her as she holds her concert in the BB living room! She was worried that she wouldn't be able to go swimming in this costume, but as usual, they have a special swimsuit for her to use. You can see pictures of that below!
Finally, we have Taylor's punishment, if you want to call it that. Taylor is chained to Joseph for 48 hours while they are dressed as Sid and Nancy! Since Taylor is the HOH, they also had to sleep in the HOH bed together. Joseph has to speak in a British accent, which very regularly comes out as an Australian accent instead, and Taylor has to talk with a New York accent as often as possible. They were told specifically that they should use these accents when talking game and while whispering. It is unclear how Joseph got dragged into this punishment since he didn't compete in the competition, but I'm sure we will get more information about that during tomorrow night's episode!
Now that you have seen them all, tell us, which of these punishments is your favorite?
Gallery: Live Feeds – Punishment Costumes
Download our Big Brother App, join us on Facebook & Twitter, and get our Email Updates for more!