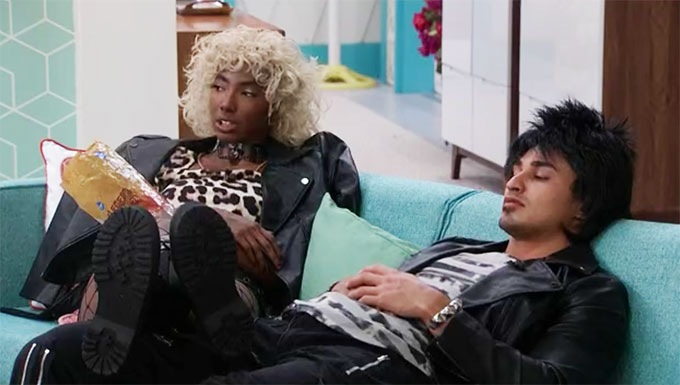 It was a weird evening in the Big Brother 24 house. And I'm not only talking about when Taylor and Joseph came out of the diary room dressed as a late 1970s murder victim and the murder suspect.
It had more to do with how Kyle, Brittany and Michael seem hyper focused on breaking up their alliance early.  Oh, there was also that moment when Kyle and Alyssa broke up. Then kissed. And then became official boyfriend and girlfriend. So yeah, he's never going to vote her out now. Read on to get all the details on the latest punishment costume and the cracks in The Leftovers alliance.
If you've got the Live Feeds (Free Trial) then you can watch all of these moments with the Flashback feature to go back and watch those important conversations or funny scenes you may have missed.
Big Brother 24 Live Feed Highlights – Monday, August 15, 2022:
3:45 PM BBT – Kyle tells Taylor that he feels sorry about the day before and that he wants her to know he's' totally open to all possibilities, but based on the conversations he had, it seemed one way to him and maybe another to her. Kyle says when they met as a group, no one was sharing what they told him privately. He says that Tuner, Michael and Brittany were silent but they all told him Alyssa should stay. He didn't understand why they weren't saying that to the whole group.

3:47 PM BBT – Taylor says she can maybe see herself being quiet too. She says she doesn't want him to feel like this was a decision that no no one wanted to include him in.

3:50 PM BBT – Kyle says he just doesn't want it to be viewed that h'es the one trying to save Alyssa. He says at the end of the day, she's got to go and he's fine with that.

4:05 PM BBT – Indy asks Monte how he's going to vote. He tells her that he doesn't want to be on the wrong side of the vote and he hasn't talked to anyone about how they are thinking about voting. Monte says not a lot of people talk game to him these days. He says there are things happening that he's not a part of.

4:15 PM BBT – Taylor tells Indy she's got her back. Indy thanks her. She says if Michael and Brittany promise her their votes, then she thinks she will be OK. Taylor says good, and asks that they just have fun this week and tells Indy that she doesn't need to freak out.

5:00 PM BBT – Terrance talks to Jasmine about the vote. He says he knows it's going to be a hard decision for a lot of people to choose between himself and Indy. Jasmine says she doesn't know what to do yet.

5:05 PM BBT – Michael and Turner say they told Indy they want her to stay, but didn't say they were voting for her to stay.

5:20 PM BBT – Alyssa and Kyle are talking about sending time apart. She says she feels like he's breaking up with her. Kyle tells her he's trying to balance the game and the personal side of things. He says he wants to spend every minute with her, but what they've been doing is probably not best for their games. He says they're going to look at them as a duo and target them.

5:23 PM BBT – Alyssa tells Kyle that he's being hot and cold, and she's fine with whatever he wants, but asks him to just be consistent. She says it's a lot of heart to handle, otherwise.

5:30 PM BBT – Kyle tells Alyssa that he doesn't know what to do and says he's not good at these situations. She tells him that he's 29 years old and he needs to figure it out.

5:38 PM BBT – Now Kyle and Alyssa are kissing. Kyle tells Alyssa that if he gets voted out next week he won't date anyone and he will wait for her. He says he doesn't know what they are at the moment, but she's as close to a girlfriend as he can think. Alyssa says she doesn't want to be "close to a girlfriend." He asks if she wants to be his girlfriend then. She says yes. He asks if she will be his girlfriend. She says yes. The makeout session gets heated and feeds cut away from them.

5:45 PM BBT – Alyssa: "I am in a way better mood now." Kyle says he feels worse for only lasting 10 seconds…

5:53 PM BBT – Terrance has to put on more tattoos for his punishment.

6:30 PM BBT – Feeds have been down for an extended period.

7:15 PM BBT – Taylor and Joseph got their punishment. Their costumes are the likeness of Sid and Nancy (Sid Vicious of the "Sex Pistols" and his girlfriend Nancy Spungen — who he was charged with murdering four months before his own death) and will be tethered together for 48 hours.

7:55 PM BBT – Michael tells Kyle that if things flip in their alliance before they get to seven, Joseph will go to Alyssa and tell her that Kyle told them about the Old School alliance. Kyle says that's his worry. Kyle says Joseph is is their biggest threat in the game right now.

7:56 PM BBT – Kyle says Turner plans to wait until they get to seven to make a move. He says Turner's only plan is to ride it out with the alliance.

7:58 PM BBT – Brittany thinks Turner will realize that he's going to be fourth in that group of Monte, Joseph and Taylor. Brittany says Turner already thinks Monte and Joseph could have a Final 2. Michael says they definitely have a final 2 deal.

8:01 PM BBT – Kyle asks if next week there is a way to take a shot should they do it or asks if it's too early. Michael says if they strike first, then they automatically are up a number (in Alyssa) and says that could force Turner to choose a side and he will probably go with who is in power at that moment. Michael says the scary thing, though, is leaving Jasmine in the game. He says if they don't get her out next or soon, who knows how far she could go.

8:05 PM BBT – Michael says to Brittany that if Jospeh goes home after this week and they pull in Jasmine and Terrance, it would be Monte, Taylor, Jasmine, Terrance vs. Michael, Brittany, Turner, Alyssa and Kyle. Brittany says they can't have that and says it doesn't look good.

8:50 PM BBT – It's dinner time. Joseph reminds Taylor that they have to speak with accents during their punishment.

9:50 PM BBT – Alyssa tells Jasmine she really likes Kyle, maybe more. Jasmine tells her to get her head in the game and she can do things with Kyle after the season. Alyssa wants the three of them to get to the end together.

9:55 PM BBT – Joseph and Taylor trying to figure out how they can get showers (separately) while tethered to the other.

10:05 PM BBT – Taylor asks Joseph what he thinks about her HOH week. He says it was a success for the LOs so that should be good. They think it may have gone even worse with Kyle if they had pushed him harder to use the Veto.

10:30 PM BBT – Turner is taking a little time alone and camtalks saying it's tough always being around everyone. He wonders if Pooch is watching.

10:55 PM BBT – HGs are gathered in the living room and just hanging out chatting.

11:00 PM BBT – Kyle says Jasmine might not like Taylor because she's an actual pageant queen. Turner agrees. Turner thinks Jasmine's birthday will be unpleasant. Kyle notes they'll at least get alcohol.

11:05 PM BBT – Kyle didn't know Taylor was going to yell at him during the Veto meeting. He thinks Taylor is just trying for the big TV moment.

11:10 PM BBT – Kyle meets with Michael and tells him he felt out Turner about splitting up their alliance but Turner thinks they should stick together until the 7 so he doesn't want to push it.

11:30 PM BBT – Terrance is getting more tattoos with Brittany's help. He's up to 59 so far, he says.

11:50 PM BBT – Turner wonders if he and Indy were cast together for the hippy love aspect and were either going to get along great or clash.

12:05 AM BBT – Indy talks with Michael and Brittany that she'll campaign on Wednesday. She's feeling safe now though because she has them plus Alyssa, Jasmine, and Joseph for five votes.

12:15 AM BBT – Indy thinks this next eviction will be a DE so the first Juror doesn't have to be alone for a week.

1:20 AM BBT – Taylor says she may hide in the HOH room tomorrow to avoid Jasmine's birthday. She tells Kyle that Jasmine wanted HGs to make her a bday card.

2:00 AM BBT – Terrance gets a wakeup call to go add another tattoo.

2:20 AM BBT – LOs hanging out in HOH room and chatting.

2:55 AM BBT – More tattoos for Terrance. Upstairs the LOs discuss Jasmine. Taylor says Jasmine is very selfish.

3:30 AM BBT – LOs finally call it a night and head downstairs to start getting ready for bed.
No big shifts in the plan on Monday as the Leftovers are set on voting out Indy and she's going to be unhappily surprised with this one as she's counted the votes and feels confident. But she shouldn't. Watch for more talks as Kyle seems ready to ditch the LOs and hang onto Alyssa even more.
You can watch all of these Big Brother events using the archives Flashback, the DVR-like feature of this year's Live Feeds which means it's always live, even when you missed it! Sign-up now to get the free trial to watch it all live & uncensored.


Gallery: Live Feeds Highlights
Download our Big Brother App, join us on Facebook & Twitter, and get our Email Updates for more!