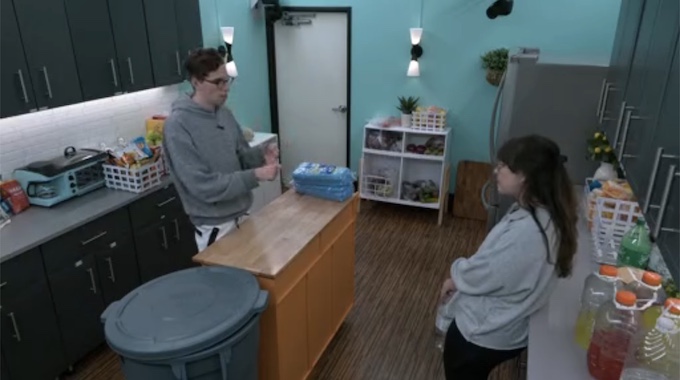 It is Power of Veto Day inside the Big Brother 24 house! There have been some wild scenarios thrown around in regards to what they should do depending on who wins Veto for Week 6 of Big Brother. Read on to find out what the newest plans are and how they could play out if the BB24 houseguests aren't careful.
As we know, Taylor is Head of Household this week and she has nominated Indy and Terrance for eviction. She has everyone outside of the Leftover alliance convinced that her target is Monte. Her ideal scenario would be for Indy to be taken down with the Veto and Monte would go up in her place. Leaving Terrance and Monte on the block, eviction night. However, there is a group of Leftovers who would rather see Terrance stay this week so Joseph has concocted a ridiculous plan.
Joseph has offered himself as a pawn to sit next to Terrance in the event that Indy is taken off the block instead of putting Monte up. The biggest problem with this plan is that on the other side of the house, they think that Joseph and Taylor are in a showmance. Her putting Joseph on the block doesn't make any sense and it would also give away the plan to evict Terrance.
Joseph also thinks that putting Monte on the block will scare him. You read that right. Monte has been in the HOH room during discussions of him being a possibly renom option in order to play off the story that Monte is the target. He knows that he has the support of the Leftovers, but Joseph is convinced that Monte is worried because of how bad the other side of the house wants him out.
So, who will be more likely to carry out Taylor's plan to take Indy down? Brittany, Michael, Alyssa, Jasmine, and obviously Indy. Terrance would take himself down while Monte, and Turner would likely take him down also. Kyle is a wildcard since he is in the Leftovers, but also part of the Five Swatters with Indy, Alyssa, Joseph, and Jasmine so winning the Veto would show his cards. Joseph voiced that he plans to throw the veto to keep himself a renom option for Taylor to fall back on. Finally, Taylor, who was considering Joseph's offer, also knows that if she wins the Veto, she would have to draw a line.
Update: Players have been picked! Since we're back to the Besties twist having ended it's the regular way of picking each of the extra three players individually. The players selected to join the HOH and Noms are Alyssa (HG Choice by Taylor), Jasmine, and Kyle.
So Joseph can't win his way to safety with this one and upend what could be a bad-choice plan after all. Hmm. And Joseph and Monte are discussing that since Taylor picked Alyssa they think Taylor must want Indy down with a Terrance + Joseph Block instead. Meanwhile Kyle says he wants to win and keep Noms the same to target Indy.
Who do you want to see win the Veto Competition today? Do you think that it's smart for Taylor's game to use Joseph as a pawn? It's going to be an interesting turn of events either way so be on the lookout for spoilers and plan shifts throughout the weekend!
Download our Big Brother App, join us on Facebook & Twitter, and get our Email Updates for more!