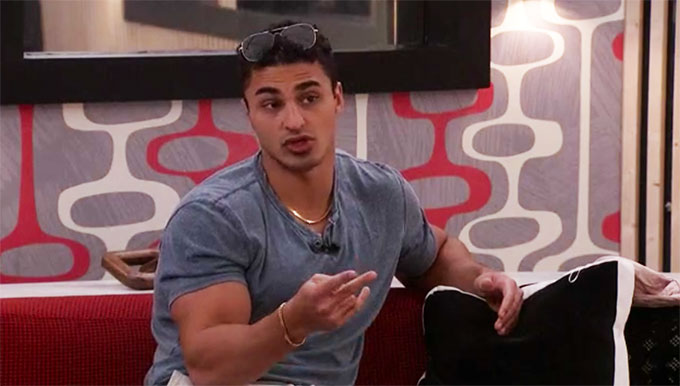 It's starting to sounds like the Big Brother 24 houseguests need to get more sleep because there were some really bad ideas floating around the house Friday night. After the nomination ceremony, Joseph and Taylor started focusing on what do to with a veto that hasn't even been played yet, and for some reason Joseph spent most of the evening trying to convince Taylor to put himself on the block. Read on to find out his reasoning and if Taylor came to an actual conclusion on what should happen if the veto is used this week.
If you've got the Live Feeds (Free Trial) then you can watch all of these moments with the Flashback feature to go back and watch those important conversations or funny scenes you may have missed.
Big Brother 24 Live Feed Highlights – Friday, August 12, 2022:
4:30 PM BBT – Feeds return from the Nomination Ceremony. Taylor nominated Indy and Terrance.

4:38 PM BBT – Indy tells Taylor there were so many situations in the game where Indy had her back without her even knowing. Indy says she will see when she watches it back. Indy says she is the one that got some of the heat off from Taylor with Daniel and Nicole by telling them that Taylor's target was Monte.

4:44 PM BBT -Taylor tells Indy she is safe and she won't let a girl go to the jury house first while she's HOH.

5:02 PM BBT – Taylor tells Jasmine that she said coming into the game that she will not put up another black woman. Jasmine claims she felt the same way but had to put up Taylor the week she was HOH to throw off people after the Cookout last season. Jasmine talks about how great it would be for two black women to make it to the end.

5:23 PM BBT – Terrance tells Joseph he thinks Taylor's actual target this week is Monte.

5:26 PM BBT – Joseph tells Taylor that Terrance really wants the veto used just to make Taylor show her cards. Joseph says it's best for them if the veto isn't used this week.

5:28 PM BBT – Taylor says if she did have to put Monte up they have the votes to keep him. Joseph says yes, but also offers himself to go up as a post-veto pawn. Taylor says it would have to be Monte because she has to show loyalty to Joseph. But he says Monte won't want to be on the block. Joseph says he's just trying to keep her game solid long-term.

5:30 PM BBT – Joseph says putting Monte up will scare him since the others really want him gone. Joseph says you can't do Kyle or Turner. And Brittany or Michael doesn't make sense. So Joseph says it would need to be himself or Monte. Joseph says Monte will probably take it personally, though.

5:32 PM BBT – Joseph says he won't win veto so that he can leave himself as an option for Taylor to name as a replacement nominee.

5:45 PM BBT – Taylor tells Joseph so she has to win veto and take Indy down. Joseph says she has to take Indy down and put him up.

5:51 PM BBT – Joseph says The Leftovers will want Indy to go so they need him and Terrance up so that Terrance can go. Joseph says that's what's best for Taylor's game long term.

5:56 PM BBT – Michael has joined this Taylor and Joseph conversation. Joseph tells Michael his pitch to go up as a pawn. Michael says if it's Joseph against Taylor, he assumes the others wold want to keep Joseph as well so it would probably be a unanimous vote against Terrance. Joseph says that would help the Leftovers stay under the radar another week.

6:02 PM BBT – Michael says hopefully they don't find themselves needing to use this plan. Taylor says she would definitely prefer for Joseph not to go up.

6:08 PM BBT – Joseph tells Michael and Taylor that he trusts them to keep him if he goes up. Michael says he appreciates Joseph's trust. He says he thinks that's why that alliance is working because they are all team players.

6:13 PM BBT – Taylor says they just need to keep noms the same. Joseph says noms can stay the same, but if they don't she has her out.

7:32 PM BBT – Monte that if noms stay the same Indy has to go. They say she can win an HOH whereas Terrance likely won't. Taylor says she would prefer Terrance be her target. Turner asks if she would consider alternate options. Taylor says there's a point where she would don't care what happens.

7:38 PM BBT – Joseph tells Taylor that Indy going home against Terrance wouldn't be good for her game, but Indy going home against Joseph wouldn't look like Taylor's fault.

7:40 PM BBT – So now the plan changes to someone having to win veto and take Terrance down. Joseph says yeah or let Terrance win so he can take himself down.

7:43 PM BBT – Joseph tells Taylor that the alliance getting to the end is his goal.

8:42 PM BBT – Everyone is hanging around in the living room.

8:47 PM BBT – Joseph tells Jasmine and Indy that he thinks Taylor wants the veto used so she can backdoor someone. He says he thinks it will be Monte

8:58 PM BBT – Indy tells Joseph she feels safe. Joseph tells her that he doesn't think she's the target. He says Taylor wants a physical threat out, he thinks.

9:00 PM BBT – Joseph tells Jasmine and Indy again that it looks like Taylor wants Monte out.

9:15 PM BBT – An intense game of Chinese Checkers is going down.

9:20 PM BBT – Jasmine and Indy discuss they don't want Terrance going and really want Monte out instead. Indy says they have the numbers with five votes: the two of them, Alyssa, Joseph, and Kyle.

9:40 PM BBT – Michael and Brittany discuss Joseph possibly going up as a renom as the pawn. They ponder the option to take him out but worry if it would hurt Taylor.

9:50 PM BBT – Brittany and Michael don't want to mess things up with Taylor by sending out Joseph, but they'd be tempted. They also don't understand why Taylor would risk Joseph going instead of renom'ing Jasmine. Brittany wants to start planting seeds with Monte and Turner about Joseph but Michael thinks that could be risky.

10:05 PM BBT – Michael and Brittany agree they are more concerned with Monte and Turner as competitive threats down the road than they are Joseph.

10:10 PM BBT – Terrance asked Taylor what she plans to with the Veto if she wins it. Taylor says Indy already asked if she'd save her.

10:10 PM BBT – Brittany says she doesn't understand why Taylor won't consider certain HGs outside their alliance (the other women). They worry she's more concerned with making flashy moves for TV.

10:15 PM BBT – Both Michael and Brittany want to find Indy and tell her they'd save her with the Veto so then they can say that they already promised her and now they have to do it.

10:20 PM BBT – Brittany talks with Taylor and lines up that she'll use the Veto on Indy if she wins it. Taylor is good with that.

10:25 PM BBT – Taylor says she'd be good with seeing Indy go this week instead of Terrance. She would like to see Indy and Joseph on the Block come Thursday.

10:30 PM BBT – Taylor tells Michael & Brittany that she hasn't been good at HOH because she promises everyone safety and doesn't try to get information from them.

10:35 PM BBT – Brittany brings up the option of making Alyssa the target this week.

10:40 PM BBT – HOH group hopes they'll soon get a DE so they can jump ahead on these eliminations.

10:50 PM BBT – Turner joins the HOH room discussion. They talk about the Veto comp and wonder if it could be the prizes & punishments comp.

11:05 PM BBT – Kyle and Alyssa discuss wishing they had the HOH room to themselves. Kyle says he tried to win the Wall for that. Kyle worries his family is watching.

11:25 PM BBT – HOH group talks about Jury house. They think Indy might like it.

11:50 PM BBT – Monte joined the HOH room. Taylor says she really wants the Veto used and already told Terrance she has promised Indy she'd be saved.

12:10 AM BBT – HOH group expects next week will be a Double Eviction.

12:20 AM BBT – Taylor is trying to decide in case there's a HG Choice chip pulled for her. Turner says she can pick him.

12:35 AM BBT – HGs take turn doing a good night message to family and friends back home.

12:55 AM BBT – HGs heading to bed.

1:00 AM BBT – Taylor is alone upstairs and mentions she'd rather not win the Veto.
It does seem like Taylor's concern is valid that she's promising a lot of safety around the house and will have to disappoint someone which is tough as the Jury kicks off this week. She's also considering putting Joseph at risk, but would enough LOs really join Brittany & Michael to make that move? It might not be the slam dunk they expect.
You can watch all of these Big Brother events using the archives Flashback, the DVR-like feature of this year's Live Feeds which means it's always live, even when you missed it! Sign-up now to get the free trial to watch it all live & uncensored.


Gallery: Live Feeds Highlights
Download our Big Brother App, join us on Facebook & Twitter, and get our Email Updates for more!