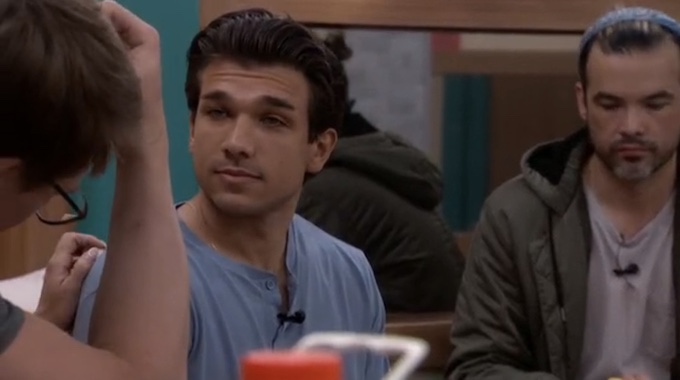 Update: Veto spoilers are here! Find out who won the Power of Veto in Week 2…
It is Power of Veto Day inside the Big Brother 24 house and the Head of Household is hoping that things go according to their plan. The Nomination Ceremony has taken place inside the Big Brother house and a target has been named. Read on to find out what the current plan is with this week's Veto Competition and what the backup plan is just in case things go wrong.
If you have been keeping up with the Big Brother spoilers for week 2, you know that Jasmine won this week's HOH competition and named Taylor and Pooch as her nominees for eviction. As of right now, Pooch is the target and everyone is hoping that Taylor wins the Veto on her own. The only other houseguests that might use the Veto on Taylor would be Michael and maybe Indy.
Jasmine thinks that if Michael wins, he could use it on Taylor because he doesn't work with Pooch and it wouldn't look suspicious. Indy told Jasmine and Alyssa on Friday that if they needed someone else to play and win for Taylor that she would be willing to go up as a HGs Choice option. The only way this plan might not work is if Pooch convinces Michael that Brittany is the renom plan, which Jasmine has implied to Pooch, Michael might not be willing to use it.
On the other side of this, Pooch has a lot more allies willing to help him get off the block and stay in the house. If Pooch, Kyle, Monte, Joseph, or Turner get picked and win, then Pooch will come off the block and Jasmine's plan will have to change. If this scenario plays out, Taylor would then become the target for this week's eviction.
So who will be playing in this week's Power of Veto and what are the chances of Pooch staying on the block? Let's find out!
Power of Veto Players for Week 2 are:
Jasmine (HOH)
Taylor and Pooch (Nominees)
Ameerah, Terrance, and Michael
While the original plan was for them to use the Veto on Taylor, it sounds like they are playing to keep the nominations the same. Since everyone except for Joseph, Turner, and Monte is on board with Pooch leaving, Jasmine isn't worried about whether people would be tempted to vote Taylor out.
Make sure you come back later for our Power of Veto spoilers and find out if Pooch wins the Veto to take himself off or if noms will stay the same and Pooch will be voted out on Thursday!
Download our Big Brother App, join us on Facebook & Twitter, and get our Email Updates for more!