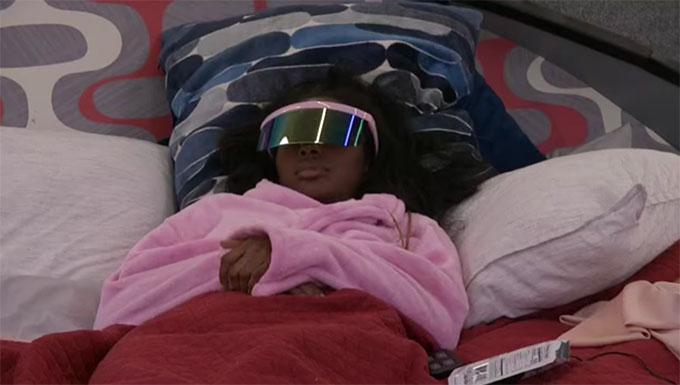 It was an emotional afternoon and evening for the Big Brother 24 Final 4 as they got messages from home. Brittany also decided to come clean to everyone about her real job, but the person holding the sole vote to evict this week thinks her honesty might be a little too late.
If you've got the Live Feeds (Free Trial) then you can watch all of these moments with the Flashback feature to go back and watch those important conversations or funny scenes you may have missed.
Big Brother 24 Live Feed Highlights – Friday, September 16, 2022:
3:36 PM BBT – Feeds are down.

4:04 PM BBT – Feeds return. The Final Four got video messages from. home. They're all excited and emotional.

4:06 PM BBT – Turner says if they are crying from a video, imagine how it will be seeing their people in person. He says they are going to me a mess.

4:35 PM BBT – Taylor tells Brittany she has got to get to the end and has to get Brittany to the end as well. She says she's working on it. Brittany asks Taylor what her gut says. Taylor says that if she cries and begs to keep Brittany that he will.

4:51 PM BBT – Taylor tells Monte that she asked Turner if he has a Final 2 with Monte. She says he said no, and Taylor asks if he's lying. Monte says no and he already confirmed that with her. He says that Turner has hinted about it, but nothing was ever offered up. Monte tells her that he told her where he stands. He asks her if they have a Final 2? He says he's told her that he is picking her at the end. She says and likewise. But says if they say it out loud that they have a Final 2, they'll have to lie if asked. She says that way they don't have to lie to Turner. Taylor jokingly says they shouldn't name their alliance until the last day.

4:54 PM BBT – Taylor says she wishes she had won the veto so she could tell Turner and Brittany she would use it on whoever owns up to voting her out.

5:20 PM BBT – Monte and Brittany are thinking back on the season, and talking about how proud they are to have been a part of the season and how well The Leftovers did (before the split house twist).

5:32 PM BBT – Brittany asks Monte if Michael said anything about her on his way out. He says Michael just said that she was acting strange that week. He said there wasn't anything beyond that.

5:33 PM BBT – Brittany says she put a lot of trust in Michael, and she doesn't regret that, but for some reason after Michael left, she was still defending his game. She says that didn't even make any sense. Brittany tells Monte that the 6 AM conversation she had with Turner was something she and Michael planned. So she's confused why Michael used it against her. She says maybe he knew he was going to be in trouble, and wanted to shift the target to her.

5:35 PM BBT – Brittany tells Monte that she was still defending Michael, so a lot of what she said to him the week he was HOH after Michael left didn't make sense. She says she is sorry she wasn't as forthcoming as she should have been.

5:37 PM BBT – Brittany says while they're talking, she might as well own up to some stuff. She says everything about her isn't a lie, but she wasn't honest about her job. She says she has been dying to tell him about her job because they have more in common than he knew. She says that she's a certified clinical hypnotherapist. He says he didn't expect that.

6:00 PM BBT – Turner is playing pool by himself while Brittany and Monte continue their conversation.

6:13 PM BBT – Turner had been seemingly avoiding Brittany, but she stops by the pool table to talk to him. She lets Turner know about her secret.

6:33 PM BBT – Brittany shares her secret job with Taylor. Taylor is very excited to hear the secret. Brittany tells her don't get her hopes up because it's not that exciting. She asks Taylor to guess. Brittany says that Joseph had guessed it correctly. Taylor says she never heard Joseph's theory. Taylor tells her that she is a clinical hypnotherapist.

6:48 PM BBT – Taylor asks Brittany if she and Monte talked about the vote. She says not at all. But she wanted to make sure he knows that she is being totally honest now about everything.

6:49 PM BBT – Brittany says she feels like Monte's mind is made up. She says she's not done and has some solid, logical arguments.

6:50 PM BBT – Taylor asks Brittany how she knows Turner. Brittany says that's something she actually can't reveal. She says she never really knew him but knew of him. She says she'll tell her about it after the game.

6:51 PM BBT – Brittany says she wishes she had never known of Turner because then she might have trusted him less.

6:52 PM BBT – Brittany asks Taylor what she thinks the biggest thing that stands in her way with Monte. Taylor says just the trust issue and all those deals she was trying to make with people.

6:55 PM BBT – Brittany says it just doesn't make sense for Monte to save Brittany. Taylor says unless he thinks he can beat both of them. Brittany says she won't win those last comps, so he should want Brittany there over Turner.

6:56 PM BBT – Brittany thinks that Turner will win over Monte in the end.

7:01 PM BBT – Turner and Monte talk about what they would do with the lower prize money. Monte says he hasn't thought about it since it's not exactly life-changing.

8:10 PM BBT – The HGs are pretty quiet at the moment. Everyone is alone in a different spot around the house.

8:45 PM BBT – Brittany is alone in the hammock and says she plans to vote for Taylor at the F2. She regrets having to vote against her last round but says it was just strategic.

9:05 PM BBT – Monte and Taylor are cuddling in the HOH bed.

9:20 PM BBT – Monte and Taylor have fallen asleep in the HOH bed. Brittany is elsewhere counting something to herself.

9:45 PM BBT – BB asks "What is it about no napping, houseguests, that you don't understand?"

10:05 PM BBT – Monte and Taylor are cuddling upstairs when Brittany arrives. She's checking in after being bored. Brittany says it feels like the house is shutting down.

10:20 PM BBT – After Brittany left Monte rejoins Taylor on the bed only to have Turner come up and interrupt them again.

10:50 PM BBT – Turner has stayed upstairs and is lounging on the couch blissfully unaware that he's blocking the showmance.

11:30 PM BBT – Brittany joins the trio upstairs.

12:05 AM BBT – Taylor feels Joseph sold her out but understands it's just a game. Brittany wonders if Michael regrets doing the same to her.

12:20 AM BBT – Brittany heads downstairs for bed after giving Taylor a hug and thanking her for being a friend.

12:30 AM BBT – Turner wakes up and heads downstairs. He mills around for a bit then goes to bed.

1:10 AM BBT – Monte and Taylor are scanning the rooms on the monitor to find Turner and make sure he's in bed.

1:30 AM BBT – Monte goes downstairs to make sure "the kids" are asleep then comes back to confirm. They grab a drink from the fridge (which they say smells terrible now).

1:50 AM BBT – Taylor and Monte discussing HGs. They're surprised by what Kyle did and think Alyssa deserves better.

2:05 AM BBT – Taylor questions Monte if he's playing her and really with Turner. He assures her that's not the case.

2:15 AM BBT – Monte wonders if the Veto meeting is tomorrow and says he's not using the Veto anyway. (Veto meeting will be on the next live show.)

2:45 AM BBT – Monte prepares the shower for them. They both get in and the Feeds cut to another room.
Monte is set in his goal to keep Turner and Taylor seems just as resolved to break him of that idea, but it's unlikely to work. Brittany knows she's got a dead game walking here and should be counting down the days to her eviction on Thursday. Now it's just a question of if the other two figure out the showmance happening right in front of them.
You can watch all of these Big Brother events using the archives Flashback, the DVR-like feature of this year's Live Feeds which means it's always live, even when you missed it! Sign-up now to get the free trial to watch it all live & uncensored.


Gallery: Live Feeds Highlights
Download our Big Brother App, join us on Facebook and Twitter for more!