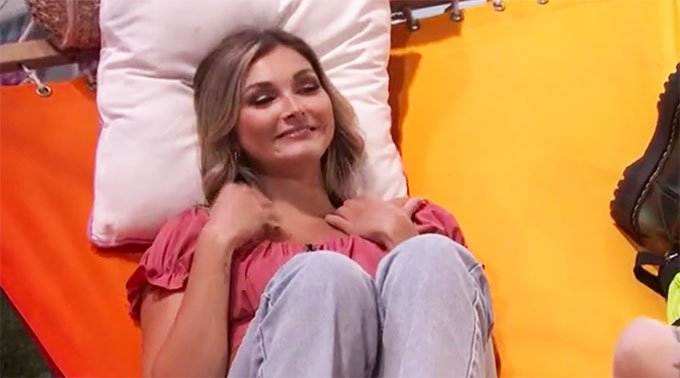 It was a pretty quiet evening in the Big Brother 24 house as Indy and Terrance both were feeling comfortable in how the votes will fall this week. Most of the game talk came from Kyle, who is sounding a bit like a broken record at this point talking to Turner, Michael or Brittany about his fears of Monte, Taylor and Joseph teaming up and turning on them.
If you've got the Live Feeds (Free Trial) then you can watch all of these moments with the Flashback feature to go back and watch those important conversations or funny scenes you may have missed.
Big Brother 24 Live Feed Highlights – Tuesday, August 16, 2022:
3:03 PM BBT – Joseph thinks Nicole might not be willing to let go what happened in the house. He said with how upset she got with Monte, he wonders if she'll hold onto the grudge. Joseph tells them about her telling Monte what she said about him in the DR. Jasmine and Indy are surprised people are trashing others in their DRs. Indy says she's too afraid their parents would be watching.

3:18 PM BBT – Brittany is leading a guided meditation session. She's focusing a lot on Alyssa and her back ache.

3:30 PM BBT – Monte is doing some cooking.

4:15 PM BBT – HGs are spread out inside and outside the house, nothing really going on.

5:20 PM BBT – Joseph tells Taylor that he wants to see her stay in the house as long as possible. He says the worst situation would be him vs her

5:22 PM BBT – Taylor and Joseph agree that they can't continue their fauxmance because of the way people feel about Kyle and Alyssa now. Joseph says they need to learn from Kyle and Alyssa's mistake.

5:31 PM BBT – Kyle tells Turner he is nervous with Monte, Taylor and Joseph being tight. Turner says he's less worried about Monte as Joseph. Kyle says Joseph will win the game if he's at the end. He says the other side of the house loves him. Turner says but a lot of people lose the game when people find out someone played both sides of the house.

5:33 PM BBT – Kyle says Jasmine goes, then Alyssa, then Terrance. And he asks then what? Turner says that's a good question. Kyle says Brittany is no threat. He says if one of The Pound wins HOH at the seven, it would probably be Michael and Taylor or Michael and Brittany, with Michael going.

5:34 PM BBT – Kyle wonders if The Pound is still good or if Monte, Joseph and Taylor are getting too close. Turner says he thinks The Pound is still solid, unless he's been foolish. He says he thinks The Pound can get to the Final 4.

5:35 PM BBT – Turner says it will be a living hell if Jasmine wins HOH next week. Turner says he thinks it'll be a double this week or next week. They agree it would be nice if they could get rid of Indy and Jasmine this week. Tuner says if the double isn't this week, it's definitely next week.

5:38 PM BBT – Kyle tells Turner he doesn't want to wait until all of a sudden someone like Monte, Joseph and Taylor team up and take a shot at them. Turner says he wonders if anyone has branched out of The Pound to secure a spot with other people. Turner says he honestly has not done that. He says he doesn't want to seem like he's jumping the gun by doing that already.

6:25 PM BBT – Most HGs are hanging out outside together, telling stories and chit-chatting.

7:25 PM BBT – Michael and Turner are playing pool really badly.

7:40 PM BBT – Kyle is recapping the past week to the cameras (all things Live Feeders already know, so there's really no point).

7:57 PM BBT – Kyle says he hopes that there's nothing that came up on his social media that has gotten him canceled. He says he tried to go through his social media before he came in the house, but says he hasn't deleted anything since 2012.

8:06 PM BBT – Terrance campaigning to Alyssa. She tells him she hopes that if she's on block that he will return the favor for her, so she's telling him she's voting for him to stay. Terrance tells her that he sees her winning HOH and making a good move.

8:07 PM BBT – Terrance tells Alyssa that he trusts her a lot. Alyssa says she loves Indy, but she thinks she can rely on Terrance more.

8:24 PM BBT – No one is talking game at the moment. Everyone is just chit-chatting about life and family.

8:50 PM BBT – Indy is working on the cake for Jasmine's birthday. She's also helping make a cardboard birthday card from a cereal box.

9:15 PM BBT – Michael tells Brittany he's not going to assume there's a Cookout 2.0 happening around them. Brittany thinks they could have the numbers if they aligned with Kyle, Alyssa, and Turner. Michael thinks if they have Kyle and Alyssa with them then those two will draw the heat away from him and Brittany. Brittany says they can wait and see what happens with the next HOH first. Brittany would also like to get Jasmine out and will go after her if she wins the next HOH.

10:15 PM BBT – HGs sitting for dinner.

11:00 PM BBT – Kyle and Alyssa hanging out and chatting. They talk about using a different voice when they go into the DR.

11:20 PM BBT – Alyssa knows that Turner told Kyle about them having sex. She's upset but Kyle is asking her not be upset because it could hurt their position in the game.

11:30 PM BBT – Indy speculates Taylor and Joseph may become a showmance after their 48 hours linked together.

11:50 PM BBT – HGs are counting down to Jasmine's birthday at midnight.

12:00 AM BBT – HGs gathering for the festivities. Jasmine gets her card and cake.

12:30 AM BBT – HGs have been sharing one thing they like about Jasmine. Time to play some games next.

12:50 AM BBT – Turner is visibly struggling to stay involved in the festivities.

1:30 AM BBT – Terrance is still getting more tattoos.

2:45 AM BBT – Kyle and Alyssa talking in the HN room. Just talking at the moment. They're debating who might target them. Kyle is sure Indy would put him on the Block. Kyle thinks they should trust Turner and Brittany.

2:50 AM BBT – Kyle tells Alyssa he would have used the Veto if he thought anyone else was going up but is sure it was going to be Alyssa.

2:55 AM BBT – Kyle tells Alyssa he likes her and likes having sex with her. He apologizes again for the ten-second sex. After Kyle leaves the room Alyssa camtalks that she may be falling in love and worries she's in trouble for that. She knows she messed up in the Veto comp by taking that prize and believes Kyle fixed it.

3:45 AM BBT – Kyle and Brittany talking in the bathroom. There are nail clippings on the cushions with animal print on them. They know they're Jasmine's clippings.

4:10 AM BBT – Kyle worries to Brittany that he can't trust Joseph. Brittany says she gets conflicting details from Joseph and Taylor.

4:25 AM BBT – LO discuss Indy going. They aren't sure if they should tell her or not. Joseph says they can use the GB messages and then eventually someone can talk to her in Jury.

4:35 AM BBT – Turner says he was told Jasmine and Alyssa are voting out Indy. Joseph heard the opposite. Kyle says Alyssa will vote out Indy, but maybe Jasmine won't.

4:40 AM BBT – Turner says their alliance must be obvious by now and if a LO wins HOH then two of the other side goes up it'll be really obvious.

5:00 AM BBT – HOH crew starts heading downstairs to get ready for bed.
No big shifts overnight though plenty of discussions about the game after the LOs. Michael, Brittany, and Kyle seem the most nervous about the next phase of the Leftovers. It'll all depend on what happens with this split-house twist and that leaves a LOT up in the air. HGs won't see that coming.
You can watch all of these Big Brother events using the archives Flashback, the DVR-like feature of this year's Live Feeds which means it's always live, even when you missed it! Sign-up now to get the free trial to watch it all live & uncensored.


Gallery: Live Feeds Highlights
Download our Big Brother App, join us on Facebook & Twitter, and get our Email Updates for more!