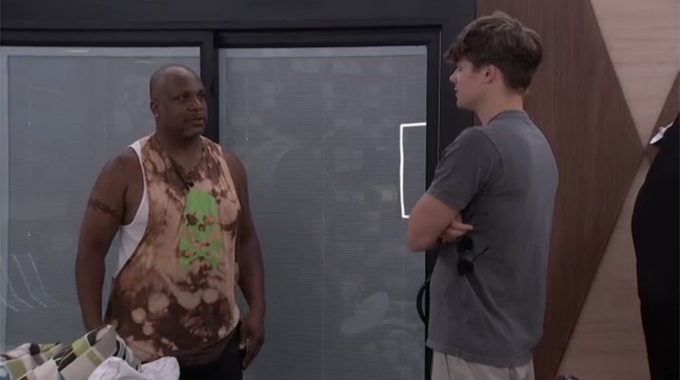 The Veto Ceremony came and went inside the Big Brother 24 house and this week's decision might put some strain on the Leftovers alliance. The Big Brother houseguests, both in and out of the alliance, had a lot to say about what took place at the Veto Ceremony. Read on to find on to get all caught up on what took place inside the BB24 house right here!
If you've got the Live Feeds (Free Trial) then you can watch all of these moments with the Flashback feature to go back and watch those important conversations or funny scenes you may have missed.
Big Brother 24 Live Feed Highlights – Monday, August 15, 2022:
9:15 AM BBT – HGs are waking up.

9:38 AM BBT – Kyle tells Indy that he is not going to be using the Veto today.

9:40 AM BBT – Terrance is doing his shoutouts to his family out in the backyard.

10:10 AM BBT – Indy tells Kyle that it's the game and she will love him no matter what. Indy asks if this is 100% because of Alyssa and he says yes, but won't go into further detail. Indy just wants their word that they will keep her.

10:20 AM BBT – Kyle tells Alyssa that Indy told him that she wouldn't go to the Jury house, she would leave and then expects him to use the Veto on her. He tells Alyssa that he told both of them that he wasn't going to use the Veto.

10:25 AM BBT – Kyle asks Alyssa if she told Turner, or anyone, about the HN room and she says no (she told Turner).

10:35 AM BBT – Terrance and Taylor are talking in the backyard about Kyle not using the Veto. Jasmine joins the conversation and asks how they are doing. Taylor says not great and if he (K) isn't trying to protect Alyssa, then it's someone else.

10:40 AM BBT – Jasmine is telling Taylor and Terrance about Indy's comment about not wanting to go to the Jury House. Taylor and Terrance are annoyed by that.

10:45 AM BBT – Alyssa tells Indy that if Kyle doesn't use the Veto she assumes that it's because he had a conversation with her last night. Jasmine walks in and says that Taylor told her that she asked Kyle to use it and he refused. Jasmine says that if that's the case, he is either protecting Monte or only looking out for her (A). Jasmine says that if Kyle doesn't use it he is going to show his hand, Taylor is pissed, and that's going to make them (K&A) a target.

10:45 AM BBT – Taylor is also talking to Monte while the other conversation is happening downstairs. They talk about how Kyle got super defensive when Alyssa was brought up and seems to be distancing himself from Monte because he was the only one who voiced it. Taylor says that Kyle doesn't realize that it's something the whole group wants.

10:50 AM BBT – Kyle is talking to Joseph trying to come up with a way to justify not using the Veto while also not making anyone mad. The producer comes over the intercom to tell everyone to report to the backyard and sit on the patio to get ready for the Veto Ceremony.

10:53 AM BBT – Feeds cut for Veto Ceremony.

11:55 AM BBT – Feeds return from Veto Ceremony. Kyle decided not to use the Veto leaving Indy and Terrance on the block.

11:55 AM BBT – Jasmine is still worried that Kyle is protecting Monte. Tells Joseph and Alyssa that she is worried that Kyle is going to come after them next. Jasmine says that she is worried that Taylor was lying to her earlier (about her wanting Kyle to use the Veto).

11:57 AM BBT – Taylor, Brittany, Michael and Terrance are talking in the HOH. Taylor says that she thinks that Indy is going to "Pooch" herself. Terrance says that he agrees expecially with the stress of her punishment and the sleep deprivation that comes with it.

12:00 PM BBT – Jasmine wonders to Joseph and Alyssa if Indy has the votes to stay this week. Jasmine says she is going to talk to Turner now and when she leaves Joseph says that he really thinks that Kyle did that to protect her (A).

12:08 PM BBT – Indy comes into the HOH where Taylor, Jasmine, Michael, and Brittany are sitting and chatting. She tells them that she isn't going to campaign and drive anyone crazy, but she wants to know if she can count on Brittany and Michael's vote, they say yes. She says if they change their mind, just to let her know so that she isn't blindsided.

12:15 PM BBT – Kyle tells Alyssa that he is worried that Jasmine will put him and Monte up if she won HOH because of this (not using the Veto). She doesn't think that Jasmine would do that. He asks how she feels about Joseph and she tells him that she likes him, but she would probably put him up as a pawn if she won HOH.

12:20 PM BBT – Kyle is giving Alyssa points to touch on in her conversation with Taylor and how she was surprised that he didn't use the Veto. He adds that she can't let Taylor know they talk game at all.

12:25 PM BBT – Terrance asks Kyle for his support this week and Kyle says that he wouldn't have kept the noms the same if he felt that Terrance was in trouble.

12:28 PM BBT – Taylor tells Jasmine and Brittany that she doesn't understand why Kyle didn't trust her not to go after Alyssa after everything she promised her this week. Jasmine says that she doesn't think they talk game, but Taylor told Jasmine that she told Kyle everything that she promised Alyssa this week. She adds that she picked Alyssa to play in the Veto. It doesn't make sense.

12:33 PM BBT – Alyssa came up to the HOH to talk to Taylor and explains to her that she really wants to earn Taylor's trust and she wasn't expecting Kyle to stick his neck out for her like that. She says that she thinks he thought that because she made a stupid move in the Veto that she (T) was going to come after her. Taylor says that she is just annoyed because she didn't get to make her move and she didn't mean to blow up on Kyle that way.

12:35 PM BBT – Taylor tells Alyssa that she understands that Kyle is annoyed with Indy and that Terrance was the only person who voted against him last week, so she gets it. She's just annoyed about what it means for her game.

12:50 PM BBT – Indy tells Michael that she has Jasmine, Alyssa, Joseph, and Michael. Michael says that Taylor said she would break a tie in her favor so that's all she needs. Indy says that she thinks that she has Brittany's vote too. Brittany walks in and Indy asks her to promise her that she will keep her. Brittany promises.

12:52 PM BBT – Jasmine and Indy are talking. Indy asks Jasmine just to let her know if she can help her out this week with her vote. Jasmine mentions how they were upstairs talking and Brittany mentions how Jasmine has a hard decision to make this week because she is close to Indy and Terrance. Jasmine says that she isn't close to Terrance and Brittany told her that Terrance thinks they are…

12:55 PM BBT – Indy mentions that Alyssa hasn't talked to her and Jasmine says that she thinks Alyssa is worried because she is tied to Kyle. She is probably worried that Indy is upset with her.

1:00 PM BBT – Kyle tells Indy that for someone who wanted to be here so bad, to hear that someone else is willing to go home…Indy says that she knows that's a lot to hear. She just thought that they were close enough to have those conversations. She is confused as to how Taylor found out and Kyle says that he told her. She asks him not to say anything when she talks like that. He says he won't.

1:05 PM BBT – Indy asks Kyle if she can count on his vote. He says he can't say 100% yet who he is voting for because he wants to talk to everyone, including Terrance.

1:10 PM BBT – Indy had gone upstairs to talk to Taylor about knowing that Kyle told her that she didn't want to be here. She left the HOH, went downstairs and cried to Kyle and Jasmine about how she wants to be here. She says that she is worried that what she said will be used against her.

1:13 PM BBT – Jasmine asks Kyle if he is working with Monte, but he denies that. She says that was the first thing that came to mind when she heard he wasn't going to use it even though Taylor wanted him to. He says that isn't the reason he made the decision.

1:18 PM BBT – Jasmine says that Taylor snapping at Kyle didn't seem genuine to her because she didn't even snap at Daniel for attacking her. Kyle mentions that he told Taylor that he wasn't going to use it and she wasn't blindsided like her reaction implied.

1:35 PM BBT – Taylor says that she doesn't believe that Kyle wasn't the one who told Alyssa that her not taking the Veto might have put a target on her. She also mentions that Kyle said Alyssa felt bad about the comment she made when Taylor jumped off the wall. Says the only reason she would feel bad about it was if Kyle went to her and told her it bothered Taylor. Brittany says that Kyle sticking his neck out for someone outside of the alliance and him being more comfortable with Joseph being a pawn than Alyssa going.

1:37 PM BBT – Brittany says that Kyle and Turner, to an extent, will be more valuable to their alliance without Alyssa there.

1:50 PM BBT – Brittany asks Taylor how she is feeling with Terrance now? She says that Terrance talks to her differently than he talks to Joseph. Which is a good thing because he doesn't trust Joseph or Kyle.

2:20 PM BBT – The HGs were asked to go inside because there was a drone outside. They are waiting to be able to go back outside.

2:25 PM BBT – Indy is helping Terrance put one of his tattoos on.

3:00 PM BBT – The houseguests are all eating and relaxing while waiting for the backyard to hopefully open.
Kyle put his game in jeopardy with both of his alliances today by not using the Power of Veto. Jasmine is convinced that Kyle is either working with Monte or protecting Alyssa while also putting their games in danger (both are true). Meanwhile, Taylor and Brittany are concerned about how committed Kyle is to their alliance because he is sticking his neck out for Alyssa by not allowing them to take a shot that he knew was coming. This could make for a messy breakup of the Leftovers alliance.
You can watch all of these Big Brother events using the archives Flashback, the DVR-like feature of this year's Live Feeds which means it's always live, even when you missed it! Sign-up now to get the free trial to watch it all live & uncensored.


Gallery: Live Feeds Highlights
Download our Big Brother App, join us on Facebook & Twitter, and get our Email Updates for more!