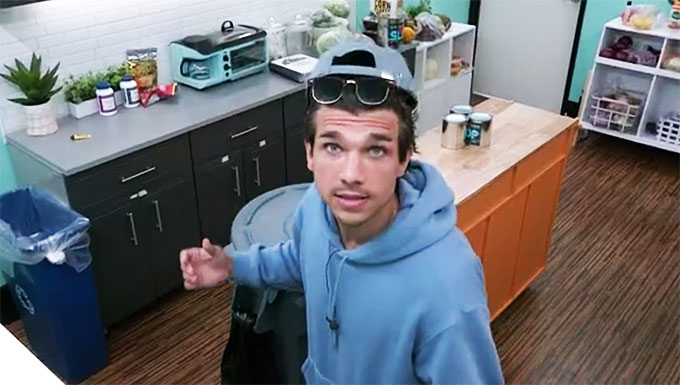 It was Eviction Eve in the Big Brother 24 house last night, and things really got juicy. Pooch caught wind that the women know about the alliance he started with the guys, so he finally started panicking about being on the Block with the vote coming up.
So Pooch finally realized that he might be in trouble, but before he started worrying about votes, he went on a hunt to try to find out which of the guys spilled the alliance secret. And his number one suspect was none other than his bromance bro, Joseph. Read on to catch up on all the drama from Wednesday night.
If you've got the Live Feeds (Free Trial) then you can watch all of these moments with the Flashback feature to go back and watch those important conversations or funny scenes you may have missed.
Big Brother 24 Live Feed Highlights – Wednesday, July 20, 2022:
3:50 PM BBT – Pooch thinks he has 4 guaranteed votes from Turner, Kyle, Brittany and Michael.

3:53 PM BBT – Pooch is talking to Tuner and Brittany about what they need to do next week.

4:15 PM BBT – Houseguests are just lounging around currently.

5:14 PM BBT – Brittany rounding up people for a meditation session later.

6:25 PM BBT – HGs are all hanging out in the kitchen and chit-chatting.

6:49 PM BBT – Brittany tells Michael that she's afraid Ameerah is going to vote to evict Taylor and try to pin it on her. Brittany says Ameerah is a strong player and everyone is afraid to go against her.

6:52 PM BBT – Michael tells Brittany that he thinks if the guys get power next week they might go after Ameerah since she's clearly one of the stronger girls. Brittany says Ameerah is going to be a tricky one to get out of the house.

6:59 PM BBT – Joseph is talking to Brittany and Michael again about keeping Pooch. He tells her that if she and Michael vote to keep Pooch they can control the house. Michael says if the majority is voting Pooch out, he has to as well. Joesph says he would have to as well. Brittany agrees.

7:06 PM BBT – Joseph is now campaigning for Pooch to Indy. But Indy tells Joseph Pooch is annoying her way too much.

7:14 PM BBT – Monte lets Alyssa know that he's convinced that Pooch needs to go. Monte also says that after talking with Michael and Kyle, he thinks that Tuner and Taylor would be ideal nominations next week.

7:20 PM BBT – Nicole tells Ameerah that Brittany asked Daniel to be in an alliance and to save Pooch. Nicole says she threw them all under the bus. Ameerah says they have to confront Brittany about all of this.

7:23 PM BBT – Brittany is leading a meditation session with the other houseguests.

7:50 PM BBT – Nicole telling Ameerah and Jasmine that Brittany not only asked Daniel to be in an alliance but she also told Pooch he was staying (which is what you're supposed to do to the nominee aren't you?).

7:52 PM BBT – Jasmine wants to know if Michael is playing them too. Nicole says she thinks so but then says she thinks maybe he is still trustworthy but is just playing along with Brittany.

7:54 PM BBT – Brittany comes in while they're talking about her. Ameerah aks Brittany if she's voting Pooch out. Brittany says of course. Jasmine says she just wants to be sure everyone is voting Pooch out and that she will recheck tomorrow. Brittany says no one wants to be on the wrong side of this vote.

7:57 PM BBT – Brittany tells Ameerah that she's just been acting like she wants Pooch to stay to Joseph.

7:59 PM BBT – Jasmine goes to Michael and asks if he's still good with voting Pooch tomorrow. Michael says yeah and tells her that Pooch pulled him aside and said they should talk later. Jasmine said she is just getting worried some people are saying they're voting him out but aren't.

8:04 PM BBT – Brittany tells Ameerah she seems sad. Ameerah says she's fine. Brittany says sometimes she feels like Ameerah is accusing her of something. Ameerah says sometimes she's afraid because she keeps hearing stuff. Ameerah asks Brittany if she is starting alliances with other people. Brittany says no.

8:08 PM BBT – Brittany swears to Ameerah she's not starting other alliances and says she'll do anything to prove to her that she's on her side. Ameerah tells her some of the things she's heard.

8:10 PM BBT – Brittany says she's really mad right now because she thinks Pooch is trying to drive a wedge between them and it's stupid because she already felt expendable. Brittany is crying now and Ameerah tells her to give her a hug.

8:12 PM BBT – Ameerah says from now on when she hears something she's going to go directly to Brittany. Brittany says the guys will occasionally pull her in because they think she's a free agent and not with the girls.

8:15 PM BBT – Brittany assures Ameerah that she and the majority are voting Pooch out.

8:40 PM BBT – Michael tells Ameerah that Pooch tried to start an alliance with him, Britany, Daniel, Kyle and Turner. Michael says that Pooch said he talked to Brittany about it. Brittany, now somewhat exposed by Michael, has to confirm that Pooch did mention those names to her when he came to campaign to her.

8:42 PM BBT – Michael tells Brittany that that alliance Pooch proposed can help them with Joseph since Pooch wasn't including him in that.

8:56 PM BBT – Daniel tells Turner that Pooch is starting to freak out. Daniel says they have to be careful because even though Pooch is their boy, they can't have people coming at them thinking they're against them just because they are close with Pooch. Turner agrees.

8:59 PM BBT – Pooch tells Daniel that he is so mad and says he might be screwed. Pooch says Alyssa told him the girls know about Oasis. He says the fact that they even know the name sucks and he is livid. Daniel says Alyssa is close to Kyle and asks if he thinks it could be Kyle. Pooch says he will talk to Kyle. Pooch says he doesn't think Kyle would be that dumb and says he thinks it  is more likely Joseph playing both sides.

9:00 PM BBT – Pooch says he has to go talk to Kyle and if it's not Kyle then it's Joseph. Daniel tells him to stay calm because he doesn't need to lose any votes.

9:04 PM BBT – Pooch cam talks that you can't trust guys and that they can't ever keep their mouths shut and he's the one going to go down for it. He says someone is a clown and a liar.

9:08 PM BBT – Pooch asks Kyle how much he's said to Alyssa about Oasis. Kyle says nothing. Pooch says they know all about it, even the name. Pooch says it has to be Joseph.

9:15 PM BBT – Pooch tells Turner he might be screwed because someone told Alyssa about the alliance. He says he knows it wasn't Turner. He says it was either Joseph or Monte. Turner says it was definitely Joseph. (It was Monte.)

9:34 PM BBT – Pooch tells Monte that the girls know about the alliance, even the name. Pooch tells him he's been pulling people to the side to check. Monte says he hasn't said anything. Pooch says Kyle also said he hasn't said anything. Monte says they're screwed then.

9:36 PM BBT – Pooch says he would hope it's not Joesph, but who is it then. Monte says Joseph is his boy, and he really doesn't think he would do that to him. Pooch says Joesph is the only person he sees talking with the girls.

10:35 PM BBT – Indy wants to know what Joseph and Brittany were discussing. Ameerah says Joseph just drops in on people. Indy says Joseph told her they were talking about meditation. Ameerah says the topic was Pooch.

10:40 PM BBT – Ameerah tells Jasmine she questioned Brittany about alliances. She says Brittany denied having other alliances and says Pooch approached her about one. They're going to check with Daniel.

11:15 PM BBT – HGs retelling their key shoots from preseason.

11:30 PM BBT – Jasmine questions Pooch's strategy of trying to form alliances the day before the vote.

11:30 PM BBT – Daniel tells Ameerah that Brittany doesn't feel included by the women. Ameerah warns him against talking game with Brittany.

11:45 PM BBT – Kyle and Monte discuss Pooch going. They say they'll stick it out together.

12:00 AM BBT – HNs ends for the week. HGs are celebrating.

12:25 AM BBT – Kyle talks to Alyssa about her revealing the alliance name Oasis to Pooch and how surprised he was. Kyle thinks Pooch losing it now only helps the choice to evict him. Kyle tells Alyssa he trusts her more than anyone. Kyle says he is worried Taylor could target him if she wins HOH. Both say they want Taylor out.

12:45 AM BBT – Alyssa reveals to Kyle she has a new alliance called Old School with Daniel, Ameerah, Jasmine, and Nicole.

1:25 AM BBT – Pooch is asking Ameerah for her vote. She says she can't say or she'd end up as the third nom. Pooch keeps trying.

1:45 AM BBT – Kyle going over the votes with Joseph and Monte. Kyle says they can't be on the wrong side of the vote or it'll be them against the house.

1:55 AM BBT – Pooch is panicking and tells Joseph that Alyssa knew the alliance name Oasis. He says someone screwed them. Pooch thinks they can still fix it.

2:05 AM BBT – Pooch and Joseph are working on Ameerah. She denies there being an all-girls alliance. Pooch says he's worried.

3:00 AM BBT – HGs are starting to go to bed.

3:35 AM BBT – Guys are still up in the cars room. Kyle tells Michael and Monte he learned from Alyssa that Ameerah was approached by Monte for a F2. Monte realizes that he can't trust Ameerah. They're trying to plan a way to test Ameerah.

3:45 AM BBT – Turner tells Joseph he doesn't know what's going to happen with the vote and doesn't want to be surprised. He wants the guys to stick together.
Pooch is finally scrambling but it's definitely too late for his game and has been for days. He thinks Joseph flipped on him but Joseph is the only HG that's been working to save him still. We'll have to wait a few more days to see how it all plays out in the next eviction.
You can watch all of these Big Brother events using the archives Flashback, the DVR-like feature of this year's Live Feeds which means it's always live, even when you missed it! Sign-up now to get the free trial to watch it all live & uncensored.

Gallery: Live Feeds Highlights
Download our Big Brother App, join us on Facebook & Twitter, and get our Email Updates for more!