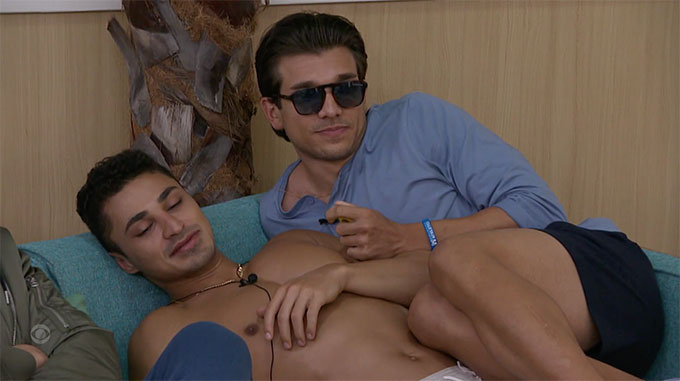 We learned a couple of things about Pooch during this episode of Big Brother 24: Pooch is hot for Joseph. Pooch is bad at Big Brother. Pooch is probably going home this week.
Wednesday night's episode picks up right after the nomination ceremony. Taylor and Pooch are on the block after Pooch volunteered, thinking he would 100 percent be able to win the veto this week and get Taylor on the block in his place. And even though his original plan involved putting himself up alongside Brittany, he didn't seem to notice that part was missing from the nomination ceremony. But he still didn't catch on that maybe he could just be the target this week.
So Pooch is ready to win that veto. But the girls are definitely ready to strike at Pooch. They know he's going to be a threat to them down the line, so this is a golden opportunity to take him out if he stays on the block. 
Pooch has a lot of reasons to be feeling good. He and some of the guys formed an alliance called The Oasis and he has his showmance, I mean bromance with Joseph. We even get a whole segment on the two meatheads and their cuddling. What shall we call them? I think Pooseph has the best ring to it.
If Pooch can remove himself from Joseph for five seconds, It's time to pick players for the veto competition. Joining Jasmine, Pooch and Taylor in the veto competition are Ameerah, Michael and Terrance.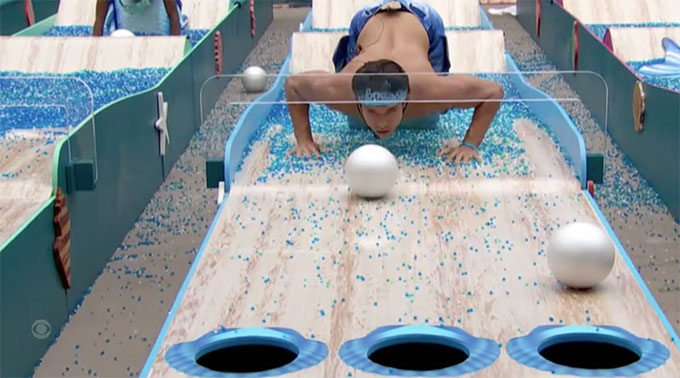 Let's get to the competition and find out how this plays out. For this week's competition, the players have to become mermaids and maneuver a pearl using anything but their hands. It's silly and confusing, and I can't explain it any longer, I'm sorry. I will just report the results. Jasmine sits out because of her injury. 
After a while, Pooch as one point and Taylor and Michael each have two. Pooch could come back to win, so Michael decides to go for it. But first he lets Taylor take her shot at winning, but she misses. So Michael take this next shot and wins the power of veto! Again.
Joesph then starts to realize that people might decide having Pooch right there on the block is too tempting and tells Pooch that he really needs to get Michael to use the veto on him. But Pooch isn't having it. He does not believe he's in any trouble and even says Joseph is kind of stupid. That's no way to treat your fella, Pooch.
And speaking of Jospeh, there's some talk of Michael using the veto on Taylor so Jasmine could put Joesph on the block with Pooch. Pooseph nominated together would be awfully sweet. But for some reason, that idea doesn't take hold. Jasmine doesn't want more blood on her hands.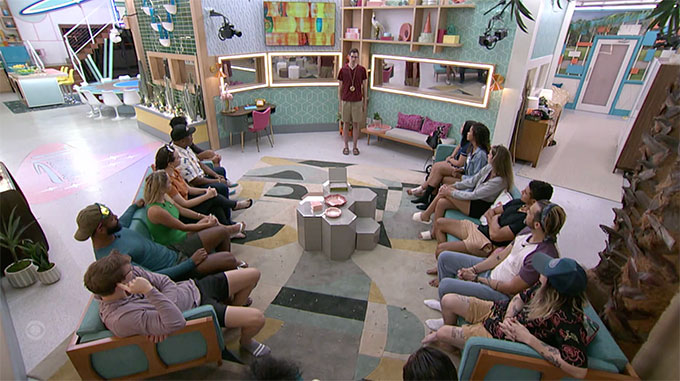 So Michael decides not to use the power of veto. Pooch and Taylor remain on the block and Pooch remains the target. But he still is certain he's staying this week.