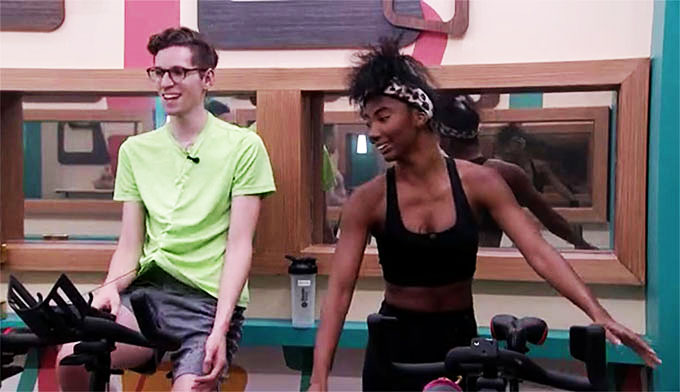 Things picked up in the Big Brother 24 house Tuesday evening as Monte and Brittany seemed to be in a competition of who could tank their game the hardest. Meanwhile, Pooch, though now less naive about the risk of going home still thinks he's good this week. And Monte, who is now very aware that people are ready to send his ally Pooch home is also being blissfully ignorant about it. Read on to find out how the vote count was shaping up Tuesday night.
If you've got the Live Feeds (Free Trial) then you can watch all of these moments with the Flashback feature to go back and watch those important conversations or funny scenes you may have missed.
Big Brother 24 Live Feed Highlights – Tuesday, July 19, 2022:
3:08 PM BBT – Pooch and Turner are trying to rally some support to make sure he has the votes to stay and a vote on their side going forward. Turner thinks Terrance would be good to pull in. Pooch says they wouldn't need to call it an alliance, but they could get him in as sort of a voting block.

3:09 PM BBT – Turner isn't sure he has all the votes he once did, but thinks if it happens to get to a tie, Jasmine would have to look him in the face and send him home and he doesn't think she would do that.

3:18 PM BBT – Monte points out to Joseph and Kyle that it's so clear the girls have a thing going and won't even talk to them if they enter the room. Monte is confused why they're making it so obvious. Kyle says the women think they control the guys.

3:20 PM BBT – Monte suggests any guys, like Michael and Daniel, who are aligned with the women are foolish. He says how can they not see they will get picked off too.

4:02 PM BBT – Kyle expresses his concern to Michael and Brittany about the majority of the women. Michael says they are being pretty blatant about just turning their backs to everyone else. Kyle says he feels like he is disturbing something anytime he walks in their room. Brittany tells Kyle the women think she's with them but she is not. Michael says Alyssa must be realizing how it looks because she finally joined the others at one point today.

4:06 PM BBT – Kyle wonders how solid Terrance and Daniel are on keeping Pooch. Michael tells Kyle that Terrance wants Pooch out. Brittany agrees. She says Terrance just wants to be voting with the majority of the house at this point.

4:08 PM BBT – Kyle tells Michael and Brittany that Monte and Joseph are definitely focused on Ameerah, Alyssa, Jasmine and Indy.

4:09 PM BBT – Kyle says he is confident that Pooch is going home so that's where he's going to vote. Brittany tells him that from what she's heard if Kyle does vote Pooch out, she thinks the girls would not be after him right away, and they'd go for the other guys first.

4:11 PM BBT – Michael says Monte really wants Pooch to stay. Brittany says Joseph does as well. Michael says he doesn't feel threatened by Pooch, but he also feels safer if Taylor were to win HOH. They both agree that if Taylor stays and wins HOH, she will not come after them or use them as pawns.

5:30 PM BBT – Monte asks Indy if she feels like the women are targeting him and Joseph. She says not but she does think everyone is annoyed with Pooch. Indy says she can't stand Pooch and is highly annoyed with him.

5:40 PM BBT – Joseph tells Indy he is going to tell Pooch to chill out with the touching and all that. Indy says she's sure Joesph's parents are seeing Pooch always touching him.

5:48 PM BBT – Joseph thinks that Indy and Jasmine are the closest to them, so they have to go after the other girls.

5:50 PM BBT – Joseph tells Pooch he needs to start laying low. He says the girls are getting bothered by him. Pooch asks what he's been doing wrong. Joseph says everything, the joking, the touching of Joseph. He says he needs to pull back.

5:56 PM BBT – HOH group is talking about Brittany. Daniel says she's trying to float but is doing it wrong. He says she is spreading way too much information.

6:00 PM BBT – Jasmine, Brittany, Ameerah and Nicole all agree they don't trust Brittany and won't be sharing any information with her.

6:15 PM BBT – Nicole is counting votes.She says herself, Daniel, Amerrah, Alyssa, Terrance, Indy and Michael will vote out Pooch. Nicole thinks Turner, Joseph, Monte, Kyle and Brittany will vote out Taylor.

6:18 PM BBT – Indy tells Nicole she told Joseph she can't trust him anymore and that his relationship with Pooch is affecting hers with Joseph.

7:03 PM BBT – Ameerah tells Monte that Pooch mentioned putting Monte up. Monte says he finds that hard to believe. Ameerah says he 100 percent said that.

7:05 PM BBT – Monte wants to know why there's talk of Pooch going home now and where it originated. Ameerah said she thinks it's just that Pooch volunteered to go up and some people starting thinking about what an opportunity that is.

7:08 PM BBT – Brittany tells Alyssa that she gets the feeling people aren't wanting to talk to her. Alyssa tells her it's the thing where she was seen talking to Joseph. Brittany says she doesn't talk game with Joseph though and adds that Ameerah talks to Jospeh so why can't she.

7:10 PM BBT – Ameerah lets Team Evict Pooch know that Monte doesn't think the votes are there to get Pooch out. He doesn't believe that Terrance and Daniel will vote out Pooch (or Kyle for that matter).

7:18 PM BBT – Terrance says Monte is scared of Taylor. Jasmine said because Taylor said she would put him up and she should. Jasmine says let Taylor get Monte out.

7:22 PM BBT – Terrance says he just does not get a good vibe from Monte.

7:54 PM BBT – Pooch tells Michael that he 100 percent wouldn't put up him or Brittany. He says he appreciates Michael not using the veto on Taylor so he owes him and says he hopes he has his vote. Michael tells Pooch that Taylor has made him no promises or guarantees.

8:02 PM BBT – Pooch is pitching to Michael hard. He says he knows himself, Turner or Kyle wouldn't put up him or Brittany and he hopes that is enough and they can go from there.

8:06 PM BBT – After Pooch leaves, Michael talks to the camera: "Offering me an alliance on Day 14 and not even actually offering me one … I know you were making alliances all last week. I hope you are excited to meet Julie."

8:11 PM BBT – Jasmine tells Brittany she hopes people aren't lying about voting out Pooch. Brittany says she hopes so too. Jasmine asks if Brittany is voting him out for sure. Brittany says 1000 percent and that she swears on anything she could possibly swear on. She says Pooch would be gunning for her if he stayed, so she would be silly to keep him.

9:44 PM BBT – Ameerah and Nicole are annoyed that Monte isn't on board with getting Pooch out.

9:52 PM BBT – Nicole says Brittany has got to go. Alyssa says yeah, but Taylor is more of a threat. Ameerah says she doesn't think so. Nicole agrees and says not a treat to the women. Ameerah says the guys are afraid of her but she is fine with the women.

9:53 PM BBT – Nicole says Monte told her Brittany is offering him side deals and that they just can't trust her.

10:50 PM BBT – Alyssa, Daniel, and Jasmine think Monte wants Taylor out for his own game and will need to win HOH to do it if that's what he wants. Daniel plans to tell Terrance just before the vote that Taylor is staying. He thinks Alyssa should do the same with Turner.

11:30 PM BBT – Ameerah retelling to Alyssa, Brittany, and Jasmine that Kyle told her he may like Alyssa more than she likes him. Alyssa says Pooch is more her style outside of the house.

11:45 PM BBT – Monte and Kyle talking next moves. Monte thinks the girls' alliance will have trouble and then they'll break up and come to them. Monte worries Taylor might put him and Daniel up together but he thinks they'd still have the votes.

12:15 AM BBT – Daniel, Nicole, and Terrance are in the HN room. They think Pooch dug his own grave with his behavior.

1:05 AM BBT – HN crew discussing Brittany causing trouble for herself instead of just laying low when she could have.

1:10 AM BBT – Pooch thinks it'll be a good idea to go after Indy next week.

2:15 AM BBT – HGs talking about the silly things production had them say and do for recording their intros.

3:00 AM BBT – Joseph and Ameerah chat a little about why Pooch is having trouble, but Joseph doesn't think it's enough to be voted out.

3:30 AM BBT – HGs off to sleep.
Still a little chatter and planning for Pooch's eviction which seems to be set for the week. Most of the HGs know so far and if the few remaining others learn at the last minute then it should be an overwhelming vote to keep Taylor. Soon it'll be time to moving on to planning the next target.
You can watch all of these Big Brother events using the archives Flashback, the DVR-like feature of this year's Live Feeds which means it's always live, even when you missed it! Sign-up now to get the free trial to watch it all live & uncensored.

Gallery: Live Feeds Highlights
Download our Big Brother App, join us on Facebook & Twitter, and get our Email Updates for more!