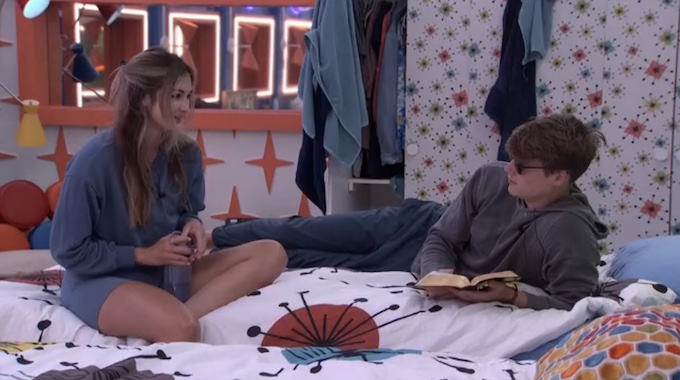 It was a pretty quiet day inside the Big Brother 24 house. There is the possibility of a budding showmance with one of the Big Brother houseguests relaying messages back and forth. Monte talked to Terrance a bit about how the suspects the girls have some big plan and proposed a possible side alliance to Terrance. Read on to find out what other BB24 houseguests Monte would like to align with right here.
If you've got the Live Feeds (Free Trial) then you can watch all of these moments with the Flashback feature to go back and watch those important conversations or funny scenes you may have missed.
Big Brother 24 Live Feed Highlights – Tuesday, July 19, 2022:
8:45 AM BBT – The HNs (Pooch, Nicole, Daniel, and Terrance) are all up chatting in the kitchen.

9:05 AM BBT – Terrance is wishing his wife a happy anniversary.

10:15 AM BBT – HGs are waking up.

10:30 AM BBT – Ameerah and Alyssa are talking about all the guys being scared of Taylor staying another week. She thinks it's a good thing that they are scared of her.

11:15 AM BBT – Monte is telling Terrance that he is feeling very different about the girls in the house and working with them after this week. Monte brings up wanting to align with Terrance, Kyle, Michael, and Daniel. Talks about not wanting to let Pooch in on this because he's worried that Pooch's paranoia will lead to him telling everyone.

11:20 AM BBT – Monte says that he was very surprised that he was told everyone wanted Pooch out this week because he has never heard Terrance, Daniel, Joseph, Kyle, or Turner say that they want him out. He talks about how he feels the girls are keeping Taylor in the house to take a big shot for them next week.

11:30 AM BBT – Terrance camtalks and says they "definitely have to figure this out. But the plan is gonna be the plan."

11:50 AM BBT – Indy wonders if Taylor is okay to Alyssa, Kyle, Ameerah, Turner, and Pooch. She says that Taylor has spent a lot of time in bed since yesterday. Indy adds that she is clearly going through something and they should all be watching out for each other.

12:20 PM BBT – There is a group of people in the HOH room and in the back bedroom. There is a conversation about discovering themselves in the house and how they have all connected with the people in the house going on in the HOH room.

12:30 PM BBT – Kyle tells Ameerah that he really likes Alyssa, but he's worried that it might put their game in jeopardy. Ameerah says that she thinks that Alyssa feels the same way. She urges him to go talk to Alyssa.

12:37 PM BBT – Ameerah goes to check on on Taylor. Taylor tells her that she took a vitamin that made her sick. Ameerah asks her about last night and Taylor just said that she is exhausted and that being on the block is overwhelming. Ameerah reassured her that she was safe and Taylor confirmed that she is not spiraling.

12:45 PM BBT – Ameerah tells Alyssa that Kyle likes her and explains that Kyle is worried that he likes Alyssa more than Alyssa likes him. She adds that he is also worried about what a showmance would do to their game. Ameerah also tells Alyssa that Monte is worried that the girls are all working together. Says that they should be more social with the guys.

12:55 PM BBT – There are some deeply personal conversations going on in the HOH room still. Each houseguest is taking turns telling their stories.

1:00 PM BBT – Terrance is checking in with Ameerah and asking if the plan is still the same. She confirms that they are still voting out Pooch. Ameerah also mentions that if one of the guys wins HOH, they will likely target Taylor because they are all scared of her. Ameerah says she wouldn't be mad about Taylor winning HOH next week.

1:20 PM BBT – Everyone is in the HOH talking about what they do for work, but what they are hoping to do when they get out of the Big Brother house.

1:45 PM BBT – The HGs are starting to split off from the HOH room.

2:50 PM BBT – Pooch and Kyle are working out on the bikes and Kyle is convinced that the cameras aren't watching them and that there has to be more interesting conversations going on inside the house. Upstairs they are talking about how they found out Santa, Easter Bunny, etc wasn't real.

3:00 PM BBT – It's pretty quiet in the house right now. General chatting going on.
Alyssa and Kyle both seem to have some feelings for each other, but both are worried about putting a target on their backs this early in the game. Meanwhile, Monte is getting suspicious about the women working together and keeping Taylor in the house to take a shot at the guys. He is looking to start a side alliance with Terrance, Joseph, Daniel, Kyle, and Turner. However, could this week's vote could put a damper on this plan?
You can watch all of these Big Brother events using the archives Flashback, the DVR-like feature of this year's Live Feeds which means it's always live, even when you missed it! Sign-up now to get the free trial to watch it all live & uncensored.


Gallery: Live Feeds Highlights
Download our Big Brother App, join us on Facebook & Twitter, and get our Email Updates for more!