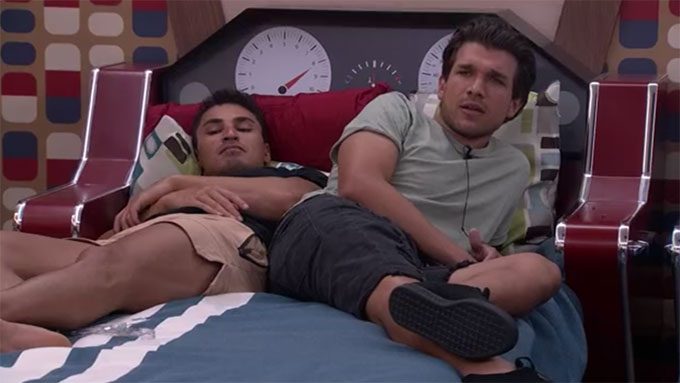 After the Big Brother 24 veto ceremony, some of the houseguests started to get a little paranoid. Pooch, who is currently the target feels like he's solid this week because the women are hyper focused on Taylor, but Joseph, Turner and Monte started wondering if the women are seeing this golden opportunity to take a shot at one of the strong men in the house.
Will Pooch finally start worrying himself? Read on to find out.
If you've got the Live Feeds (Free Trial) then you can watch all of these moments with the Flashback feature to go back and watch those important conversations or funny scenes you may have missed.
Big Brother 24 Live Feed Highlights – Monday, July 18, 2022:
3:48 PM BBT – Turner tells Monte that Brittany said Taylor wanted to come off the block so another guy could go up and one of them get excited.

3:53 PM BBT – Pooch says he feels good this week because petty girls don't change their minds when they want to take down a girl they don't like. He brings up "Mean Girls," and says if there's a girl they don't like, that's all they can think about. He says they are going to look back in a few weeks and think they should have sent him home over Taylor.

3:57 PM BBT – Pooch tells Kyle he thinks they are in a good spot.

4:03 PM BBT – Pooch goes back to saying how if the girls didn't hate Taylor so much they could have taken a shot at him or Monte this week.

4:08 PM BBT – Turner tells Kyle that Alyssa said the two people she wouldn't want touched are Jasmine and Kyle. Pooch says Alyssa loves Kyle. Kyle acts surprised. Pooch asks Kyle if he would get in a showmance with Alyssa. He says he thinks that would put too much of a spotlight on them, but maybe down the road.

4:45 PM BBT – HGs are preparing food.

5:23 PM BBT – Most of the majority group discusses the vote this week. Daniel says if they don't have enough votes to secure Pooch goes, he will vote Pooch out. Nicole agrees and says let the other guys vote to keep Pooch and then it looks like there's a full divide in the house. Daniel says once Pooch is gone he thinks he can pull Turner in and have him do what they want.

5:25 PM BBT – Jasmine asks what the vote would be because she's worried about having to break a tie. Nicole says it should be 7-6. Indy says it should be 8-6. Nicole says if they make it look like there's a guys/girls divide in the house then Turner will definitely go to Daniel. Jasmine is still worried it'll be too close and ask what happens if they don't get Pooch out. Nicole and Indy tell her that they will have the votes to get him out.

5:28 PM BBT – They run the numbers again and Daniel says if they think it'll be too close he will vote to evict Pooch. Jasmine tells Daniel yeah, he needs to vote out Pooch. Ameerah says vote out Pooch and then tell Turner he didn't. Nicole says Turner is smart and will do the math.

5:33 PM BBT – Joseph tells Monte and Kyle he has a gut feeling the women are going to try to send Pooch home. Joesph says Pooch made it obvious to Ameerah that he's working with the guys, so they might be after him now. Joseph says that if the girls all vote together and get Michael and Terrance then Pooch leaves.

5:35 PM BBT – Monte says it feels like they are now on the outside of the game. Joseph says yes, they went from running the house to it getting flipped on them.

5:38 PM BBT – Monte wonders if they have Daniel. Kyle says he's not sure because he thinks Daniel is a lot closer to Nicole than they thought.

5:40 PM BBT – Monte says if this happens and the guys win HOH it's on. Joseph says everyone will expect them to go after Brittany and Indy, but says Nicole is the one they should go after.

6:20 PM BBT – Nicole tells Taylor to not get paranoid and just keep doing what she's doing and promises her she won't go home. Jasmine tells Taylor she still has to campaign though, so Pooch doesn't get suspicious.

6:28 PM BBT – Taylor talking about the vote with Terrance. He tells her he's voting to keep her and that she will be staying but tells her to keep acting scared.

6:38 PM BBT – Brittany tells Joseph that Pooch has been throwing him under the bus and that she will tell him more later. Brittany tells him that Pooch is not watching out for him in the game.

6:43 PM BBT – Daniel saw Brittany and Joseph talking and relays it to the others. Jasmine says she will wait and see if Brittany tells them about talking to Jospeh. Daniel says he's worried Brittany is spreading too much intel.

6:44 PM BBT – Daniel again offers to vote out Pooch to Jasmine. She says she is scared she will have to break a tie and it will mess her game up.

7:20 PM BBT – Everyone is either in the HOH room or the living room.

8:00 PM BBT – HGs hanging out, playing pool and chit-chatting.

9:05 PM BBT – Ameerah is suspicious of Indy's backstory of being a stewardess because she doesn't know an emergency landing procedure.

9:10 PM BBT – Ameerah and Jasmine see Pooch coming and pretend to be sleeping to avoid having to talk more game with him.

9:30 PM BBT – Michael and Brittany agree they have to keep Taylor around because he thinks she'd be loyal to them. Brittany agrees and says she doesn't want to get rid of her. Michael says he doesn't want to either.

9:40 PM BBT – Taylor tells Daniel she doesn't plan to target him.

10:15 PM BBT – Daniel updates Nicole that he's suspicious of Brittany telling Joseph that Daniel is working with the girls. Daniel wants to tell Monte just before the vote that it has flipped against Pooch in case Brittany flips her vote.

10:40 PM BBT – Kyle talks with Michael about working with the girls. Kyle was nervous about seeing Ameerah, Jasmine, Indy, and Alyssa gathered together. Michael says he's somewhat with them but thinks he's at the bottom of the list.

10:45 PM BBT – Kyle wants to try and use Alyssa to take out a bigger player like Monte, but HGs talking about them as a showmance makes that move tougher. Michael mentions Nicole might not be as committed to the girls as it appears.

11:55 PM BBT – Brittany tells Kyle and Michael that they have the votes to get out Pooch. She thinks the girls are using Taylor at the moment. Michael says he watches what he discusses with Taylor.

12:00 AM BBT – Kyle says he can try to use Alyssa's crush on him to their advantage. Brittany expects the girls group to split up at some point. Michael says Joseph doesn't know enough about Big Brother to be helpful and Turner is Turner. He wants to work with more solid, reliable HGs.

12:10 AM BBT – Pooch asks Kyle how his chances are looking. Kyle warns Pooch the women are rallying. Pooch thinks he'll be okay.

12:20 AM BBT – Ameerah telling Jasmine that she just saw Brittany with Michael and Kyle. She says she doesn't trust Brittany. Jasmine wonders if Brittany has a F2 with Michael but Ameerah counters that Brittany won't make it that far.

12:40 AM BBT – Terrance, Nicole, and Daniel have been upstairs chatting in the HN room. Terrance says he felt a lot better once the Veto medallion box closed.

1:15 AM BBT – HGs talking about Feeds and Kyle is shocked to learn thousands of viewers are watching him right now.

1:25 AM BBT – Ameerah chatting with Joseph about Brittany. He says they talk very basic game stuff, nothing deep. Ameerah is trying to plant seeds against Brittany with Joseph.

1:30 AM BBT – HGs discussing old seasons of Big Brother.

2:00 AM BBT – HGs are off to bed.
Well Pooch is going to be surprised on Thursday at this rate unless someone gives him a heads up. Seems everyone but a few of the guys know what's going on with Taylor staying this week. Hopefully this shakes loose a little battle between the sides here in Week 3.
You can watch all of these Big Brother events using the archives Flashback, the DVR-like feature of this year's Live Feeds which means it's always live, even when you missed it! Sign-up now to get the free trial to watch it all live & uncensored.


Gallery: Live Feeds Highlights
Download our Big Brother App, join us on Facebook & Twitter, and get our Email Updates for more!