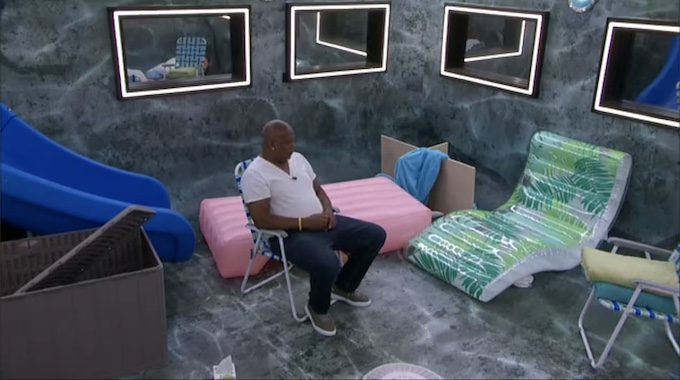 It was a quiet Eviction Day inside the Big Brother 24 house with this week's target accepting that they are heading to the jury house tonight. However, what they don't know is, that the speculations are true and another fellow Big Brother houseguest will be following not too far behind during tonight's special two-hour Double Eviction show! Read on to find out what the BB24 houseguests talked about before feeds went down for tonight's live show!
If you've got the Live Feeds (Free Trial) then you can watch all of these moments with the Flashback feature to go back and watch those important conversations or funny scenes you may have missed.
Big Brother 24 Live Feed Highlights – Thursday, September 8, 2022:
9:00 AM BBT – HGs are waking up.

9:30 AM BBT – Monte is up eating breakfast alone. Everyone else is still sleeping.

9:50 AM BBT – The rest of the houseguests are starting to get up and head to the HOH room for lockdown.

9:55 AM BBT – Feeds cut to Adoptable Animals for tech rehearsals.

12:25 PM BBT – Feeds return from HOH lockdown. Michael is moving his things out of the HOH room and Alyssa, Taylor and Brittany are chatting in the kitchen.

12:30 PM BBT – Alyssa wonders to Taylor if the show is going to be early tonight because of how early they were up and in lockdown. She speculates about a DE and Taylor says that if anything they would just extend the show an extra hour but start at the same time.

12:40 PM BBT – Alyssa, Taylor, and Brittany are talking about how Jasmine expected everyone to do everything for her. Taylor says that she is guessing that's Joseph's job in the jury house because she doesn't see anyone else doing that. Talks turn to Kyle and them wondering how everything went when he got there.

12:55 PM BBT – Michael is unpacking his things (from moving out of the HOH room) in the back bedroom while going over days and events quietly to himself.

1:41 PM BBT – Brittany tells Michael that she wonders if tonight's a double. He says that scares him and Brittany agrees. They both hope that if it is a Double Eviction that they get through it and can put it behind them.

1:56 PM BBT – Terrance is in the have-not room practicing his speech. It's really hard to hear what he's mumbling.

2:26 PM BBT – Alyssa checks in with Monte to make sure that the plan is still to keep her. Monte confirms that she has nothing to worry about tonight. He jokes that she would have to do something really extreme to be voted out tonight.

2:39 PM BBT – Monte mentions to Alyssa that their mock vote should be soon (they are usually called in between 3 and 4). Monte asks Alyssa what their mock vote was during Dyre Fest and she says attacked by a shark or mauled by a bear and they voted to evict attacked by a shark. Apparently Big BroChella's mock vote was chips or fries and they evicted chips.

2:46 PM BBT – Feeds cut to Adoptable Animals for live show prep.
There you have it, folks! Tonight's Double Eviction will start with Terrance being evicted from the Big Brother house. There might be some footage of the jury house, and then we will go into a whole week of gameplay before ending the episode with another live vote and eviction. Who do you hope to see head out after Terrance during tonight's special two-hour Double Eviction episode?
You can watch all of these Big Brother events using the archives Flashback, the DVR-like feature of this year's Live Feeds which means it's always live, even when you missed it! Sign-up now to get the free trial to watch it all live & uncensored.


Gallery: Live Feeds Highlights
Download our Big Brother App, join us on Facebook & Twitter, and get our Email Updates for more!