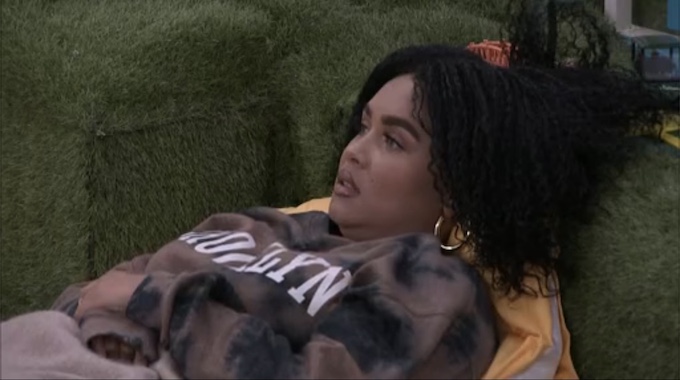 It is Eviction Day inside the Big Brother 24 house and the houseguests spent most of the day getting ready for the live show. This week's target made it clear to one of the houseguests that they weren't even saying goodbye of their fellow BB24 houseguest. Meanwhile, the others talked about who they plan to target if they win the next Head of Household Competition starting later tonight on Big Brother!
If you've got the Live Feeds (Free Trial) then you can watch all of these moments with the Flashback feature to go back and watch those important conversations or funny scenes you may have missed.
Big Brother 24 Live Feed Highlights – Thursday, August 11, 2022:
10:15 AM BBT – HGs are waking up.

10:40 AM BBT – Alyssa is telling Taylor that her and Kyle were hanging out in the upstairs lounge last night and there was smootching involved. Says that they final broke that barrier.

10:52 AM BBT – Taylor is telling Brittany about the fake alliance that Kyle and Joseph made with Indy, Alyssa, and Jasmine and that they think that they can pull Taylor closer to them, but not as part of the alliance because she is close with Joseph.

10:53 AM BBT – Joseph tells Brittany, Michael, and Monte that the other girls all think that Daniel has lost it. They also believe that he might be planning to say something about Michael and Brittany as he's leaving. He also fills them in on Monte being the number one target right now and told them the name of the fake alliance.

11:02 AM BBT – Monte tells Kyle that he is going to try so hard not to laugh at Daniel as he's making his claims on his way out. Monte also wonders what Daniel might have to say about Michael and Brittany.

11:05 AM BBT – Indy tells Joseph that Monte is acting weird and she thinks that he might have heard them talking last night. She tells him that they need to be careful about talking in the back room because Taylor can hear everything they talk about from her bed. She wonders if Taylor knows too.

11:15 AM BBT – Monte and Indy are talking about how bad they slepy. Monte complains about Terrance's snoring while Indy complains about Joseph waking her up coming into the room.

11:40 AM BBT – The HGs are starting to head up to the HOH room for lockdown.

11:51 AM BBT – Feeds cut for HOH lockdown.

1:26 PM BBT – Feeds return from HOH lockdown.

2:00 PM BBT – Indy put a oven mitt on the stove while it was on and it caught on fire.

2:25 PM BBT – Some of the HGs are working out while the others are in the kitchen eating. Not much going on.

2:30 PM BBT – Daniel tells Terrance that as soon as they announce that he has been evicted, he's beelining for the door. Terrances says he will be right behind him.

2:50 PM BBT – Taylor and Brittany are talking about Jasmine and Terrance and Taylor says that she is okay with the two of them being the new targets. Taylor says that if they want Jasmine to go, she can't be the one to do it.

2:55 PM BBT – Brittany mentions that Jasmine broke a glass and then didn't clean it up. Brittany ended up cleaning it and Taylor mentions that living with her is really eye opening as to how selfish and spoiled she is. Brittany says that she has a disregard for other people.

3:03 PM BBT – Brittany and Taylor are telling Kyle and Turner about the glass that Jasmine broke and left on the floor. Brittany tells them that she watching Brittany clean it up without saying anything and then when she left the bathroom, Jasmine giggled about how it was her that broke it.

3:20 PM BBT – Feeds cut for live show prep.
Daniel will be leaving the house by the end of the night and it looks like Jasmine might have made herself the next target based on the talks between Taylor and Brittany. Terrance is also climbing to the top of the Leftover's target list quickly so depending on who wins tonight's HOH competition, we could possibly see the two of them on the block this week on Big Brother 24. Who do you want to see win HOH tonight?
You can watch all of these Big Brother events using the archives Flashback, the DVR-like feature of this year's Live Feeds which means it's always live, even when you missed it! Sign-up now to get the free trial to watch it all live & uncensored.


Gallery: Live Feeds Highlights
Download our Big Brother App, join us on Facebook & Twitter, and get our Email Updates for more!