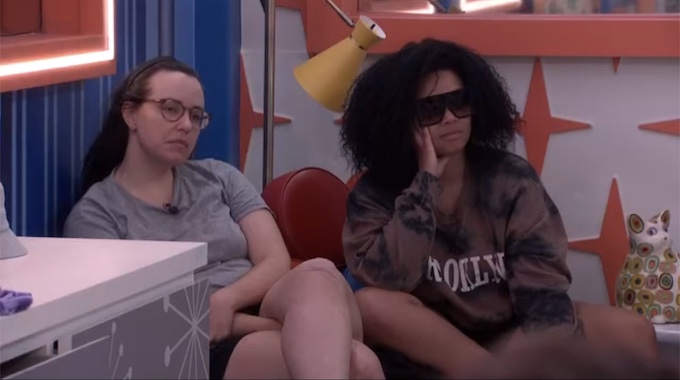 It is Eviction Eve inside the Big Brother 24 house and this week's nominees began campaigning to their fellow houseguests. One of the BB24 nominees had a lot to say to one houseguest to try and pin them against their block mate. Read on to find out what they had to say in their pitches to their fellow Big Brother houseguests.
If you've got the Live Feeds (Free Trial) then you can watch all of these moments with the Flashback feature to go back and watch those important conversations or funny scenes you may have missed.
Big Brother 24 Live Feed Highlights – Wednesday, August 10, 2022:
9:45 AM BBT – HGs are waking up.

11:00 AM BBT – The houseguests are just hanging out and having general conversations.

11:50 AM BBT – Jasmine tells Kyle that Daniel talked her ear off last night. Jasmine reminds Kyle not to make any promises in his talks today. Kyle says that it's going to be a long day.

12:00 PM BBT – Kyle meets with Brittany in the HN room. He tells her that he is going to talk to everyone, but Brittany thinks that it's just going to be a charade. Kyle says that he figures if he talks to everyone, no one will notice if he just pulls certain people in to talk.

12:05 PM BBT – They talk about their relationships with everyone within the alliance and outside of the alliance. They both agree that Monte is the person they have the least connection with.

12:10 PM BBT – Kyle tells Brittany that he asked Alyssa how she could be so comfortable working with Jasmine when she thinks that Jasmine was a mean girl to Taylor. He tells Brittany that she felt forced to work with her. Kyle says that he thinks that Alyssa would be interested in working with them and Michael, but she wouldn't be the one to initiate it.

12:20 PM BBT – Kyle is talking to Terrance and he tells him that he knows that he is close to Daniel and isn't going to put Terrance in a position to have to choose (giving him the okay to vote to keep Daniel). Terrance says that he thinks that it's already decided that he is going home this week. He says it's best for everyone at this point and if he stays it would ruffle more feathers.

12:23 PM BBT – Terrance tells Kyle that him and Turner making Terrance feel like they got his back in this game means a lot to him so he (K) has his loyalty.

12:24 PM BBT – Michael and Brittany are talking about Joseph and how he's been complaining about how hard it is to lie to everyone in his room about the outcome of the vote. Michael says  how hard could it be if him (M), Monte, and Taylor are the biggest targets if the Festie Bestie twist ends.

12:28 PM BBT – Terrance tells Kyle that he purposely threw the Veto Competition to Michael thinking that the plan was to keep the noms the same and target Monte. Terrance says that after the comp, Michael told him that he had made a promise to Monte not to target him, but he had put him on the block which broke that promise.

12:35 PM BBT – Kyle is talking to Monte now and filling him in on his conversation with Terrance. Monte says he has won one HOH competition, that's it. Kyle says that's why he doesn't understand why they want him out so bad.

12:38 PM BBT – Michael says he would cut Joseph before Monte. Brittany says that she thinks that Joseph likes her more. Michael agrees but says that he is annoyed about Monte falling on his sword and then Joseph is worried about his jury management. Michael says that he, Turner, and Monte have stuck their necks out, meanwhile, Joseph is worried about his jury management.

12:47 PM BBT – Kyle tells Indy that he feels like he is always the last to know about the moves that are being made. Kyle also throws Michael under the bus with her mentioning that he thinks it's obvious that Monte and Michael are working together since he took Monte off the block when he knew the house had the votes to get him out.

12:52 PM BBT – Daniel tells Alyssa that he knows that he is going home so he wants to give her some information that he thinks will help her. He tells her that there is a big alliance in that house, he knows that Monte, Joseph, Kyle, Taylor, Turner, Brittany, and Michael are all working together with Kyle being the messenger.

12:55 PM BBT – Daniel tells Alyssa that Michael is a super fan meaning that he knows that he shouldn't keep strong targets in the house, yet he took Monte and Joseph off the block. He then talks about how after the Veto Competition last week, Kyle's first reaction was to ask if they were keeping noms the same (keeping Alyssa and Indy on the block). He then tells her how Monte told him to keep the noms the same last week, but he went against Monte and took them down.

1:00 PM BBT – Kyle is talking to Joseph now, more for appearance. He does tells Joseph that he feels most comfortable working with him, Monte, and Turner.

1:10 PM BBT – Daniel tells Alyssa that he knew that they would have his back if the numbers were there. He says would have Jasmine and Terrance, then her (A) and Indy's. Daniel adds that he would then have to work on Joseph's vote, but he's part of the alliance, so that would be hard.

1:15 PM BBT – Kyle is talking to Turner now. Turner jokes that he better pitch something to him because he is thinking of voting him out. Kyle proceeds to fill him in on his conversations so far. Tells him that he thinks Alyssa was crying when she left her one-on-one with Daniel.

1:20 PM BBT – Kyle says that he hopes that they try and flip the vote because if he wins HOH, that would give him a reason to nominate them.

1:25 PM BBT – Alyssa is meeting with Kyle now. She tells him about her conversation with Daniel. Kyle says that there is no way he would have kept the noms the same and says that he was going to use the Veto regardless. Alyssa says she knows.

1:30 PM BBT – Alyssa tells Kyle that Daniel also told her that he was in an alliance and that he was using her to be good with the other side of the house. He tells her that he doesn't want Daniel putting that in her head. She tells Kyle that she would never think that.

1:55 PM BBT – Kyle is meeting with Taylor now filling her in on his conversations with everyone.

2:17 PM BBT – Daniel tells Terrance that Kyle is doing what he does best, moping around. They comment about how Kyle hasn't even started packing.

2:23 PM BBT – Daniel has gifted Jasmine wet wipes for the bathroom.

3:00 PM BBT – General conversations going on inside the house right now.
Kyle didn't really have much campaigning to do today, but the little that he did seemed to be pretty productive. Terrance told him that he had his vote, Indy seems to want to be on the right side of the vote, and well, Alyssa isn't voting out her showmance. While Daniel thinks that him telling Alyssa all that information might sway her vote in some way, my guess is that this will be the second unanimous vote of the season.
You can watch all of these Big Brother events using the archives Flashback, the DVR-like feature of this year's Live Feeds which means it's always live, even when you missed it! Sign-up now to get the free trial to watch it all live & uncensored.


Gallery: Live Feeds Highlights
Download our Big Brother App, join us on Facebook & Twitter, and get our Email Updates for more!