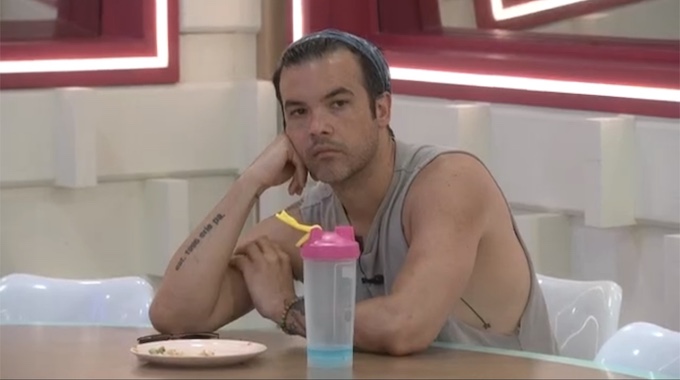 It was Power of Veto Ceremony Day inside the Big Brother 24 house and while some of the houseguests were hoping for one outcome, this week's Veto holder decided to stick to the original plan. That didn't stop this week's target for Week 5 of Big Brother from making a last-second plea. Get all the details of what the BB24 houseguests had to say before and after the Veto Ceremony right here!
If you've got the Live Feeds (Free Trial) then you can watch all of these moments with the Flashback feature to go back and watch those important conversations or funny scenes you may have missed.
Big Brother 24 Live Feed Highlights – Monday, August 8, 2022:
9:15 AM BBT – HGs are waking up.

9:21 AM BBT – Daniel asks Terrance how Turner reacted to him suggesting they target Monte this week instead. Terrance tells him that he said he was cool with that.

9:33 AM BBT – Daniel tells Alyssa that the only person he thinks that wouldn't support him staying in the house is Taylor. He adds that she would go along with it, but wouldn't be happy about it.

9:37 AM BBT – Michael tells Terrance that he doesn't want to go back on his promise to Monte. He adds that Monte and Daniel are in the same position in the house so they could get one out this week and one next. He says that he would rather not be the one to take the shot at Monte.

9:48 AM BBT – Terrance lies to Daniel and tells him that Michael told him he was still undecided on what he was doing with the Veto.

9:53 AM BBT – Jasmine tells Alyssa and Indy that Monte and Taylor are working together and Terrance told her that Michael is going to use the Veto. Alyssa thinks that's because he made a promise to Monte that he wouldn't go after him. Jasmine doesn't understand why he wouldn't keep noms same if he already broke his promise to Monte by putting him on the block.

9:55 AM BBT – Daniel is making a last ditch effot pitch to never target him and to always have their back. Daniel tells him that if he is worried about Taylor, or anyone else, being upset about them targeting Monte instead, he will target them if he wins HOH next week.

10:00 AM BBT – Jasmine tells Michael that whatever he wants to do this week, he will support. He tells her that he went over the options and it really comes down to the fact that he didn't make any promises to Daniel. Jasmine tells him that if he feels that Daniel needs to go this week, then that's what Michael should do.

10:11 AM BBT – Jasmine tells Monte that she went up to make sure that the target is still the target and she thinks that everything is still going to go as planned.

10:15 AM BBT – Michael is recapping his talks with Terrance, Daniel, and Jasmine. He then tells Kyle that as far as his potential showmance with Alyssa, he is fine with it. He sees it as him (M) having another person that he could potentially work with and another number for them.

10:23 AM BBT – Monte is telling Turner how Jasmine pulled him aside and pretended to be super excited about Daniel still being the target.

10:25 AM BBT – Jasmine is telling Terrance that she doesn't see how Michael doesn't want to make a move to get Monte out. Meanwhile, Monte is telling Michael about how funny is it that Jasmine pulled him aside this morning and pretended to be excited that Michael is using the Veto.

10:32 AM BBT – Feeds cut to Animal Loops for Veto Ceremony.

11:39 AM BBT – Feeds return from Veto Ceremony. Michael and Brittany used the Veto and took Monte, Joseph, and Terrance down. Daniel and Kyle were renominated.

12:13 PM BBT – Taylor suggests that maybe they should target Jasmine next week instead of Alyssa.

12:33 PM BBT – Michael, Monte, and Brittany are talking in the backyard about Michael's speech at the Veto Ceremony. Sounds like he used a lot of the same lines Daniel used when he nominated Michael week one.

12:57 PM BBT – Kyle and Alyssa are hanging out in the bedroom and he makes a comment about how he might go home this week. Alyssa tells him that's not going to happen and she starts counting out the votes he has.

1:15 PM BBT – Terrance tells Daniel that this is deflating. He asks who wants to play this game now? Just cut the check. Daniel agrees that this is clownery. Says that his goal is to enjoy his last couple of days in the house. Terrance says that he's sure he will be out next week. Daniel mentions that Turner and Taylor were holding their laughter back.

1:20 PM BBT – Terrance thinks he is public enemy number one, then Jasmine, then Taylor. Daniel says that he hopes at that point, Taylor wins HOH.

1:30 PM BBT – Brittany, Taylor, and Joseph are all comparing notes about what's been going on and what they need to do over the next couple of days for appearances.

1:33 PM BBT – Brittany asks Taylor who she thinks should go next and Taylor tells her that if she wins, Terrance is her target even though she would prefer to target Jasmine. Brittany thinks that it's probably best for them to keep their loyalty intact with the other girls a little longer.

1:35 PM BBT – Daniel tells Joseph that he is going to miss him, but Joseph tells him not to talk that way. Daniel says that he is going to have his conversations, but implies that he knows the writing is on the wall. Joseph says that he is surprised they didn't end up staying on the block.

1:55 PM BBT – After his conversation with Daniel and Terrance, Joseph goes in and tells Taylor and Brittany that Terrance thinks he is next. Joseph started to tell them about Terrance saying that Michael still broke his promise by putting them up as pawns, but then leaves the room so he isn't caught.

2:05 PM BBT – Joseph is crawling around the kitchen looking for a fly that he hit with a towel.

2:25 PM BBT – Daniel tells Terrance that Finale is going to be wild. He says that he should show up as Elvis.

2:27 PM BBT – Terrance tells Daniel that it's funny that everyone except for Michael and Taylor are outside. Daniel says they are in cahoots for sure (Michael is in the DR) adds that Turner was sleeping, but he is sure that he is part of that group. Says they are the misfits, but that's too cool of a name for them to use, they can't use that. Terrance adds that Brittany and Turner are only out there to do recon.

2:50 PM BBT – Indy goes into the house and Taylor tells everyone in the pool that Indy is about to be upset because she (T) used Raid in the kitchen for the ants. Taylor mentions that everyone leaves things out and the ants are everywhere.

2:55 PM BBT – Taylor tells Kyle that she thinks that it makes the most sense for Kyle to join their Festie Bestie trio because it will look like he is protecting Alyssa. Taylor says her only fear is that if there is a DE, that they will just evict a Festie Bestie group, instead of running through the HOH, Noms, POV, Veto Ceremony, and then a second eviction.

3:00 PM BBT – Taylor, Brittany, Kyle, and Turner are all talking about last season of Big Brother when Derek X turned on his alliance and targeted Christian.
There you have it, folks, Kyle and Daniel are final noms for this week with Daniel being the primary target. If Daniel was smart, he would really push the showmance angle in his campaign, but even that might not help his case. Jasmine and Terrance are painting pretty big targets on themselves this week as they campaigned for Monte to be the target over Daniel. As a result, a couple of The Leftovers have talked about changing their target order going into next week. Stay tuned for updates as this week continues to play out.
You can watch all of these Big Brother events using the archives Flashback, the DVR-like feature of this year's Live Feeds which means it's always live, even when you missed it! Sign-up now to get the free trial to watch it all live & uncensored.


Gallery: Live Feeds Highlights
Download our Big Brother App, join us on Facebook & Twitter, and get our Email Updates for more!