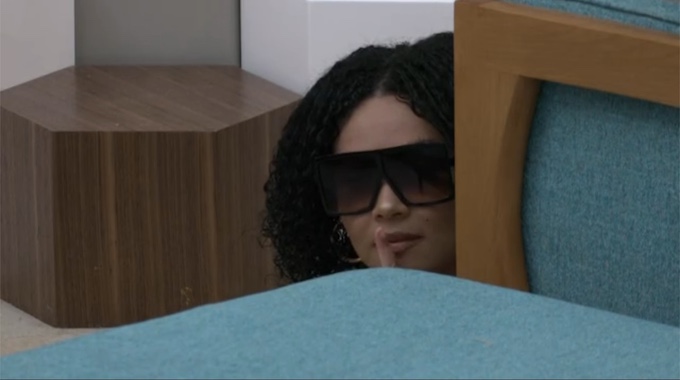 What an Eviction Day morning inside the Big Brother 24 house with this week's target knowing they are going home and their closest ally melting down. The Big Brother houseguests were getting really uncomfortable with the actions of one of their fellow houseguests and know that it is only going to get worse. Read on to find out what happened inside the BB24 house before the feeds went down for tonight's live eviction!
If you've got the Live Feeds (Free Trial) then you can watch all of these moments with the Flashback feature to go back and watch those important conversations or funny scenes you may have missed.
Big Brother 24 Live Feed Highlights – Thursday, August 4, 2022:
9:30 AM BBT – Daniel and Nicole are in the kitchen talking. Everyone else is still in bed with lights out.

9:35 AM BBT – Nicole tells Daniel that she has a plan to call out Turner and Michael to their faces about the alliance they are in and promise them that she will protect them if she stays. Nicole thinks that if she wasn't sitting next to Taylor that she would be on their side.

9:45 AM BBT – Daniel tells Nicole that he doesn't trust anyone in the house and once she is gone, he's alone.

9:50 AM BBT – Nicole mentions that Indy was pissed yesterday and she likely doesn't have her vote anymore. Daniel says he told Indy that he saved her with the Veto therefore she needs to make a choice, she can't vote with the house anymore.

10:00 AM BBT – Nicole tells Daniel that based on her observations, Monte and Jasmine are the head of the snake. Daniel says that he is having a hard time believing that.

10:15 AM BBT – The rest of the HGs got their wake-up call. Terrance asks Daniel how their conversation with Turner went. He says that Turner said he would vote to keep her (N), but he doesn't believe him.

10:17 AM BBT – Terrance tells Daniel that he figured out last night that Kyle and Turner are working together. He says that they came into the room last night whispering. Daniel says "oh, so my own bestie is playing me." Taylor is trying to listen from the upstairs lounge.

10:25 AM BBT – Nicole whispers to Terrance that she has one last ditch effort in mind.

10:39 AM BBT – Nicole says she guarantees there is a Battle Back so if she goes home today, she'll be back.

10:48 AM BBT – Indy asks Alyssa if she talked to Kyle last night. Alyssa says that as far as she knows, the plan is still to get Taylor out.

10:52 AM BBT – Indy is explaining to Alyssa that keeping Nicole is better for Kyle's game because they can send Taylor out this week, Nicole can go next week that keep Kyle and Daniel off the block until Jury. She says that Daniel saved her and Alyssa so if Nicole goes, then they have a reason for voting to keep Nicole.

10:54 AM BBT – Alyssa asks Indy if she thinks that Nicole will put them up if she wins HOH, but Indy says no. Alyssa says that she has told the whole house that she would. Indy tells her that if they vote Nicole out, it will be seven people against four and that's not something she wants.

10:57 AM BBT – Terrance is now telling Jasmine about how he figured out Kyle and Turner are working together.

11:00 AM BBT – Indy is telling Jasmine and Terrance that they need to remind Kyle that if Nicole goes this week, then he will be on the block next week. Indy adds that it's obvious that they are going to take Nicole out and then Daniel.

11:03 AM BBT – Alyssa asks Nicole how she is doing and she says pretty crappy. Alyssa tells her that it isn't over, Nicole says yes it is because there are people in this house lying to her face saying that she is safe this week, when she isn't. Claims that she never said a negative thing about anyone in the house and that people have been baiting her to talk bad about Taylor.

11:18 AM BBT – Michael tells Alyssa and Indy that he doesn't want to be on the wrong side of the vote and if they are voting her (N) out, then he is too. Indy says that's not the game, we should be able to vote how we want to. Michael says that he isn't going to hold anyone's vote against them because everyone is in a different position.

11:30 AM BBT – Joseph tells Indy that he talked to Jasmine last night and she told him that she was voting Nicole out. He tells Indy that Jasmine also told him that Nicole tried to get Jasmine to put him up so they could evict him when she (J) was HOH. Indy asks if they can talk later.

11:32 AM BBT – Terrance tells Taylor that she might benefit from talking to Indy and Alyssa. Taylor goes out to the kitchen and tells Monte that Terrance told her that he thinks it's going to be a full vote for Nicole to go. Monte says "oh really?" and adds that he is unbothered by it because if he has to do the deed (break a tie), he will.

11:36 AM BBT – Taylor asks Terrance if he told them (D&N) if he is with them. He says they think so and he wants them to think that. He tells Taylor that him and Jasmine aren't with them though.

11:37 AM BBT – Alyssa tells Joseph that Indy is freaking out telling her that they need to save Nicole because they owe it to Daniel. Joseph tells Alyssa what Jasmine told him last night (about Nicole trying to get him out). He adds that Nicole lied to him and told him that she never talked about him in this game. Alyssa tells him that Nicole just told her that she has played an honest game, but has lied to her five times and Joseph tells her that Nicole told him not to trust Alyssa.

11:39 AM BBT – Alyssa tells Joseph and Michael that she wants to vote Nicole out, she doesn't trust her, she has lied to her multiple times, but she doesn't know what to say to Indy and she doesn't want Daniel to come after her.

11:43 AM BBT – Alyssa says that it's best for her game for Nicole to go and deal with the consequences later but Indy won't listen to her. They talk about how Indy won't listen to Alyssa and Joseph.

11:45 AM BBT – Alyssa and Joseph tell Jasmine that if they don't vote Nicole out, they will be on the wrong side of the vote. Jasmine is worried about Daniel's reaction.

11:50 AM BBT – Indy walks in and Joseph, Alyssa, and Jasmine are trying to talk to her about the vote. Indy says that if Taylor stays, then Indy will go home next week because they will all go on the block. Michael tells Indy that if Nicole stays, she has said that she would put Alyssa and Indy up. Meanwhile, Nicole is telling Daniel that it's going to be 8-2 or 9-1, there isn't anything they could do. Daniel agrees.

11:54 AM BBT – Indy walks into the room where Daniel and Nicole are talking and she is very upset telling Nicole that she tried.

11:56 AM BBT – Feeds cut to Pet Loops for HOH lockdown.

1:19 PM BBT – Feeds return after HOH lockdown.

1:34 PM BBT – Taylor tells Monte and Kyle that in the middle of Jasmine telling Taylor that she was willing to keep her this week, Nicole came out and started yelling at Jasmine and questioning why she's going this week.

1:36 PM BBT – After Taylor leaves, Monte tells Kyle that Terrance was trying to convince Joseph to keep Nicole last night. Kyle says that Terrance has been telling him that he is voting with them. Adds that either way, Taylor is staying and they are going to look like idiots. Kyle thinks that they are going to try and corner him before the show.

1:40 PM BBT – Jasmine is still trying to find out who is responsible for MuffinGate.

2:10 PM BBT – Daniel telling Joseph that he doesn't have to lie to him anymore. Joseph says that he isn't lying. Michael walks in and says there is your winner now. Michael is caught offguard. Daniel just tells them that he wishes everyone would stop lying to him. Daniel leaves and Joseph tells Michael all he did was ask if he was switching his vote.

2:17 PM BBT – Terrance tells Joseph that his vote is to keep Taylor.

2:26 PM BBT – Indy tells Jasmine that the 5-5 vote isn't going to happen now. She talks about how Nicole yelled at her, Jasmine, and Alyssa. Jasmine says that means they have to get Daniel out next week. Indy agrees.

2:31 PM BBT – Michael is retelling what we walked in on between Daniel and Joseph to Brittany. Meanwhile, Nicole is telling Jasmine and Indy not to let a man win this game.

2:33 PM BBT – Nicole asked Jasmine and Indy if they were still voting to keep her or voting with the majority. Jasmine asked how she knew that was the majority. Nicole hashes through all the things people have been saying and what she has heard from others. She just doesn't understand how Taylor was the houses target but now it seems like most of the house is voting her out.

2:41 PM BBT – Joseph and Terrance are talking about the votes and Daniel walks up and says "you trying to get Terrance to switch his vote?" Joseph says "yeah" and Daniel reminds them both that only one person gets the check.

2:43 PM BBT – Kyle asks Daniel if he can talk to him, Daniel says not if you're going to lie to me. Terrance walks by Daniel and Daniel tells him that Joseph tried to get him to switch his vote too and tells Terrance not to trust him. Daniel walks into the room with Kyle and closes the door. Kyle tells Daniel that he talked to a few people and it seems like they are all switching their vote and so is he. Daniel tells him he knew that days ago. Daniel continues to trash everyone else in the house.

2:48 PM BBT – Daniel tells Kyle that they are going on the block next week and he will go home. Kyle give him a look that he doesn't think that's the case. Daniel tells him that Kyle knows that, they told him, he knows he has been talking to them more than he (D) has.

2:53 PM BBT – Indy confirms with Alyssa that she is voting with the house.

3:00 PM BBT – Kyle and Michael are talking in the HN room about everything going on with Daniel.

3:12 PM BBT – Taylor says that at least she isn't the only one that has been yelled at by Daniel now. Turner asks who else has been yelled at? Taylor tells him nearly half the house at this point.

3:13 PM BBT – Michael is breaking the news to Nicole that he isn't voting for her to stay. She says that she doesn't know what Daniel is doing, but it isn't helping her or him. She says that she never asked him to speak on her behalf. Nicole tells Michael that Jasmine's husband and Monte are part of the same fraternity and Taylor is part of a sorority that is a sister sorority to their fraternity.

3:16 PM BBT – Feeds cut to Adoptable Animals for live show prep.
Nicole's last-ditch plan to try and rally votes fell flat and Daniel began to trash the houseguest's gameplay in a crappy attempt to convince them to keep Nicole in the house. Daniel claims that he has known all week that Nicole was the target, but still hasn't accepted the fact that it was his decision that put her in this position in the first place. Looks like the vote will likely be 9-1 with the only vote for Nicole to stay being from her number one ally in the game.
You can watch all of these Big Brother events using the archives Flashback, the DVR-like feature of this year's Live Feeds which means it's always live, even when you missed it! Sign-up now to get the free trial to watch it all live & uncensored.


Gallery: Live Feeds Highlights
Download our Big Brother App, join us on Facebook & Twitter, and get our Email Updates for more!