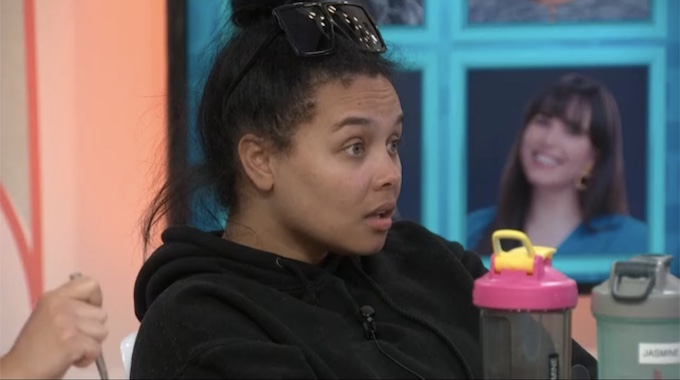 It is Eviction Eve inside the Big Brother 24 house and The Leftovers are just counting down the hours before tomorrow night's eviction. The plan is still the same as it has been since Monday's Veto Ceremony and this week's target is still feeling pretty comfortable with their fellow BB24 houseguests. Read on to find out what the Big Brother houseguests all had to say inside the house and who some future targets could be.
If you've got the Live Feeds (Free Trial) then you can watch all of these moments with the Flashback feature to go back and watch those important conversations or funny scenes you may have missed.
Big Brother 24 Live Feed Highlights – Wednesday, August 3, 2022:
10:25 AM BBT – HGs are waking up.

10:45 AM BBT – Nicole tells Daniel that she talked to Kyle and told him that everyone has a great social game and they genuinely love him. She also warned him that if he works with the other side of the house, they are going to use him and manipulate him.

10:55 AM BBT – Taylor is camtalking and mentions that as of tomorrow she will have seen the block more than anyone else this season on an eviction night.

11:15 AM BBT – Taylor says that if she doesn't win HOH, she's going to end up a HN next week. She adds that if she does win HOH, that means that Brittany and Michael will likely end up HNs. Taylor then says that she love Brittany, Michael, and Joseph and campaigns for Joseph to get AFP.

11:22 AM BBT – Nicole is in the kitchen retelling a conversation she had with Taylor, Turner, and Joseph about whether there are more wheels or doors in the world. Taylor is sitting upstairs saying that she started this conversation to the cameras. Taylor mentions how she has prompted so many great conversations in this house and no one gives her credit for them.

11:32 AM BBT – Taylor is manifesting an HOH win next week and says that if she wins, she will send Daniel home. She adds that Indy is only being nice to her because she thinks that she (T) is going home.

12:05 PM BBT – Nicole is campaigning to Michael and asking if he was still leaning towards keeping her over Taylor. He tells her that he is.

12:08 PM BBT – Michael tells Nicole that he feels that it would be better for his game if Nicole stays and joins him and Brittany. She says absolutely because it takes the target off both of them.

12:11 PM BBT – Michael asks Nicole if she has talked to Monte about with way he would vote if there is a tie. Nicole says no, she hasn't talked to him since the Veto Ceremony. She adds that she doesn't thinks that Monte was happy about Daniel using the Veto when he told him not to. She adds that he (M) has always said that Taylor was his target, but she doesn't want to assume.

12:28 PM BBT – Joseph tells Kyle that he isn't going to tell anyone where he is voting and that he doesn't care either way. Says he isn't going to start leaking that he is voting Nicole out until tomorrow, but he's worried that someone might go run and tell Nicole or Daniel.

12:30 PM BBT – Brittany joins the conversation and asks them just to let her and Michael know when they start leaking their vote. Taylor says in the meantime she is going to pack and have a self-care day, and work on her speech.

12:36 PM BBT – Taylor asks Brittany if Michael told her about Po's Pack before it was exposed. She tells her that he told her right before. Brittany expresses that she talked to Michael last night and he is all in for both of them and Taylor says that she trusts both of them, but she has questions.

1:30 PM BBT – Nicole heads up to the HOH with Monte to talk to him. Nicole says that she really thinks that Daniel is so set on getting Taylor out that he didn't even put into consideration the risk she would be in. She says that she appreciates him coming to her and telling her his concerns.

1:32 PM BBT – Brittany and Indy are talking about the vote tomorrow. Indy says that out of the two of them, she trusts Nicole more, but she has more

1:35 PM BBT – Nicole asks Monte if he will be voting to keep her if the vote is split? He asks if she thinks that the vote will be split. She says that he said Indy, Alyssa, and Jasmine aren't going to vote for her, so she doesn't know if she can trust that anyone is going to vote for her. He said that he didn't say they weren't going to vote for her, he said they didn't trust her. She tells him that she took that as they aren't going to keep her.

1:39 PM BBT – Nicole asks Monte again who he would vote for, he says that his target is Taylor.

1:54 PM BBT – Nicole tells Monte that if she is still there and wins HOH, she is going to put either Alyssa & Indy or Turner & Jasmine up and she wants to join Brittany & Michael. She voices that if the three girls don't trust her, then one of them is her target. She adds that she talked to Michael and Brittany and they are okay with her joining them.

2:06 PM BBT – Monte is camtalking now that Nicole left the HOH room. He is talking about how he had to go along with what she was saying regardless of knowing that Nicole threw him under the bus with Jasmine, Alyssa, and Indy. He adds that she is playing dumb about Daniel using the Veto when Daniel told Kyle that they (D&N) both thought that Monte was lying.

2:08 PM BBT – Monte wonders if he should go to Jasmine and tell her that Nicole just lied to him about her going to Jasmine. He thinks that will have a trickle effect on Indy and Alyssa because Jasmine will likely tell them also. He's trying for a 9-1 vote against Nicole with Daniel being the only vote for her to stay.

2:11 PM BBT – Nicole is telling Jasmine and Alyssa that Monte is doubling down on what he told her the morning of the Veto Ceremony.

2:16 PM BBT – Jasmine is telling Alyssa, Michael, and Brittany that she doesn't want to be like last week (blindsided). Michael says that he is still pretty sure that the plan is to vote Taylor out.

2:18 PM BBT – Brittany and Michael tell Jasmine and Alyssa that they only thing about Nicole is she wouldn't tell them who her targets were next week. Brittany adds that she told her that she wasn't sure who she could trust. Jasmine tells them that Nicole has told her that she really likes them.

2:20 PM BBT – Jasmine thinks that if Nicole stays she would join her and Turner.

2:22 PM BBT – Alyssa tells them that she thinks Taylor is thinking about joining her and Indy.

2:26 PM BBT – Jasmine confirms with Alyssa and Michael that the plan is to vote out Taylor and just asks that if things change to let each other know.

2:32 PM BBT – Nicole tells Joseph that she can't count on Alyssa, Indy, or Jasmine's votes.

2:34 PM BBT – Nicole tells Michael that she feels good about her conversation with Monte. She says that Monte told her he would vote Taylor out if it was a tie.

2:36 PM BBT – Joseph is telling Terrance that if the house wants Taylor out, then so does he, but he is starting to smell that people aren't trusting Nicole. Terrance confirms that he is voting with them. Neither want to be on the wrong side of the vote.

2:40 PM BBT – Terrance tells Joseph that they need to win HOH to keep themselves safe. They agree that the three of them would be an easy backdoor plan for anyone.

3:00 PM BBT – Michael tells Alyssa that Nicole hinted to him that she was going to join him and Brittany if she stayed. He tells her that he was thinking about it and that just leave three teams for her to put up if she wins HOH (Alyssa & Indy, Jasmine & Turner, and Monte, Joseph, & Terrance). Brittany joins the conversation, Alyssa tells them that she feels something is off. Alyssa is worried since Nicole never mentioned joining her and Indy, which means that she thinks her and Indy would be Nicole's target.
Jasmine, Alyssa, and Indy are still planning to vote for Nicole to stay, but also seem open to the idea of flipping their vote if that meant they would be on the right side of things. While the Leftovers plan to leak to certain houseguests that they are planning to flip their vote, they are also a little worried that Nicole or Daniel might get wind of the change in plans.
You can watch all of these Big Brother events using the archives Flashback, the DVR-like feature of this year's Live Feeds which means it's always live, even when you missed it! Sign-up now to get the free trial to watch it all live & uncensored.

Gallery: Live Feeds Highlights
Download our Big Brother App, join us on Facebook & Twitter, and get our Email Updates for more!