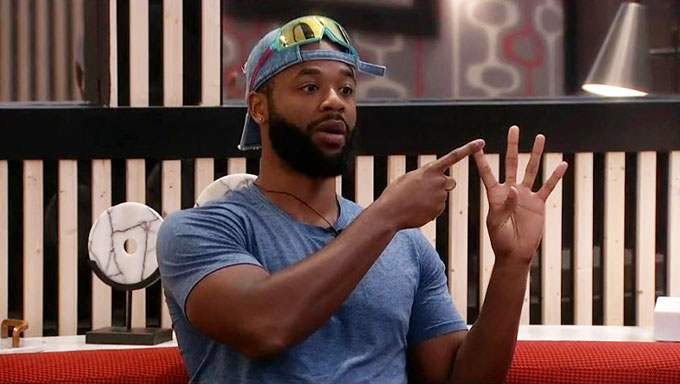 It's almost time for the next Big Brother 24 eviction, and even though it likely won't be another blindside, Daniel will probably be feeling quite foolish for using the veto and sending his main ally to the chopping block. That is if the votes play out the way it's currently looking.
So the "Festie Bestie" pair Nicole and Taylor are on the block. And as already mentioned, Daniel insisted on using the Power of Veto to remove Indy and Alyssa from the block, thinking now was the time they could strike at Taylor (because it's worked so well the other three weeks, huh?). And right now it looks like the votes are in Taylor's favor. Let's count the votes and see for sure.
As of now, this is how things are looking, but there's talk of some of Nicole's allies going with the house so they aren't blindsided again. But we'll look at that scenario after this one.
Votes to Evict Nicole: Turner, Joseph, Michael, Brittany, Kyle, Terrance
Votes to Evict Taylor: Indy, Alyssa, Jasmine, Daniel
Even if Terrance decides to not return the favor this week and vote out Nicole, that would be a 5-5 tie and Monte would break it and send Nicole out. But it might not even be this close, because Jasmine and Alyssa want Taylor out, but they don't want to be on the wrong side of the vote. So it could end up like this:
Votes to Evict Nicole: Turner, Joseph, Michael, Brittany, Kyle, Terrance, Jasmine, Alyssa
Votes to Evict Taylor: Indy, Daniel
Or it could end up unanimous if everyone is told about the vote ahead of time, but no one really expects Indy to vote out Taylor because she dislikes her that much. But being the only vote against someone is sure a good enough reason to become their target if they win HOH, so maybe the unanimous vote is possible.
As we know, a lot can change in 24 hours, but as of now, this is how the vote is looking for the Big Brother 24 Week 4 eviction. How do you think the eviction vote will play out? Lets us know by voting in our poll below.