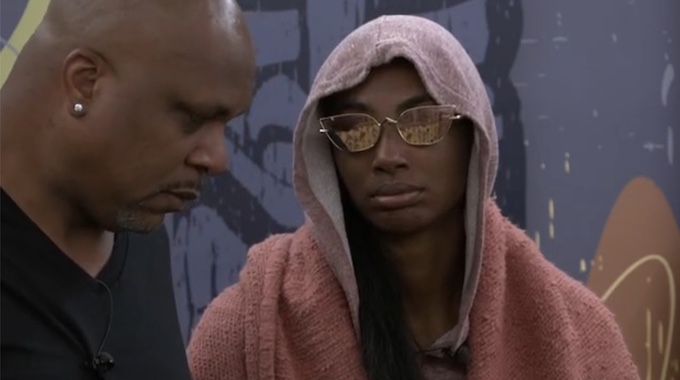 It is Eviction Day inside the Big Brother 24 house and a good portion of the house still has no idea what's going to happen at tonight's live vote and eviction. Some of the Big Brother houseguests came up with a plan to not only cover up their votes but also keep The Leftovers alliance a secret as they plan this epic blindside. Read on to find out what went on inside the BB24 house before the feeds cut for the live show.
If you've got the Live Feeds (Free Trial) then you can watch all of these moments with the Flashback feature to go back and watch those important conversations or funny scenes you may have missed.
Big Brother 24 Live Feed Highlights – Thursday, July 28, 2022:
8:45 AM BBT – Terrance and Nicole are up in the kitchen. Terrance tells Nicole that he is going to make sure to chit-chat with Ameerah so she doesn't feel bad about him leaving. Nicole asks Terrance what him and Turner talked about and he tells her that Turner was just apologizing for putting him in this position.

9:00 AM BBT – Nicole tells Terrance that she knows that Turner is the puppetmaster this week, but she also knows that there is something bigger going on (because she is a detective). She also mentions that if she wins HOH tonight, she would put Indy and Alyssa on the block with Alyssa being her target.

9:15 AM BBT – Nicole goes to wake Daniel up and Terrance turns to the camera saying that today is going to be a long day inside the Big Brother house with a big smile on his face. Nicole comes back in and they start shouting out family.

10:15 AM BBT – HGs are waking up.

10:25 AM BBT – Kyle, Michael, Brittany, and Joseph are talking in the Storage Room about tonight's vote. Joseph says he needs to come up with a story for when they question why he swung his vote. Sounds like the plan is to use the Po's Pack alliance leak as an excuse.

10:35 AM BBT – Nicole tells Daniel that Terrance told her that they (N&D) needed to watch her back and said that if her and Daniel could, they should try and work with Turner.

10:48 AM BBT – Kyle and Joseph are talking about having Taylor spread that she overheard Ameerah talking about votes and mentioning the members of the Po's Pack.

10:50 AM BBT – Nicole tells Michael that she talked to Turner about how it doesn't look like Ameerah is going home and how Turner looked shocked. She says that Turner should have made sure he had the votes before taking that shot. Michael asks her what she thinks that vote is going to be. She says that either her or Daniel are going to throw Terrance a sympathy vote.

10:55 AM BBT – Daniel is talking to Turner about Ameerah being a threat and adds that he thinks she is working with a bigger group.

10:58 AM BBT – Ameerah tells Joseph that Terrance knew the moment he hit the block that he was going to go home. Says she doesn't even know why he tried to campaign because he told her that he wasn't going to. Joseph says he isn't even sure if Terrance attempted because he didn't come to him.

11:10 AM BBT – Joe explains to Taylor that she should go to Terrance and tell him about overhearing a conversation between Kyle and Ameerah in the storage room about a Po's alliance. Tell him the people in it and he will likely spread it like wild fire. He also adds that she could go to the people who aren't in it and plant seeds. He says that this will protect their alliance and cause chaos before the live show.

11:15 AM BBT – Michael is filling Brittany in on the plan to cover the vote.

11:20 AM BBT – Taylor tells Brittany that it's always her taking the fall and asks why can't Kyle do it? She says that he wants her to talk to everyone who isn't in it, but she is only going to talk to Terrance, she can't do the rest.

11:30 AM BBT – Nicole asks Ameerah what's up with Joseph, he's acting weird? Ameerah tells her that Joseph is worried that no one is talking game with him and Terrance didn't campaign to him at all. Ameerah tells Nicole that she thinks that she should let Daniel give Terrance the sympathy vote because she doesn't want Po's Pack to hold it against her later.

11:47 AM BBT – Feeds cut for lockdown.

1:27 PM BBT – The Feeds return with the houseguests getting ready for tonight's show. Turner is packing up and moving all his stuff out of the HOH room.

1:30 PM BBT – Kyle is talking to Monte about how he doesn't feel comfortable going up with Daniel next week because he worried about putting Taylor in a spot where she would have to break a tie. He's worried that the other women in the house might get in her ear. Kyle mentions that depending on who wins HOH, they might be able to go with the option that puts none of their alliance members in danger (Indy & Alyssa).

1:35 PM BBT – Kyle says that if Daniel is Taylor's target, then he would feel better sitting on the block (Daniel would be).

1:40 PM BBT – Alyssa tells Ameerah that Jasmine thinks the HOH might be endurance because they wrapped her ankle.

1:48 PM BBT – Taylor tells Terrance about Po's Pack and tells him that Kyle and Ameerah are in it, but Jasmine, Daniel, and Indy are not. She says that if he is able to talk to the three of them and tell them about this alliance, this might help him.

1:52 PM BBT – Terrance tells Joseph that he feels good about today, Joseph tells him he should. Joseph adds that

1:55 PM BBT – Terrance tells Joseph that after tonight, the two of them and Monte need to talk. Joseph tells him that he has a feeling that there is something bigger going on. Terrance says that he thinks that Ameerah had a bigger plan that Nicole is a part of.

2:15 PM BBT – Ameerah is talking to Terrance and she asks him if he thinks he is going today. He tells her absolutely. She tells him that she isn't 100% sure that she is stay but adds that if she does, she is going hard this week. He tells her that she better.

2:40 PM BBT – Terrance is telling Turner about his conversation with Ameerah.

2:42 PM BBT – Terrance tells Turner how Nicole has been feeding him information because she thinks that he is going home. He says that Nicole and Daniel are planning to take out Taylor, Brittany and Indy next to get them to jury, but possibly throw Turner into the mix.

2:44 PM BBT – Terrance tells Turner that he is going to act completely surprised when he stays and then go to Nicole and Daniel and thank them for keeping him around knowing that they didn't. To see if they pull him in and give him information.

3:05 PM BBT – Jasmine tells Terrance that she doesn't think that it was everyone wanting to vote him out, they just feel that they need Ameerah in the house more.

3:08 PM BBT – Terrance is telling Kyle that Nicole came to talk to him last night and she told him that everyone seems to want to keep Ameerah, which he understands. Kyle says that he still needs to find out where Daniel's head is at. Says he wants to be on the same page as him.

3:15 PM BBT – Terrance tells Kyle that he talked to Turner and he told him just to keep playing the game. Terrance says that if he stays tonight, he would like for the two of them and Turner to sit and have a chat.

3:20 PM BBT – Terrance tells Joseph about his conversation with Taylor. Joseph is acting dumb about the alliance and is trying to suggest who might be in or out of that alliance without making it seem like he knows.

3:22 PM BBT – Joseph tells Terrance that he has his vote. Joseph also says that he is also going to make sure that Monte is locked in too. Joseph suggests that he talks to Daniel and mention this alliance and see if he can use it to lock in that pity vote.

3:27 PM BBT – Daniel is talking to Kyle about the votes and how he is wavering between throwing Terrance a vote or voting for Ameerah to make sure she stays. Kyle tells him that he just wants to be on the same page as him. Kyle asks if he should throw Terrance a vote too? Daniel says that it sounds like Michael might want to also, so it might not be a good idea.

3:33 PM BBT – Terrance tells Daniel that he just needs him to be careful going forward because he is getting wind of an alliance that Kyle and Ameerah started. He says if he isn't part of it, just move accordingly. Daniel tells him that he told Turner that as soon as Ameerah was put up, people started talking about keeping her. He knew something big is going on.

3:36 PM BBT – Daniel tells Joseph about how a conversation he had with Ameerah about throwing Terrance a vote.

3:36 PM BBT – Feeds cut to adoptable animals for live show prep!
Ameerah is still convinced that she has the votes to stay this week, so much so that Daniel plans to throw a sympathy vote to Terrance so that he isn't voted out unanimously. Nicole has been feeding Terrance information since last night and has been super emotional about having to vote him out. Make sure you come back later to find out who was voted out and who went on to win the HOH competition for Week 4! Who do you hope to see in power?
You can watch all of these Big Brother events using the archives Flashback, the DVR-like feature of this year's Live Feeds which means it's always live, even when you missed it! Sign-up now to get the free trial to watch it all live & uncensored.


Gallery: Live Feeds Highlights
Download our Big Brother App, join us on Facebook & Twitter, and get our Email Updates for more!