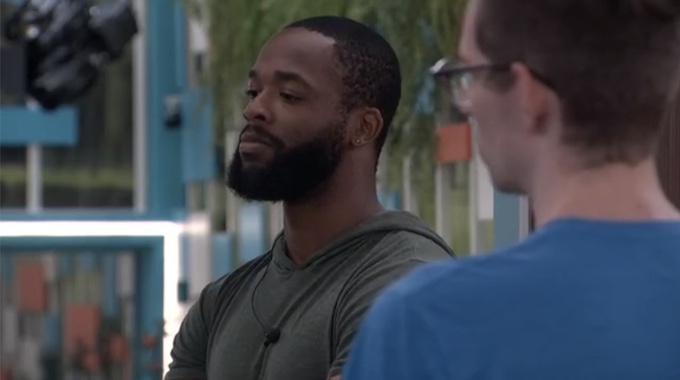 It was a fairly quiet start to the day inside the Big Brother 24 house with the houseguests all confirming the plan for tomorrow. Some of the other Big Brother houseguests have also come around to realizing that this week's plan might be what's best for their game. Read on to find out which BB24 houseguests are on board with voting out one of their allies.
If you've got the Live Feeds (Free Trial) then you can watch all of these moments with the Flashback feature to go back and watch those important conversations or funny scenes you may have missed.
Big Brother 24 Live Feed Highlights – Wednesday, July 20, 2022:
10:00 AM BBT – HGs are slowly waking up.

11:00 AM BBT – Kyle asks Jasmine about tomorrow's vote and if anything has changed. Jasmine tells him that she doesn't think anything has changed and it's out of her control. She adds that Pooch was talking to Turner about who he plans to target next week and he wasn't being very quiet about it.

11:10 AM BBT – Kyle asks if Jasmine thinks that Taylor knows she is staying? Jasmine says she doesn't think so because she has been coming up and campaigning.

11:35 AM BBT – Jasmine tells Ameerah and Daniel that Kyle told her that he is going to vote with the rest of the house.

11:40 AM BBT – Daniel tells Jasmine that he will put the bug in Monte's ear about how the house is feeling and then tomorrow let him know that he isn't going to vote against the house.

12:15 PM BBT – Taylor and Monte are playing bumper pool and swaping personal stories. Large group of HGs are in the HOH room hanging out with Jasmine.

1:10 PM BBT – Taylor and Monte's conversation turns into her campaigning. She says that she knows that her chances are slim this week because getting rid of her won't ruffle any feathers. She adds that she would be a good shield for him.

1:15 PM BBT – Monte tells Taylor not to rule anything out this week and adds that there is a liklihood that she could be staying. He adds that them working together could be benefical to both of them.

1:30 PM BBT – Taylor asks Monte if there is potential for him to vote for her to stay. Monte says that there is especially with the way that Pooch has been acting. Monte says that Pooch has been panicking where Taylor stays cool when put into these situations. Monte tells her that Pooch has already spread information that he has given to Pooch.

1:45 PM BBT – The HNs are told that the HNs is over at midnight tonight. They are all celebrating because they are going to be able to eat and take hot showers. They don't know where they are going to sleep though because there are no empty beds.

1:47 PM BBT – Monte tells Daniel and Terrance that he is feeling better about going with the house on this vote. Explains that Pooch has been panicking and spreading information which has proven that he can't trust Pooch.

2:20 PM BBT – Monte is telling Kyle and Michael that he is okay with keeping Taylor this week.

2:26 PM BBT – Monte is trying to figure out when would be a good time to tell Joe about what Pooch did with throwing Joe under the bus. He thinks that waiting until tomorrow is the best option so that Joe doesn't blow up on him.

2:28 PM BBT – Monte says it seems like the girls have socially isolated Taylor which isn't smart because she is a strong competitor and can win HOH or POV to save herself. Kyle asks if putting Turner and Taylor up is safe for next week if they win HOH? Monte asks what his relationship with Brittany and Indy is like? Kyle says that he doesn't talk game with either but they are friendly.

2:35 PM BBT – Monte thinks that if Indy was on the block that she might put herself into a situation like Pooch has this week. He says that he would initially put Taylor and Turner up with Indy or Brittany being his renom choice if one of them came down.

3:03 PM BBT – Kyle fills Brittany in on the plan for next week looking like Turner and Taylor. Brittany worries that they are both strong competitors though so one of them could come off. Kyle is worried that depending on who wins, someone might want to take a bigger shot next week.
Pooch has been causing some problems for his allies inside the house and Monte has realized that he might be better off aligning himself with Taylor moving forward. Pooch has also thrown Joseph under the bus and Monte plans on filling Joseph in on that a little closer to eviction time. With Kyle also being on board with voting Pooch out this week, it looks like Turner might be the only one voting to keep Pooch in the house this week. Unfortunately, there is a chance that we won't find out until Sunday night when the eviction airs on a special two-hour episode.
You can watch all of these Big Brother events using the archives Flashback, the DVR-like feature of this year's Live Feeds which means it's always live, even when you missed it! Sign-up now to get the free trial to watch it all live & uncensored.


Gallery: Live Feeds Highlights
Download our Big Brother App, join us on Facebook & Twitter, and get our Email Updates for more!