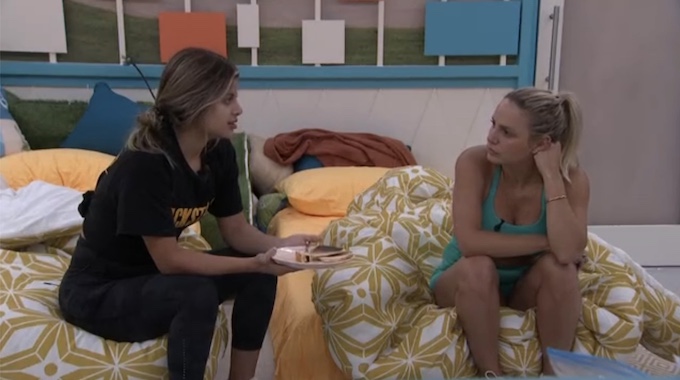 It is Nomination Day inside the Big Brother 24 house and the houseguests were scrambling to get their last-minute meetings in before the Nomination Ceremony took place. More alliances formed and more deals were made inside the Big Brother house. Keep reading to get all the details of what took place on the Big Brother live feeds before the Nomination Ceremony took place!
If you've got the Live Feeds (Free Trial) then you can watch all of these moments with the Flashback feature to go back and watch those important conversations or funny scenes you may have missed.
Big Brother 24 Live Feed Highlights – Friday, July 8, 2022:
7:50 AM BBT – Daniel is up and roaming around.

8:35 AM BBT – Nicole is up and Daniel has asked her to come up to the HOH to talk.

8:45 AM BBT – Nicole and Daniel are comparing notes on their relationships inside the house.

9:00 AM BBT – Nicole heads downstairs and asks Taylor if she has talked to Daniel yet. She tells Nicole that she talked to him a little and asked why. Nicole tells her that it just seems like no one is playing Big Brother. Taylor thinks that people are playing the game, they just aren't seeing it. Nicole wonders if the HNs are working together.

9:05 AM BBT – The rest of the HGs are getting their wakeup call.

9:15 AM BBT – Daniel is talking to Kyle now and he tells him that he isn't sure what is going on today, but he knows something is coming.

10:00 AM BBT – Terrance, Paloma, and Michael are talking in the storage room trying to remember the details of the Backstage Crew. Terrance is confused by how they can't be nominated or renominated after Veto, but could still be in jeopardy of going home.

10:02 AM BBT – After Terrance leaves the SR, Paloma runs down the six-person alliance she wants him to be in. She says it would be the two of them, Monte, Kyle, Ameerah, and Alyssa.

10:07 AM BBT – Michael camtalks and says absolutely not because it puts him at the bottom in the alliance. He says that he is going to use this to his advantage, but this doesn't align with the conversation they had yesterday.

10:20 AM BBT – "Nominations Today" message is on the monitor in the living room.

10:30 AM BBT – Paloma tells Alyssa that she talked to Michael this morning and he is locked into the alliance. Ameerah walks in and she tells them that it's important that they balance both of these alliances. Ameerah tells them that she doesn't trust Monte and would have rather had Joe in the group.

11:00 AM BBT – Daniel tells Monte and Pooch that he needs reasons to put someone up. Not having reasons to put anyone up is making his decision difficult.

11:05 AM BBT – Daniel says that he is also putting into consideration who has talked game with him and who hasn't.

11:15 AM BBT – Joe comes into the HOH and Pooch leaves. Daniel tells Joe that his plan isn't to take out a strong competitor and Joe says that he thinks that it's just too early to make a move like that.

11:20 AM BBT – Daniel tells Joe and Monte that if he keeps them safe this week, that he just hopes they do the same for him in the future.

11:30 AM BBT – Ameerah tells Jasmine that Nicole told her that she (A) needs to go talk to Daniel. Jasmine tells her that while she was talking to Daniel last night, Taylor barged in and interupted them. Ameerah goes to look for Daniel.

11:35 AM BBT – Ameerah tells Michael and Brittany that no one seems to know who is getting nominated and if someone does, they are doing a great job at keeping the information quiet. Michael adds that there isn't even an obvious choice either.

11:40 AM BBT – Ameerah confirms with Monte that Pooch is out of Mamba (their alliance) and Monte tells her that he thought that Pooch would be someone good to work with, but he's a wild card.

11:45 AM BBT – Ameerah asks Monte if he knows what Daniel is going to do and he tells her that Daniel isn't going to put anyone strong up because he knows that if they come down, they will go after him next week if they win HOH.

11:55 AM BBT – Daniel tells Nicole that he is planning to put weak assuming people on the block that they can manipulate even while they are on the block. Meanwhile Paloma is telling Indy that she is going to continue to push for a strong person to go first this week.

12:00 PM BBT – Daniel tells Nicole that Michael is on his radar because he admitted he was a superfan and added that he would hate to go week one. He also tells Nicole that Terrance hasn't talked any game with him at all.

12:05 PM BBT – Daniel mentions that Taylor hasn't talked game with him either and unless she does before nominations, she might also be an option for him. He also tells Nicole that Indy hasn't talked any game with him at all either. Nicole mentions that Indy and Ameerah seem really close.

12:15 PM BBT – Daniel tells Ameerah that her mentioning the HNs possibly working together has made him pay closer attention to things going on in the house. Ameerah says that she still thinks that they are all the biggest threats in the house.

12:20 PM BBT – Daniel tells Ameerah that he is worried they would come after him next week week if they won. Ameerah lets him know that she would protect him and so would the rest of the girls.

12:40 PM BBT – Alyssa tells Daniel that she has no idea where Terrance's head is at and Daniel says that he doesn't either. He told her that he even told Terrance to come talk to him and added that him not coming to talk to him is giving him reason to nominate Terrance.

1:05 PM BBT – Jasmine and Daniel touch base and he lets her know that she is safe this week and has nothing to worry about.

1:25 PM BBT – Daniel asks Indy if there is anyone that she is vibing with and she mentions Terrance and Monte as friends and also tells him that she loves Alyssa, but she is still trying to feel everyone out.

1:30 PM BBT – Daniel asks Indy if she would be willing to help protect him going forward and she tells him that she is going to protect everyone that she likes in the house.

1:40 PM BBT – Daniel goes and asks Taylor if he can talk to her really quick before nominations. He tells her that his biggest fear coming out of this HOH is safety after this week.

1:43 PM BBT – Taylor and Daniel agree to have each other's backs going into next week.

1:45 PM BBT – Daniel assures Turner and Pooch that they are safe this week (Pooch is anyways). Pooch tells Daniel that they (T&P) pulled Kyle, Monte, and Joe into an alliance with the two of them plus Daniel.

2:13 PM BBT – Feeds cut to animal loops for Nomination Ceremony
We have an all-guys alliance inside the Big Brother house consisting of six of the guys. Daniel got word from almost everyone that they would look out for him if they win HOH next week. He talked to everyone except for Terrance and Michael, which means that they will likely hit the block during today's Nomination Ceremony. Find out if he sticks to that plan by checking out our Nomination Ceremony spoilers coming up soon!
You can watch all of these Big Brother events using the archives Flashback, the DVR-like feature of this year's Live Feeds which means it's always live, even when you missed it! Sign-up now to get the free trial to watch it all live & uncensored.

Gallery: Live Feeds Highlights
Download our Big Brother App, join us on Facebook & Twitter, and get our Email Updates for more!