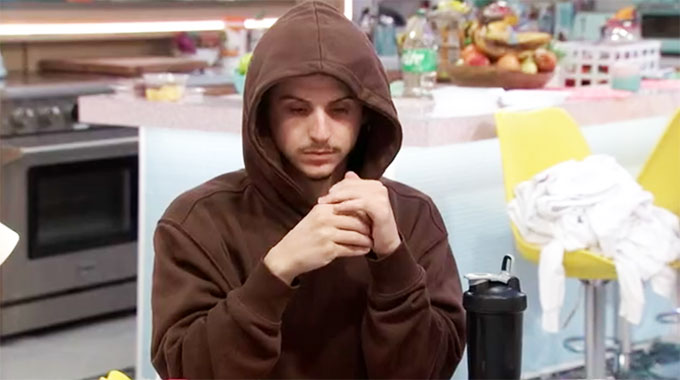 In traditional Final 4 fashion, the Big Brother 24 houseguests had a very low-key day that consisted of the nominees packing their suitcases and the longest game of rummy ever played. Last day of the F4 and then the season would be on to the F3 and the start of the final HOH comps on Thursday.
If you've got the Live Feeds (Free Trial) then you can watch all of these moments with the Flashback feature to go back and watch those important conversations or funny scenes you may have missed.
Big Brother 24 Live Feed Highlights – Wednesday, September 21, 2022:
11:15 AM BBT – The HGs got a late wake-up call. Taylor and Monte are in the kitchen. Turner and Brittany are still in bed.

11:45 AM BBT – Taylor has been giving herself a peptalk in the HOH room.

12:00 PM BBT – Monte and Taylor are in the HOH room talking about how awkward this stage of the game is. She mentions that she wants to study, but can't really study with anyone. Monte says that they both have a common goal (to beat Turner) so if she wants to study with him, they can.

12:15 PM BBT – Taylor and Monte are casually talking about the season as a way to study comp results, nominations, renoms, and vote counts for the season.

12:55 PM BBT – Monte wonders to Taylor if Kyle is really a shy reserved guy that doesn't drink or if he was putting on a show. Taylor says that she is hoping to find out that some of the former houseguests have big secrets they kept. Monte says he thinks that Michael studied computer science.

1:10 PM BBT – Taylor says she is looking forward to getting to know Paloma after the show because she feels like she didn't really get a chance to talk to her when she was in the house. Monte asks Taylor who she talked to the most the first week and she says Brittany.

1:40 PM BBT – Monte and Taylor start going over how many vetos everyone played in. Turner is sitting in the kitchen and Brittany is also up.

3:00 PM BBT – Brittany and Monte are wrapping up a card game. Taylor just finished cooking for her and Monte.

3:30 PM BBT – Everyone is hanging out in the kitchen, chatting and eating.

4:00 PM BBT – Turner is attempting to make a quesadilla and he burns it. He asks how one can not burn a quesadilla.

4:15 PM BBT – Cameras cut to the storage room and show Turner's and Brittany's suitcases awaiting them.

4:20 PM BBT – HGs are playing cards again.

5:15 PM BBT – All four HGs are still in the kitchen playing cards.

7:45 PM BBT – Still nothing going on in the house other than the card game.

8:27 PM BBT – The card game finally breaks up (or is at intermission as Brittany says).

8:29 PM BBT – Monte checks in with Taylor in the HOH room. He cuddles her a bit and she says she's having a tough day for no actual reason. She says just the game finally getting to her.

8:37 PM BBT – Taylor is in the storage room gathering items to make dinner.

8:45 PM BBT – Brittany and Turner are packing.

8:52 PM BBT – Brittany tells Taylor that the only other idea she has is to try some reverse psychology on Monte. She seems to be pretty defeated though. Brittany says maybe if Taylor tries to push Monte to evict Brittany then maybe they can push him in the other direction. Taylor says she will give it a try. Brittany says she has nothing to lose at this point.

8:54 PM BBT – Brittany says Turner was rattling off facts about the game today like it was nothing.

9:00 PM BBT  – Brittany has finished packing and is back in her bed contemplating.

9:02 PM BBT – Taylor is cooking dinner (pasta) and Monte is doing dishes.

9:05 PM BBT – Brittany is talking to herself again, possibly practicing her eviction speech or talking out some last-minute pitch ideas to Monte.

9:07 PM BBT – Brittany says to herself that Monte has beaten her in more comps than he has Turner. She says the math should be so easy for him to see.

9:11 PM BBT – "Keep me in this game," Brittany says to herself.

9:20 PM BBT – Taylor gives another push at Monte to warn him that Turner is a bigger threat to them than Brittany. She points out that Turner was rattling off all the season's events and details. Monte says that's useless information.

9:55 PM BBT – Brittany is alone and talking to herself about learning to trust herself rather than relying on others. She says a prayer of thanks for the opportunity to play Big Brother.

10:00 PM BBT – Brittany camtalks that Big Brother was more fun than she expected and she wishes she could restart and do it all over. She doesn't want to leave and will miss it.

10:10 PM BBT – Dinner time. Taylor has made pasta for everyone.

10:35 PM BBT – Taylor and Turner agree they are excited to watch the Dyre Fest episodes so they can see how that looked.

10:50 PM BBT – Turner asks if Brittany knows she's going. Taylor says she does but she's still trying.

10:55 PM BBT – Turner asks Monte if he should be campaigning to him. He says he's not used to this.

11:30 PM BBT – Monte and Taylor discuss if their showmance will matter to the Jury. Taylor mentions how upset Indy got when she (T) was flirting with Monte in the first week.

12:00 AM BBT – Brittany has gone to bed but the other three are playing cards.

1:00 AM BBT – Card games continue as the trio chatters.

1:15 AM BBT – HGs are starting to tire and shift to wrapping up for the day.

1:55 AM BBT – Monte and Taylor kiss upstairs in the HOH room. They prep the shower and… Feeds change to Brittany sleeping.

3:00 AM BBT – Taylor and Monte are cuddled up in the HOH bed and are studying days and events of the season.
So the Monte and Taylor breakup is back on hold, it seems. And again on Wednesday, nothing shifted in Monte's plans to keep Turner over Brittany. We'll see that decision play out live on Thursday night as the F3 is confirmed and the remaining HGs compete for the final power of the season.
You can watch all of these Big Brother events using the archives Flashback, the DVR-like feature of this year's Live Feeds which means it's always live, even when you missed it! Sign-up now to get the free trial to watch it all live & uncensored.


Gallery: Live Feeds Highlights
Download our Big Brother App, join us on Facebook & Twitter, and get our Email Updates for more!