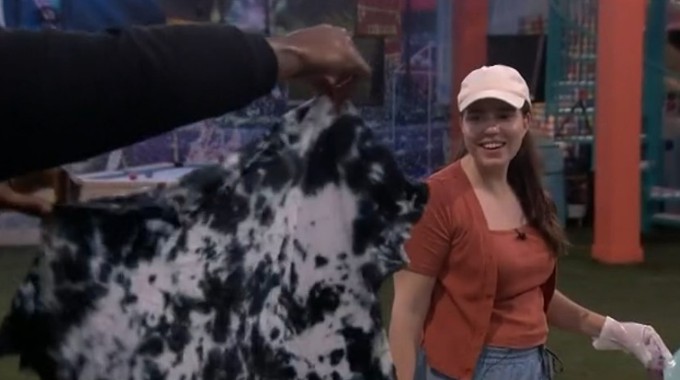 The Big Brother 24 season is winding down and the HGs have settled on their final decisions, but we've still got a few more days of the Live Feeds to get through. Saturday was a quiet one with the ceremonial arrival of the tie-dye shirt kit and not much else. Just one week left to go before the finale!
If you've got the Live Feeds (Free Trial) then you can watch all of these moments with the Flashback feature to go back and watch those important conversations or funny scenes you may have missed.
Big Brother 24 Live Feed Highlights – Saturday, September 17, 2022:
8:35 AM BBT – Lights are on but no one is stirring.

10:40 AM BBT – Big Brother reminds the HGs to get on up.

12:20 PM BBT – Monte and Taylor are up and in the backyard chatting about life experiences.

1:05 PM BBT- Monte discussing with Brittany his background as an engineer.

1:15 PM BBT – Taylor tells Brittany that this is important and she's still working on Monte to keep her over Turner. Brittany says she was feeling defeated yesterday but maybe Monte needed a day. Brittany hopes it works but promises Taylor her Jury vote if it does not.

2:05 PM BBT – Taylor explains to Turner what she does for work as a personal shopper with Trunk Club. She picks out outfits, warehouse sends it, buyers receive and decide it they'll keep the clothes.

3:10 PM BBT – Taylor discussing the tiebreaker and how she expected Brittany to overestimate the time, but Taylor isn't sure why she picked 480 seconds.

3:50 PM BBT – Brittany working out past comps, etc. with M&Ms.

4:30 PM BBT – Brittany is still working on her "graphs" and says it shows evidence of his best option on who to take to the end.

5:00 PM BBT – Brittany continues her work and is narrating what she'll say to Monte by showing him the results of all 25 comps then how that fits against the remaining three comps for the Final HOH.

5:25 PM BBT – HGs are trying to figure out the remaining show schedule. They don't know the finale date and think they have more shows left than they really do.

5:35 PM BBT – HGs discussing how much they enjoyed the CBB seasons and how different it seemed to be because everyone was friendly.

5:45 PM BBT – HGs got a tie-dye kit and head outside to use it. Bonus wine included.

6:15 PM BBT – Taylor hears a wedding ceremony on the studio lot and goes inside to tell the other HGs.

8:30 PM BBT – HGs have been making tie-dyed shirts.

10:00 PM BBT – HGs hanging out and playing games.

11:00 PM BBT – HGs discussing first impressions. Brittany thought Kyle and Monte were Disney Channel esque. Taylor knew Turner would be the artsy guy.

11:45 PM BBT – Monte and Turner hanging outside and playing pool together.

11:55 PM BBT – Turner and Monte wonder if Kyle could have won if he hadn't messed up. They discuss again the timing of Michael's reveal and Monte questions when he did it and how much the episodes will show.

12:10 AM BBT – Monte thinks Kyle knew exactly what he was saying when he was making the Cookout 2.0 suggestions.

1:15 AM BBT – Monte, Taylor, and Turner together in the kitchen. Brittany has already gone to bed.

1:35 AM BBT – Awake HGs name themselves the Breakfast Burrito Club.

2:15 AM BBT – Trio has moved upstairs and are chatting when the group breaks up and Taylor stays.

2:25 AM BBT – Monte is back and the showmance resumes.

3:00 AM BBT – Feeds are off the showmance and we get the sleeping HGs instead.
Few more days for Brittany because nothing has changed. Taylor wants to keep working on Monte, but he isn't going to budge on his decision to keep Turner instead. Just three more episodes in the season so settle in and await the finale next Sunday.
You can watch all of these Big Brother events using the archives Flashback, the DVR-like feature of this year's Live Feeds which means it's always live, even when you missed it! Sign-up now to get the free trial to watch it all live & uncensored.


Download our Big Brother App, join us on Facebook and Twitter for more!