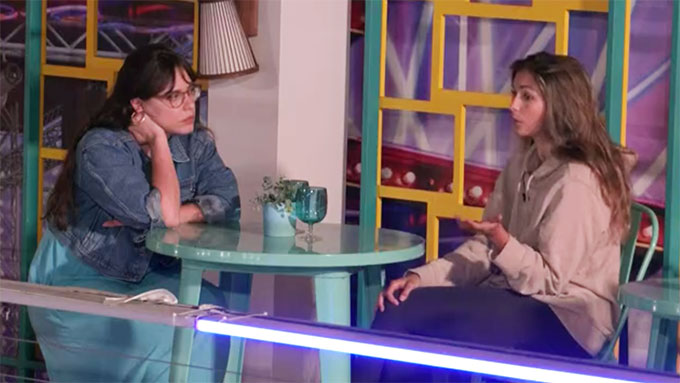 After Monday's Big Brother 24 veto ceremony, we officially learned three of the Final 4, but who will be the fourth? That's what most of the conversations consisted of Monday evening following the ceremony. Both final nominees, got to work campaigning, and as of now we seem to have a pretty solid idea how the votes are leaning.
If you've got the Live Feeds (Free Trial) then you can watch all of these moments with the Flashback feature to go back and watch those important conversations or funny scenes you may have missed.
Big Brother 24 Live Feed Highlights – Monday, September 12, 2022:
9:15 AM BBT – HGs are waking up.

9:45 AM BBT – Taylor is outside alone camtalking about how Monte has put her on the block twice now. Says she is sick of being a replacement nominee.

10:10 AM BBT – Monte checks in with Taylor. Taylor doesn't think there is a chance that Turner takes Brittany to F3 over either of them. Monte tells Taylor that it would be a great resume builder for her to take Turner out. He tells Taylor that he is rooting for her to win the next HOH.

10:30 AM BBT – Brittany checks in to see how Taylor is doing. Taylor says she is fine as long as she has Brittany's vote this week. Brittany nods. Taylor says that they have to win next week and mentions how Turner hasn't been on the block on eviction night.

10:35 AM BBT – Brittany tells Taylor that after having conversations with some people, she has been reminded that there are no "alliances" she just needs to focus on getting herself to the end.

10:58 AM BBT – Feeds cut to Adoptable Animals for Veto Ceremony.

11:51 AM BBT – Feeds return. Brittany used the Veto on herself and Monte nominated Taylor in her place. Taylor and Alyssa are final noms for Week 10.

12:55 PM BBT – Monte and Taylor are talking about how Brittany is so suspicious of Monte and Turner. Monte says that he wishes that Brittany would have come to him and talk to him. Taylor says that she tried to excourage it and adds that if Brittany is to win HOH next week that both Taylor and Monte are going through to F3.

1:25 PM BBT – General conversations going on about relationships and emotional maturity conversation between Monte and Taylor outside. Brittany, Alyssa, and Turner are talking about smart home gadgets.

2:45 PM BBT – HGs napping around the house.

3:05 PM BBT – Big Brother is trying to get the HGs to stir and stop napping.

3:20 PM BBT – Alyssa camtalks that she's had a good social game and hopes she can pull something off this week to survive. She's retelling her game and strategy which was to have no plan and just go with the game.

5:45 PM BBT – Brittany and Turner meet up and Turner says he feels like this is going to be an uncomfortable situation. Turner tells her that the day after they had that talk in the bathroom, Michael told him that Brittany was trying to get Turner out on Michael's HOH. So Turner says he then decided to out everything they talked about because he was angry and annoyed. Turner says he told people because he felt betrayed. He says "half sorry about that" but he says he felt like he was being played.

5:47 PM BBT – Turner says to Brittany that he also knows that she was pitching to get him out of the house this week. He says that's fine and he doesn't take any of this personally. He says he considers them friends outside the house, and that he loves and respects her. He says at first he was annoyed on a game level, but that has nothing to do with how he feels about people personally.

5:48 PM BBT – Brittany tells Turner that what he just told her doesn't really line up with her truths and since Michael isn't there, they can't really hash it all out. Turner says that's why he can't wait for them all to talk after the game ends.

5:49 PM BBT – Brittany tells Turner that Michael did believe and trust Turner more than he probably should have.

5:52 PM BBT – Brittany tells Turner that he's in a better spot now that he got Michael out. Turner says but it's kind of a double-edge sword because he betrayed Michael. Brittany says she thinks Michael will respect the move after a bit.

5:53 PM BBT – Turner says he only did 50 percent of the work to get Michael out.

5:54 PM BBT – Turner tells Brittany that he thinks he is at the bottom of the totem poll. Brittany says she was berated by Monte, so she's at the bottom. Turner says he is pretty sure he's at the bottom. He says if he's sitting next to her on the block, he's out of here. Brittany says that might be a logical thought, but not everyone there thinks logically.

6:12 PM BBT – Turner tells Brittany they're the only votes this week so they should discuss this. Brittany says she has a feeling her vote doesn't matter this week. Turner asks why's that. She says because he has a deal with Monte to vote out Alyssa. Turner asks her if that's where she's voting. Brittany says yes. Turner says same, and that sucks because he's very close to Alyssa. Brittany says she thinks Monte is afraid that she'll do something rogue. Turner asks what she means. Brittany says that Monte needs Turner to vote Alyssa out so that she votes Alyssa out and it's done.

6:13 PM BBT – Turner tells Brittany that he would appreciate her not tell Alyssa about this. He says he doesn't want there to be a strain on them the last few days she's in the house. He says he will probably tell her the night before so she doesn't blindsided. Brittany says she swears she won't tell Alyssa. Turner says he just wants to hold off telling Alyssa just for the sake of his friendship with Alyssa.

6:14 PM BBT – Turner says this time, please keep all of this information in this room. Brittany says she swears she won't talk about it.

6:26 PM BBT – Turner tells Alyssa that he had a talk with Brittany. Alyssa asks if Brittany said where her vote lies. Turner says she didn't say anything about her vote.

7:34 PM BBT – Brittany asks Alyssa, say hypothetically, she were to keep Alyssa over Taylor, but say Monte and Turner are not good with that, she could see a scenario where they would come after her because she didn't follow their plan. She says she's not saying this is the case, but if it were there would be repercussions, so that's something Brittany would have to think about.

7:35 PM BBT – Alyssa is talking to Brittany about sticking around this week. Alyssa says if Brittany is the reason she stays, she would owe Brittany her game. She says no pressure, but she wants people to just think about it and be open to asking her questions. She says and if they can't please be honest. Alyssa says she would never walk out of here without hugging people.

7:36 PM BBT – Alyssa says she knows Taylor and Brittany have a better relationship than they do. She says she knows it's a lot of pressure for Turner too.

7:41 PM BBT – Brittany asks Alyssa what Michael told her about her. Alyssa said that Michael said Brittany has a lot of deals with people, and she's lying about her career.

7:45 PM BBT – Turner updating Monte that he talked with Brittany and now wants to get to talk with Taylor before Brittany does. They're still trying to decide what Brittany's career really would be.

8:00 PM BBT – Alyssa, Brittany, and Taylor all gathered together outside on the balcony and happily chatting about the season and gameplay styles.

8:20 PM BBT – Brittany asks Taylor if she'd pick her over Turner or Monte. Taylor says yes. Taylor says look at where she is this week (on the block during Monte's HOH). Brittany says they can't sit next to Monte or Turner or they'd never win.

9:10 PM BBT – Brittany camtalks and is frustrated that Michael outed her lies. She also knows Turner is just lying to her again and is against her.

9:15 PM BBT – Taylor tells Alyssa she was going to send her out in her HOH week over taking her trip. Alyssa tears up. She asks Taylor not to say something mean on Thursday or it will throw her.

9:15 PM BBT – Brittany asks herself why she would have ever told Michael about her career and that she shouldn't have done that.

9:45 PM BBT – HGs hanging out in the kitchen, snacking and chatting.

11:30 PM BBT – HGs chatting in the backyard. Alysssa shares a little more about Old Skool and how it wasn't much of a thing.

11:50 PM BBT – Turner tells Alyssa that Kyle had the plan to blame everything on her when Old Skool was revealed. He says he wants her to know that before she goes to Jury. Alyssa starts to get upset that everyone keeps talking like she's definitely going to Jury this week.

1:00 AM BBT – HGs have moved back inside and are working on making banana bread.

1:20 AM BBT – Brittany shares that she has been applying to Big Brother for years and got to the finals for BB17.

1:30 AM BBT – HGs move out to the hot tub.

2:15 AM BBT – HGs chatting about reality TV.

2:30 AM BBT – Brittany went off to bed. The rest of the HGs stay up for chatting and eating.

4:00 AM BBT – HGs playing Chinese Checkers.
HGs are being fairly indifferent to Alyssa at this point but she's going to have to vote for one of them in a few days. Nothing has changed though and she'll be leaving for Jury on Thursday. Meanwhile Brittany is even more confident that she has to win her way out now with the guys solidly against her though she still hopes to have Taylor's support. Thursday will be a big night with the HOH and then Veto on Saturday will settle things.
You can watch all of these Big Brother events using the archives Flashback, the DVR-like feature of this year's Live Feeds which means it's always live, even when you missed it! Sign-up now to get the free trial to watch it all live & uncensored.


Gallery: Live Feeds Highlights
Download our Big Brother App, join us on Facebook & Twitter, and get our Email Updates for more!