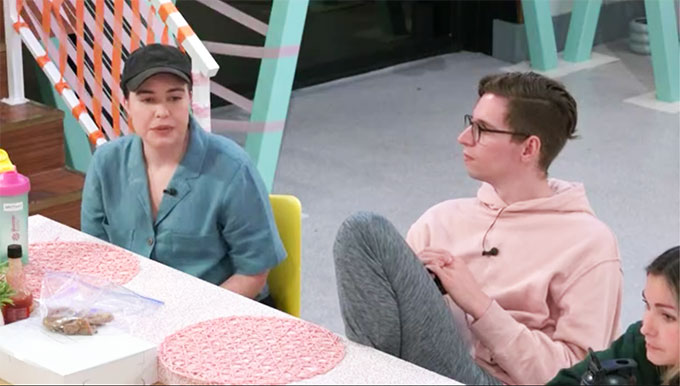 Not a lot changed in the Big Brother 24 house this eviction eve. Terrance accepted the fact that he is going home, and the other houseguests discussed their targets next week, or in this case round two of this looming double eviction. Brittany's antics continued to make her a nomination target, but seemingly not the actual eviction target. So who will that be? Read on to find out what everyone is thinking.
If you've got the Live Feeds (Free Trial) then you can watch all of these moments with the Flashback feature to go back and watch those important conversations or funny scenes you may have missed.
Big Brother 24 Live Feed Highlights – Wednesday, September 7, 2022:
9:45 AM BBT – HGs are waking up.

10:45 AM BBT – Taylor and Terrance are in the kitchen chatting, everyone else is still sleeping.

11:15 AM BBT – Taylor is waking everyone up and letting them know she is making pancakes for the house.

12:45 PM BBT – All the houseguests (minus Brittany) are hanging out in the kitchen chatting.

1:30 PM BBT – All cameras on Michael, Monte, and Turner who are in the middle of a super intense game of Chinese Checkers.

1:45 PM BBT – Terrance, Michael, and Turner are all upstairs in the HOH room now talking about Terrance's last ditch effort to stay by telling Taylor that he had Monte and Turner's vote in an attempt to get Taylor on board with keeping him.

1:50 PM BBT – Turner asks Monte who he plans to put up if he wins and he says as long as they don't use each other as pawns, they will control the votes. He says that it will be any combination of Brittany, Alyssa and Taylor. He adds that he is leaning towards Brittany and Alyssa because Taylor has shown faith in him by giving him information.

1:53 PM BBT – Turner says that Taylor has already said that she would put him up, but wonders who would she put next to him. Monte says Alyssa. Turner wonders who Brittany would put up, Monte says that she has been saying Alyssa and Turner, but he isn't sure based on things that she has told Taylor. Turner says he hopes she doesn't win her first HOH tomorrow night.

1:55 PM BBT – Turner says ideally, Alyssa winning would be best because then all three of them could play in the next HOH. Michael says that he is nervous that she might target him instead of Brittany.

2:00 PM BBT – Monte says that he thinks he has enough reason to put up Brittany with everything that's been going on.

2:05 PM BBT – Turner and Monte leave the HOH. Michael camtalks that next week, if he isn't on the block and wins the Veto, he will take Brittany down. Brittany going to Jury is not good for his game.

3:00 PM BBT – Monte and Taylor are catching up and comparing notes about Brittany playing too hard and putting a target on her back.

3:06 PM BBT – Monte confirms to Taylor that Brittany told Turner about the three girls working together. Monte says that Brittany tried to make a Final 2 with Alyssa, and Alyssa and Turner compared notes because she tried to make a Final 2 with Turner also.

3:07 PM BBT – Monte says that before this week Brittany probably wasn't going to be anyone's target, but now she has got to go on the block. Taylor tells Monte that Brittany has been telling her all week that she is afraid Monte and Turner are have a Final 2.

3:10 PM BBT – Monte tells Taylor that his thinking now is if he wins HOH he's putting up Brittany and Alyssa.

3:18 PM BBT – Taylor asks Monte who they evict next week if Brittany and Alyssa are on the block. Monte says he thinks it should still be Alyssa. Taylor agrees. Monte says Brittany might be acting a fool, but it doesn't give him a direct reason to evict her.

3:19 PM BBT – Taylor says it would be stupid for her game to evict Brittany over Turner.

3:20 PM BBT – Taylor says in a perfect world if somebody (Michael) doesn't win veto … Monte says if they don't take that shot they will look like fools.

3:22 PM BBT – Taylor tells Monte, despite Brittany's antics, it still makes sense for the three of them to stick it out and she'd be easy for them to beat in the final comps.

3:27 PM BBT – Monte tells Turner that Taylor doesn't trust Brittany anymore. Turner is excited about that.

3:28 PM BBT – Monte shares the same info with Michael. Michael says he doesn't even know what to say to Brittany now. He says he won't say anything because it will cause her to spiral even more.

3:32 PM BBT – Michael says he wants Taylor to know that what Brittany is doing has nothing to do with him.

3:34 PM BBT – Monte says that he still thinks Brittany's threat level is less than Alyssa's. Michael says he's more worried about Alyssa too. Monte says if they're on the same page then, he'd put up Alyssa and Brittany and they'd vote out Alyssa.

4:30 PM BBT – HGs chit-chatting. They talk wonder who it was that Joseph replaced as an alternate.

5:00 PM BBT – Everyone is having some dinner, hanging out in the kitchen.

6:12 PM BBT – Terrance tells Monte that if he gets to the finale, he has his vote.

6:17 PM BBT – Monte tells Terrance that at least Michael can't win HOH and he hopes this is his shot. Terrance says then he'll be seeing Michael next in jury. Monte says that his only concern is that if he takes that shot at Michael, what's going to happen to Monte the next week… He says he will then have to win everything like Michael has to.

7:43 PM BBT – Brittany tells the camera that sometimes her anxiety gets the best of her. She says this HOH is very important because Michael can't play.  She says it could be a double eviction and they could put her and Michael up. If Michael doesn't win veto, she says he probably goes home. If he does win veto, then Taylor probably goes up and she'd need Michael's and Alyssa's votes to stay.

7:59 PM BBT – Not much going on in the house at the moment.

8:20 PM BBT – Everyone is quiet and resting up for tomorrow.

8:35 PM BBT – Brittany worries to Michael that Turner and Monte could turn Taylor then it's the two of them against the house.

8:45 PM BBT – Turner and Taylor talking game. She says she's now open to considering putting up Brittany after everything that's been happening. Turner says Brittany told him there was a F4 from the BroChella group.

9:00 PM BBT – Taylor camtalks that she doesn't want Brittany out next week. She wants Turner and Michael on the Block next week instead.

9:10 PM BBT – Taylor tells Monte that Turner has been updating her on everything.

10:25 PM BBT – Monte and Turner discuss that if they can get Taylor aligned with them and take out Michael then it's just them versus Brittany and Alyssa. They agree that it's good to have Michael on their side but if the opportunity presents itself then they'll need to take it. They think if either of them gets the Veto then maybe they need to take that shot at Michael.

10:55 PM BBT – Monte says he wants to avoid the pre-jury HGs on finale night. He's not ready to watch the season and thinks they'll know all the hot buttons to tell them about right away, which he'd like to avoid.

11:30 PM BBT – HGs have been playing hide & seek.

1:10 AM BBT – HGs are gathered in the kitchen doing some cleaning. Michael mentions BB told them Storage would be restocked and now he doesn't think it'll be a DE next.

2:00 AM BBT – HGs are done cleaning and are sitting in the kitchen playing Categories.

3:00 AM BBT – Turner and Michael share notes that Terrance has been avoiding everyone. Turner mentions Taylor wants to put up Brittany.

3:05 AM BBT – Michael, Monte, Taylor, and Turner talking in the HOH room. They agree Terrance knows he's going because he's acting distant. They also agree that Brittany could be the next target because of how she's blowing up everyone's games. Michael takes the opportunity to tell Taylor about the other night when Brittany turned Taylor away from the HOH room but Michael says they weren't discussing anything Taylor couldn't hear.

3:10 AM BBT – Turner says he would put up Brittany and Alyssa together next round.

3:35 AM BBT – Monte is off to bed and Taylor tells Michael they need to talk alone when Turner isn't around.
We've got some interesting scenarios here as the HGs continue to struggle with the decision to either use Michael to help their own game or target him to clear a path to the end. The Double Eviction on Thursday night could present that critical decision point.
You can watch all of these Big Brother events using the archives Flashback, the DVR-like feature of this year's Live Feeds which means it's always live, even when you missed it! Sign-up now to get the free trial to watch it all live & uncensored.


Gallery: Live Feeds Highlights
Download our Big Brother App, join us on Facebook & Twitter, and get our Email Updates for more!