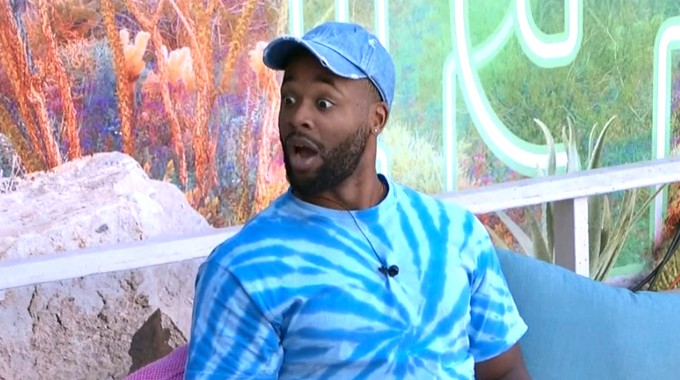 Busy day of chatting for the Big Brother 24 Houseguests on the Feeds as Michael prepared for the Veto meeting on Monday and wanted to check he had all the right plans in place. Meanwhile the HGs are scrambling to make sure they have the right alliances in place for final moves.
Would the women team up to take out the guys or would the guys shift their plans and move to counter that threat? Less than three weeks remain in the season so this is going to speed up quickly, especially with the Double Eviction on Thursday!
If you've got the Live Feeds (Free Trial) then you can watch all of these moments with the Flashback feature to go back and watch those important conversations or funny scenes you may have missed.
Big Brother 24 Live Feed Highlights – Sunday, September 4, 2022:
10:45 AM BBT – HGs got their wake-up call but are struggling to get going after a late night.

11:55 AM BBT – Brittany updates Michael about her late-night conversation with Turner. She says he was discussing targeting Michael and seemed to be feeling her out if she'd be good with helping make that happen.

12:10 PM BBT – Brittany warns Michael that she's sure if the opportunity is there someone will take the shot at him.

12:20 PM BBT – Michael worries if he gets out Monte this week then next it could be him and Taylor on the Block together.

12:30 PM BBT – Michael wants to talk with Turner to see if he can extend that safety agreement beyond this one week.

12:45 PM BBT – Michael and Brittany wonder if Taylor and Monte are getting close after seeing Taylor feed Monte a cookie in a flirty manner.

1:35 PM BBT – HGs get the backyard again. They go out and discover it's over 100 degrees. They go back inside.

1:55 PM BBT – Turner asks Alyssa if Kyle's "reptile dysfunction" was a reflection of something that happened. She says no, he didn't have that problem. Alyssa offers to share more details, but Turner declines. Alyssa admits that Kyle told her about The Pound. Turner is annoyed.

2:25 PM BBT – Brittany asks Taylor about bringing Alyssa into the fold. Taylor likes that idea better than bringing in Turner and thinks that'd be a good F3. Taylor worries Alyssa has Jury votes. Brittany disagrees but says maybe she doesn't know enough about what happened at Dyre Fest.

2:35 PM BBT – Brittany tells Taylor that she suspects Turner and Monte are working together closely. Taylor says she wouldn't be surprised. Brittany isn't sure this next week is the time to take the shot at Michael but knows there will be a lot of pressure on them to do it.

2:40 PM BBT – Taylor and Brittany discuss they have three F3 options with Michael, Monte, and with Alyssa.

2:45 PM BBT – Terrance and Taylor talk about the comics. They try to guess why Brittany was a flea in hers. When they say it's because Brittany latched on to Michael for a free ride production plays a "Zinnnggg" sound. They crack up laughing.

2:50 PM BBT – Terrance is telling Taylor about what happened during Dyre Fest and how they formed the After Party alliance. Terrance says his original plan was to put up Kyle but then Kyle started telling him everything and then when Joseph found that out he started doing it too.

3:00 PM BBT – Terrance warns Taylor that Alyssa has the Jury votes to win right now.

3:20 PM BBT – Terrance and Taylor update Monte on the "zing" confirmation they got for saying Brittany's comic is about her riding on Michael's game.

3:30 PM BBT – Alyssa tells Michael and Brittany that she wants to go to the end with them and Taylor. She shares that Monte doesn't speak any game with her since after Dyre Fest. She tried to talk with him and he steered it back to personal topics instead.

3:40 PM BBT – Michael tells Alyssa he thinks she's safe this week with Turner and doesn't think he'd vote her out. They go through the votes and are sure Alyssa is safe.

4:15 PM BBT – Alyssa worries to Brittany that she (A) could just end up on the Block again because the LOs seem to be sticking together. Brittany disagrees and thinks that Michael will be the next target.

4:25 PM BBT – Alyssa, Taylor, and Brittany are together. Brittany suspects the LOs actually started before she, Taylor, and Michael joined (The Pound were the first four). They feel they're a strong trio together. Alyssa says Turner and Monte are still strongly together.

4:30 PM BBT – The trio says they want to get to F3 so they can make sure it's an all-female F2. They want to try and get the guys to take each other out.

4:50 PM BBT – Brittany says their plan is to first try and win then the backup is to influence those who win if it's not them.

5:20 PM BBT – Turner, Taylor, Alyssa, and Brittany are hanging out in the HOH room and chatting. They wish they could get a pet for the house.

6:10 PM BBT – Alyssa and Terrance discuss the Veto. Neither think the noms will change. Alyssa says she won't negatively campaign against Terrance. Terrance calls Michael a creep.

6:25 PM BBT – Michael is back from doing his HOH Q&A session.

6:30 PM BBT – Several HGs are napping in the backyard.

6:40 PM BBT – HGs receive a booze dropoff and the camera.

8:00 PM BBT – HGs have gathered all their booze and are ready to have a fun night. F7 toasts.

8:25 PM BBT – HGs drinking and chatting. They try to go around and say nice things about each other.

9:20 PM BBT – HGs trying to come up with new couples from possible showmances. They discuss Paloma doing strange things like trying to get the HNs to break the rules.

10:00 PM BBT – HGs going through who think lied about their jobs and Michael comes up. He tries to cover.

10:35 PM BBT – Group drinking breaks up. Michael tells everyone he is willing to do another one-on-one before the Veto meeting.

10:45 PM BBT – Alyssa meets with Michael. She questions if Turner and Monte are closer than he might think, but Michael doesn't see it.

10:50 PM BBT – Brittany tells Taylor that there's something there with Monte + Turner. Taylor isn't so sure.

10:50 PM BBT – Michael tells Alyssa he plans to not use the Veto if everyone will vote out Terrance. He promises to break a tie in her favor.

11:05 PM BBT – Terrance meets with Michael and tells him that everyone from Dyre Fest knew the plan was to go after Michael. Terrance says he's been asking around and HGs say they want to keep him but don't want to go against Michael.

11:10 PM BBT – Terrance claims to Michael that if he stays his target is Turner. Terrance says he understands Michael is probably keeping Noms the same, but wants a fighting chance.

11:25 PM BBT – Monte's turn. Michael says he wants to keep the BroChella group together for F4. Monte agrees.

11:30 PM BBT – Taylor comes to HOH. They discuss Alyssa's pitch for a F4 along with Brittany. They think Alyssa would protect them if she got HOH. Taylor says she tried to avoid making any promises to Alyssa. Both agree they want Turner out next week.

11:50 PM BBT – Turner is up now. He says he's worried about Alyssa and Jury votes so she would be his target next week. Turner says he will not come after Michael. Turner asks Michael if he feels good with Monte and Michael says he does. Turner warns Michael that HGs like him but also say they don't want to get second place to him.

11:55 PM BBT – Turner tells Michael that he talked with Brittany last night and she said she's good with Michael but didn't want to be second. He says Brittany also mentioned teaming up with Alyssa and Taylor.

12:00 AM BBT – Turner pitches an all-guys alliance to Michael so they can get to the end together. Michael says he understands Taylor's comic was about her taking out the guys.

12:05 AM BBT – Turner tells Michael that he was surprised by Brittany pitching a F2 to him at 5:30AM this morning. Turner also reveals to Michael the After Party alliance. (Michael has already heard about this alliance.) Turner says he didn't want to have anything to do with that alliance.

12:20 AM BBT – Michael wonders to Turner if Brittany will mention the conversation she had with Turner. Turner doesn't expect she will.

12:45 AM BBT – Taylor is alone in the hammock and says she doesn't want to let Michael make F3.

2:10 AM BBT – Brittany talks with Michael about Turner and Monte possibly working together. Michael says he'd have to go with renom'ing Monte since he's promised Turner safety because of last week. Michael worries about surprising Taylor with suddenly targeting Monte.

2:15 AM BBT – Brittany warns Michael he's leaving no room for error. If anything goes wrong then he will be voted out next. She feels she's getting feedback in DR that Monte and Turner may be together.

2:25 AM BBT – Brittany thinks everyone but Taylor and Alyssa will be gunning for Michael next round.

2:30 AM BBT – Turner talks to Monte about a F3 with Michael. He says how he told Michael about Brittany making alternate plans without Michael.

2:35 AM BBT – Monte says he can believe the girls would be working together and go after the guys. Turner says they should get together with Michael to discuss. Monte isn't sure what Taylor or Brittany are planning. Turner thinks he can get Michael to convince Brittany and Taylor to vote out Alyssa.

2:35 AM BBT – Taylor had walked into the HOH room and Brittany asked her for a few minutes so she left. Michael is frustrated that Brittany did that because now it looks sketchy to Taylor.

3:00 AM BBT – Monte tells Turner that Alyssa and Taylor are the biggest targets. They discuss a F4 with Michael and Brittany then go F3 with Brittany.

3:15 AM BBT – Turner says they should take out Michael when they can but for now it's a good thing to hang on to. Monte tells Turner that it was Taylor during BroChella who mentioned going after Michael. Turner wants Monte to tell Michael that info. They discuss whether to target Alyssa or Taylor next and Turner thinks it should be Taylor. Monte says he's good with that because he can't follow what Taylor is planning.

3:25 AM BBT – Turner is sure that Taylor and Brittany have been planning how to get Michael out. Monte says Taylor had said Brittany was fine with second place to Michael but then changed the story.

3:45 AM BBT – Turner tells Monte that he didn't mention Monte getting tagged onto the After Party. Monte doesn't want Michael to know about that.

3:50 AM BBT – Monte tells Turner how Terrance and Taylor got confirmation about the Brittany Flea comic idea that she latches on to a host.

4:30 AM BBT – Terrance is sleeping but the other HGs are hanging out and chatting.
So many choices. The HGs seem to waver on whether to use Michael or target him. When they realize the DE is here on Thursday and Michael is walking into it as the outgoing HOH we may see a sudden shift in priorities. What would you do?
You can watch all of these Big Brother events using the archives Flashback, the DVR-like feature of this year's Live Feeds which means it's always live, even when you missed it! Sign-up now to get the free trial to watch it all live & uncensored.

Download our Big Brother App, join us on Facebook & Twitter, and get our Email Updates for more!