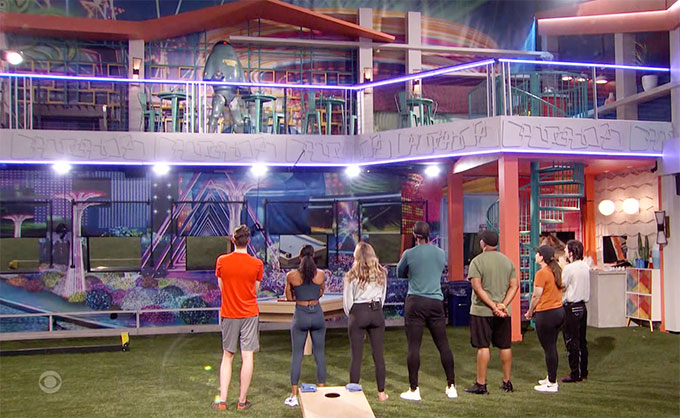 Two things are certain in Big Brother. Zingbot will visit and Michael will win whatever he's competing in (seriously, he even won a cookie bakeoff on the Live Feeds last week). And both things happened this week in the Big Brother 24 house.
Sunday night's picked up after Kyle's eviction and just after the Head of Household competition began. The competition was a run back and forth and build a puzzle competition, and it was a fast one. Actually much faster than anyone expected.
With the huge target on his back, Michael easily wins the HOH competition. No one stood a chance against Michael in the competition. He absolutely smoked everyone else.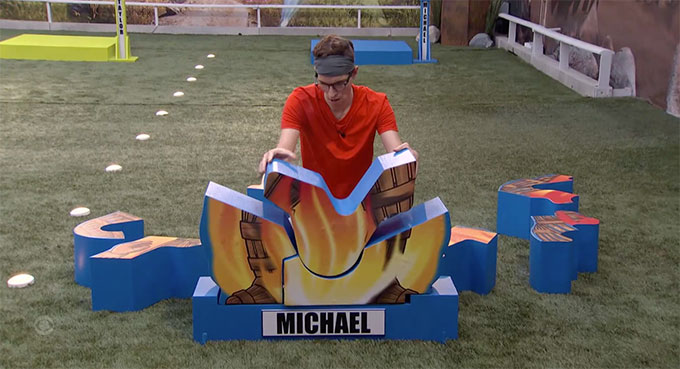 Michael lets us know right away that he told Turner last week that he wouldn't put him on the block, and he's going to honor that. He said any other time he would have gone after Turner, but after hijacking his HOH last week he made a promise and will be sticking to it. 
He also lets us know that he's sticking with the Big Brochella group, so Monte, Taylor and Brittany are safe. That obviously leaves only Terrance and Alyssa. 
Now it's time for Zingbot. The houseguests head outside for their Zingbot roast. Here are the zings: 
"Turner, you used to be a van lifer. It seems you've been every where but the shower."
"… Masks are optional, unless your face looks like Michael's. Cover that up."
"Monte, I hear you're good at impressions, in fact I've been working on my Monte impression "I'm Monte, and I'm so boring."
"I heard the BB backyard was hot, but this is brutal. I really could use something icy and cold. Could I borrow your Taylor?"
"Oh my god, it's DJ Showtime. You are so popular in the underground, because that's where they find fossils."
"Alyssa, when I see you, I can't help but think of you in a heavy winter coat in the desert – dead weight and completely useless."
"Brittany, I have a song for you: Jeepers Creepers, where did you get those peepers? No seriously, where did you get those crazy *@#&! eyes?"
Michael has to start talking to the houseguests to figure out his nominations (he already knows, but there has to be some suspense). First up to talk to Michael is Terrance who uses his time to talk in circles, and adds nothing to convince Michael to not target him. 
Turner is happy Terrance didn't say anything, though, because he doesn't want Michael to know he was the backdoor plan last week (Michael is already very aware). 
Alyssa is up and she lets Michael know about The Pound. But Michael already knows that because Kyle told him. The only new information is the name of the alliance.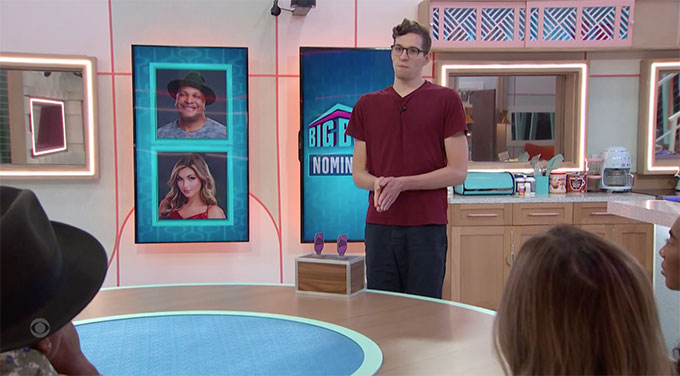 So Terrance and Alyssa really did nothing to save themselves. So it's not shock that they are who Michael names as his nominees at the nomination ceremony. 
If you want to find out how the Power of Veto conception played out and don't want to wait until Wednesday night, check out our Big Brother spoilers.