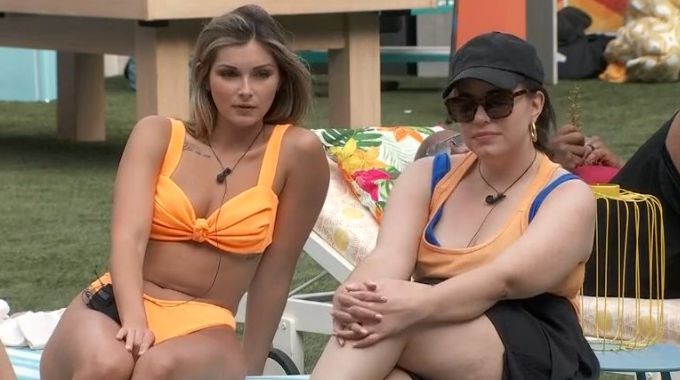 Sunday was a busy day in the Big Brother 24 house for Daniel and Nicole as they scrambled to save her game ahead of the anticipated Monday Veto meeting move. But while several HGs gave false promises of hope to the pair the secret plan continues to roll forward.
On a lighter note, the HGs enjoyed putting together a celebration for Michael's birthday complete with cake and booze. HGs were ready to enjoy some fun and take their minds off the stress.
If you've got the Live Feeds (Free Trial) then you can watch all of these moments with the Flashback feature to go back and watch those important conversations or funny scenes you may have missed.
Big Brother 24 Live Feed Highlights – Sunday, July 31, 2022:
8:10 AM BBT – Lights are on but HGs aren't moving.

10:15 AM BBT – HGs finally getting their wake-up call.

10:20 AM BBT – Jasmine is bumping her way down the stairs fully bundled up for winter. She tells Alyssa about her bleeding tooth.

10:30 AM BBT – Alyssa and Indy plan to keep a low profile today so they can get through the Veto ceremony and hopefully are saved.

10:45 AM BBT – Nicole checks in with Taylor about the possibility of them being the renoms tomorrow. Nicole asks if she's planning to talk to Monte. Taylor says they should work on Monte today.

11:15 AM BBT – Jasmine tells Indy she heard Taylor saying why should she (T) get up if she's getting evicted anyway. Indy says it's time for Taylor to go.

11:20 AM BBT – Nicole goes to talk with Monte in the HOH room. Nicole is asking what Ammerah might have said or done. Nicole feels that Ameerah betrayed them.

11:35 AM BBT – Nicole is trying to avoid going up. She warns Monte the house could flip and send her out instead of Taylor. Monte says Taylor doesn't have any support, but Nicole disagrees. Nicole suggests she might drop a few bombs on her way out the door.

12:00 PM BBT – Kyle tells Indy he plans to use the Veto.

12:05 PM BBT – Nicole tells Monte she can read BS from across the room. She says if he renoms Michael & Brittany then she'll vote out Brittany.

12:35 PM BBT – Big Brother has dropped off a walking boot for Jasmine but it goes unclaimed.

12:55 PM BBT – Indy questions Joseph on why Nicole keeps going up to the HOH room. She's thinks it's strange.

1:00 PM BBT – Joseph goes to check in with Monte. Monte says he was trying to get Nicole to say she wanted to vote out Indy or Alyssa, but she didn't so he won't make that claim. Joseph says he'll talk with Nicole to try and make her feel more comfortable. He tells Monte they should keep up the story with Terrance too that they're going after Taylor.

1:10 PM BBT – Monte and Joseph agree it'll be okay for Indy to stay for Jury as long as they don't do her wrong in the meantime and have her mad at them.

1:20 PM BBT – Nicole reports back to Daniel and Terrance that she tried to convince Monte but doesn't think it worked. She says she'll be ready to fight. Daniel says they just need six votes for her to stay.

1:25 PM BBT – Taylor says she plans to rip into Nicole in her speech on Thursday. She plans to be savage unless it'd hurt the group.

1:35 PM BBT – Joseph confirms with Indy the Veto will be used on Monday.

1:50 PM BBT – Daniel explaining to Indy how they'll need to keep Nicole so they have the numbers. Indy says she won't vote against Nicole.

2:05 PM BBT – Ants have made it into the snacks.

2:40 PM BBT – Nicole checks in with Kyle who confirms he expects Taylor to be the renom target. Nicole is worried about going on the Block. Kyle says Monte has made it clear there's a BD plan.

2:45 PM BBT – Kyle tells Nicole he'll use the Veto if Monte says he wants that because he doesn't want to be on Monte's bad side. Nicole says she'll protect Kyle but her ability to do so is waning.

3:10 PM BBT – Alyssa promises Daniel that she'll keep Nicole if Daniel saves her with the Veto. Daniel says they have to band together or Monte and Joseph will take over the game. Daniel thinks Kyle is the last vote he'll need to get.

3:40 PM BBT – HGs hold a funeral for Indy's onion, "Cry Baby."

3:45 PM BBT – Turner is frusted because some of the HGs made a feast of his HOH food which he can't enjoy now as a HN. He says he'll just have to watch them eat it then goes inside.

3:55 PM BBT – Daniel working on Kyle for his support with Nicole. Kyle says there's no way people will keep Taylor over Nicole.

4:05 PM BBT – Jasmine wonders if Big Brother would ship her a birthday cake made by her mom. HGs doubt it.

4:05 PM BBT – Kyle questions Daniel if he's thinking of not wanting to use the Veto. Daniel says he wouldn't want to lose Indy. Kyle says he's already promised Alyssa he'll save her.

4:15 PM BBT – Kyle scoffs at Daniel's assertion that Brittany, Turner, and Taylor are working with Monte and Joseph. Daniel is laying out all his theories. Daniel admits Kyle may take this back to Monte, but Kyle says he wouldn't (he will).

4:40 PM BBT – Alyssa tells Jasmine she'd vote out Taylor over Nicole because she doesn't talk game with Taylor.

5:30 PM BBT – Alyssa talking with Daniel and Nicole. She can't imagine Nicole being evicted when she's so well liked by the house.

5:55 PM BBT – HGs found supplies for Michae's birthday in Storage.

6:20 PM BBT – Nicole promises Turner she'll never put him up.

6:40 PM BBT – Kyle tells Taylor the plan is still on and going well. He's confident Nicole is going home on Thursday.

8:25 PM BBT – Kyle relays to Michael and Brittany what Daniel told him about HGs working together and they need to band together to keep Nicole.

9:40 PM BBT – HGs gathered for dinner.

10:20 PM BBT – HGs putting the finishing touches on Michael's birthday cake.

10:50 PM BBT – HGs in the backyard playing bocce ball.

11:00 PM BBT – Daniel and Nicole in the backyard discussing concerts they've attended. General chatter.

12:00 AM BBT – Alyssa camtalks that she's changing to look better for a kiss.

12:05 AM BBT – HGs are celebrating Michael's birthday up in the HOH room. He wanted them to recreate Keesha's birthday event (BB10).

1:00 AM BBT – HGs are still in the HOH room and going around sharing something about themselves.

2:00 AM BBT – HGs still at it in the HOH room.

2:20 AM BBT – Turner and Kyle leave the HOH room. Turner says he's annoyed with the HGs.

2:35 AM BBT – Alyssa talking with Turner and Kyle about the Veto meeting tomorrow. She's planning her speech. Alyssa asks Kyle to please use it.

3:00 AM BBT – Most of the Leftovers (without Kyle or Turner) are still in the HOH room. Brittany questions if it's a mistake not to go ahead with evicting Alyssa while she's up there.

3:20 AM BBT – Turner came upstairs and Michael explains the discussion about keeping Nicole and getting Alyssa out this week. They want to talk with Kyle but he's downstairs with Alyssa now. Brittany points out that Nicole would be targeting them.

3:40 AM BBT – Kyle and Alyssa are still together and flirting. They head out to the hammock. He wants to go to bed but she asks him to stay awhile longer.

4:00 AM BBT – HOH crew continues to discuss the plan without Kyle. They are wondering if they could recruit Indy to join them if Alyssa goes this week.

4:15 AM BBT – Kyle has finally joined them. Kyle points out he's already promised to use the Veto. The group discussion continues.

4:30 AM BBT – Kyle is pushing to keep Alyssa and stick to voting out Nicole.

4:45 AM BBT – Joseph wants to let Indy know she'll be staying on the Block so she's not worked up. They want Indy to pick to join Michael & Brittany (to give them an eviction option should those two be sent to the Block as a pair).

5:00 AM BBT – Group agrees they want Nicole out but think it's better to get out Alyssa and will just have to put up with her crying for a few days. Joseph encouraging Kyle that this is better because it helps keep Michael and Brittany safer if Indy joins them. Joseph says M&B would help save Kyle if Kyle was on the Block, but he doesn't think Alyssa would do the same.
The Leftovers are continuing to debate what to do for the Veto meeting and whether or not they stick to the BD-Nicole plan or just sticking with sending Alyssa out the door. Not much time left for them to decide and then there's always the chance that Daniel could act out on his own with the Veto decision and use it anyway, but we'll have to see.
You can watch all of these Big Brother events using the archives Flashback, the DVR-like feature of this year's Live Feeds which means it's always live, even when you missed it! Sign-up now to get the free trial to watch it all live & uncensored.


Download our Big Brother App, join us on Facebook & Twitter, and get our Email Updates for more!