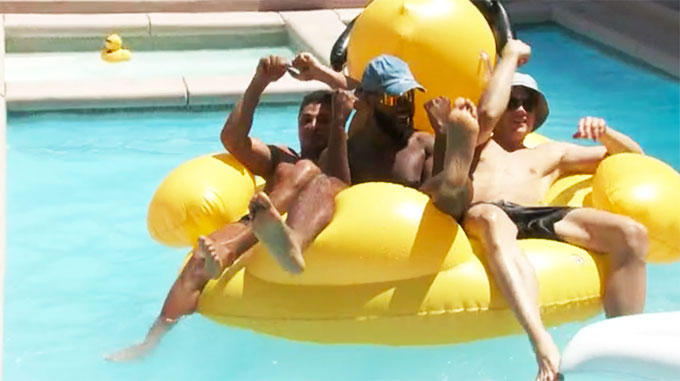 It wasn't a typical quiet Sunday in the Big Brother 24 house, as the latest alliance The Leftovers set in motion the plan to blindside Ameerah, Nicole, Daniel and their group with a shocking replacement nominee at the veto ceremony. Turner and Kyle talked a lot about the plan to put Ameerah and Terrance up when Brittany and Michael come down. That means Taylor will once again be safe, which is expected to cause an uproar among Nicole, Daniel, Jasmine, and Ameerah.
Read on to find out all of the plans, and don't miss out on the Live Feeds today after that ceremony takes place.
If you've got the Live Feeds (Free Trial) then you can watch all of these moments with the Flashback feature to go back and watch those important conversations or funny scenes you may have missed.
Big Brother 24 Live Feed Highlights – Sunday, July 24, 2022:
10:17 AM BBT – HGs getting a wake-up call from BB.

10:30 AM BBT – After some resistance, HGs are starting to get up and get ready for their day.

11:02 AM BBT – Kyle and Michael catching up on the new alliance. They say they need to figure out a way to share information because they can't risk all being seen together. Kyle says he feels good about this group and their plan. Michael agrees.

11:03 AM BBT – Kyle says please let this work out. Michael says one of them just has to win HOH next week.

11:38 AM BBT – Indy and Ameerah say they wouldn't mind Michael winning HOH. They say he could be able to make moves they wouldn't but he wouldn't take them out.

11:49 AM BBT – Some of the HGs are speculating on Monte's actual job. Nicole thinks he could be a cop.

12:13 PM BBT _ Nicole is rehashing the blowup with Taylor.

12:37 PM BBT – Turner tells Kyle he had to leave his own HOH room because of the Taylor trashing. He said Daniel and Nicole called her the B word and he said that is not OK.

12:55 PM BBT – Kyle checks in with Taylor. He tells her that people were in the HOH room talking sh*t. She says of course they were.

1:03 PM BBT – Kyle tells Taylor he has a feeling that they might have to switch besties at some point, so their best bet is to stay with people not in their alliance so they have the numbers no matter what if one of them is nominated.

1:06 PM BBT – Kyle warns Taylor that once they pull the trigger on the Ameerah and Terrance nominations, that group is going to come at her even harder. She says she knows. Kyle wonders who Daniel and Nicole will approach Taylor for votes when they're up.

1:50 PM BBT – Backyard is open, so HGs decide to go enjoy it.

2:30 PM BBT – Everyone is hanging out outside, sunbathing and swimming.

3:31 PM BBT – Taylor talking to the camera says that her obvious target next week is going to be Daniel. She says she wants Daniel, Ameerah and Nicole gone.

3:39 PM BBT Taylor says Leftovers (their alliance name) about to be the main course.

3:52 PM BBT – Brittany and Taylor say they need to catch up later. They agree that the veto ceremony is going to be insane.

3:56 PM BBT – Taylor talking to cameras again says that everyone think she is depressed because she is going home, but she says she's not going home.

3:58 PM BBT – Joseph tells Taylor about the other side saying she's going home and that if they were wrong about her being a bad person she can convince America she's not in her exit interviews.

4:07 PM BBT – Money tells Joesph that the next target needs to be Nicole or Daniel. Joseph says it needs to be Nicole because she's a deadlier threat. She says Daniel can't unite the girls like Nicole can.

5:51 PM BBT – Turner tells Kyle he's pretty excited to make this move at the veto ceremony. Kyle says they're all so cocky, they're going to be so shocked.

6:01 PM BBT – Nicole and Taylor meet up to talk about what went down the day before. Nicole asks Taylor if she wants to start. Taylor says she is sorry and adds that the words she said were not intended to manipulate or be any kind of head game. She said she just wanted to make sure that she was OK. She says she was trying to take the lesson learned with Paloma and Jasmine and express her support to Nicole. He says she's sorry for not making that clear.

6:05 PM BBT – Nicole says she appreciates her saying that. She says she didn't know that venting about that was going to cause Daniel to react that way. She says it wasn't her intention to get Daniel to go off on her. Nicole says she just wants Taylor to be more aware of what she is saying. Nicole says it really got to her but she wants to squash it.

6:09 PM BBT – Nicole says to Taylor that whatever happens at the veto meeting, she thinks they are both going to have to fight for their lives. She says it's a reality that they are going to have to face tomorrow. Nicole says she doesn't hate Taylor but she thinks their path in this game is going to be on a business level.

6:20 PM BBT – Michael and Brittany discuss how cocky Nicole is. He says it annoys me how she always says she's the strongest female competitor. Brittany says then she should show it. Michael says Nicole couldn't even win the HOH that people were trying to throw to her. Brittany says exactly and says Nicole's days are numbered, and so are Daniel's. Michael says if it works out that they can get Nicole and Daniel out, it would be perfect.

7:10 PM BBT – Kyle tells Michael that Alyssa is trying to backtrack on the alliance she told him about.

7:18 PM BBT – Kyle says they need to let the Leftovers know about the Po's Pack alliance as soon as Ameerah goes up. He says they have to handle that before Ameerah tells everyone about it. Kyle tells Monte that Michael will let Brittany know about Po's Pack.

8:00 PM BBT – HGs are just hanging out now, chit-chatting, talking about how they were discovered by BB casting.

8:40 PM BBT – Ameerah tells Jasmine she wants Indy and Brittany out before Jury. Ameerah says she should be good for awhile since she's paired with Terrance. She does worry what might happen if she's suddenly seen as a threat.

9:25 PM BBT – Michael talks with Brittany about the Leftovers alliance. He thinks it's helping their case with Taylor for them to be going after Daniel and Nicole. Michael wants Daniel out first because Nicole is more transparent.

9:30 PM BBT – Michael reveals to Brittany details of the Po's Pack alliance and how he was the sixth member pulled in at the end of its creation. Brittany is glad he told her.

9:50 PM BBT – Brittany appreciates how frustrated Ameerah may feel with being a good player but getting eliminated before Jury.

10:00 PM BBT – Brittany tells Michael that Jasmine seems to be really milking her ankle sprain. Both are tired of it.

10:05 PM BBT – Michael and Brittany discuss how upset Daniel and Nicole are going to be on Monday. They didn't like his outburst at Taylor.

10:10 PM BBT – Michael and Brittany want the Leftovers to meet and make a plan for what they'll say after the Veto meeting so they're all together on the same page and it doesn't end up with Turner taking the blame.

10:45 PM BBT – HGs are outside trying to enjoy the luke warm hot tub.

11:25 PM BBT – Indy is struggling with Slop. Nicole offers to help her find some toppings to make it more passable.

11:50 PM BBT – Partial Leftovers are gathered and discussing watching out for each other if they get nominated.

12:00 AM BBT – Taylor talks with Michael about Nicole's confidence that Taylor is the target. He mentions how Nicole says that she (N) is all Taylor has in the game.

12:20 AM BBT – Ameerah tells Daniel and Michael it'll be 11-0 against Taylor. They try to guess at what the solo Bestie's outcome will be and how that could work.

1:00 AM BBT – Daniel tells Ameerah that he doesn't want to nominate Michael again. Ameerah says it would be the last time though.

1:35 AM BBT – Turner is playing checkers with Alyssa and is dropping hints about the upcoming decision. He says sometimes you have to feel bad about what you do in this game.

2:45 AM BBT – HGs hanging out in the backyard.

3:30 AM BBT – HGs are still up. Brittany says she drank too much soda. Ameerah is talking with Alyssa about Kyle. Ameerah wants Kyle to make a move on Alyssa and says she'll tell him to kiss her (Alyssa).

4:30 AM BBT – Kyle and Alyssa have been up and chatting in the backyard for a while. They're discussing life back home and past relationships.

4:30 AM BBT – Nicole and Daniel are trying to figure out what will happen next with the Festie Besties twist.

4:55 AM BBT – Joseph is blowing smoke at Ameerah about Turner getting close to Daniel recently. (Trying to set up the source of Ameerah's betrayal.) Ameerah mentions how hard it must be to know you're the one going home.
Ameerah does not seem to see this coming and Monday afternoon could have some fireworks. make sure you've got your Feeds ready to roll on this one!
You can watch all of these Big Brother events using the archives Flashback, the DVR-like feature of this year's Live Feeds which means it's always live, even when you missed it! Sign-up now to get the free trial to watch it all live & uncensored.

Download our Big Brother App, join us on Facebook & Twitter, and get our Email Updates for more!