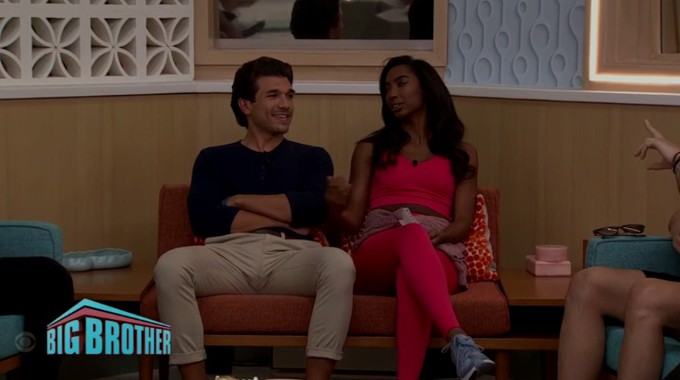 Here we go with the TWO-hour eviction episode of Big Brother 24. Previously recorded with Julie on Thursday when the HGs went ahead and voted out one Nominee and now we're going to see it all play out on Big Brother! By the end of the night we'll have one fewer HGs, a new Head of Household, and two "Besties" on the Block.
Don't miss this week's eviction episode! You can stream it live on CBS's Paramount+ Premium plan in most markets across the US so you don't have to miss any of the fun even if you're out tonight. Grab the Free Trial and check out the show then watch the Feeds that follow.
Before we can get to the vote we need to lead into the situation and remind everyone what was going on since the Wednesday Veto episode. We've got Pooch on the Block alongside Taylor and Pooch is feeling way, way too comfortable. Time to see how that vote goes… as if you didn't already check our spoilers!
Pooch is up there feeling confident but the guys are starting to learn about an all-girls alliance. That could be trouble as the guys are debating going along with voting Pooch out and now worry they could be weakening their numbers against the women.
Big Brother 24 Results – Week 2 Votes:
Turner votes to evict: Pooch
Alyssa votes to evict: Pooch
Ameerah votes to evict: Pooch
Joseph votes to evict: Pooch
Daniel votes to evict: Pooch
Nicole votes to evict: Pooch
Kyle votes to evict: Pooch
That's enough votes.
Monte votes to evict: Pooch
Michael votes to evict: Pooch
Brittany votes to evict: Pooch
Indy votes to evict: Pooch
Terrance votes to evict: Pooch
By a vote of 12-0, Pooch the Pawn has been evicted from the Big Brother house.
We've also got another twist coming up and it sounds like it was supposed to arrive last week before Paloma bailed. Here comes the "Festie Besties" which doesn't sound good at all on a lot of levels. HGs are going to be paired up and, of course, the majority is about to figure out a way to manipulate the situation in their favor.
Julie explains the HGs are about to be paired up and the new HOH's paired partner will be safe from danger, the noms will be the pairs, the Veto will be played in pairs, and the Veto will save in pairs. Pairs, pairs, pairs! As for what happens to the suriving member of the next eviction? Julie will tell HGs about that next week.
Big Brother 24 Results – Week 3 HOH – "Get Lit":
HGs have to hold down a button until the music stops then they have to sit down quickly. Last to sit down is eliminated. Take your hand off the buzzer button on your overhead "lighter" and you're out too. Then as the HGs are eliminated they pick to either match with another HG already out or take an empty table to start a new pair. Po's Pack realize the strategy here is to sit with a pawn instead of someone from their own alliance.
It came down to Alyssa, Ameerah, and Turner in this game of musical chairs… and then there was one!
Festie Besties pairings:
Turner & Jasmine
Joseph & Monte
Daniel & Kyle
Indy & Alyssa
Michael & Brittany
Ameerah & Terrance
Nicole & Taylor
After we see Turner's HOH room it's time for the Have-Nots. Turner's Bestie, Jasmine, has to pick one pair to be HN. She goes with Indy & Alyssa. Indy ain't happy.
Now it's time for Turner to reveal his decision on who should be sent to the Block. There are lots of plans in the mix here and the week is about to get curvy, but for now Turner has made his decision.
Big Brother 24 Results – Week 3 Noms:
Turner nominates: Brittany & Michael
So who won the Veto this week and who is set to go to the Block at Monday's meeting? Check all the latest spoilers!
After the show, we'll be heading back to the Live Feeds to watch the latest as the HGs prepare for Monday's Veto meeting to set the final noms for the week. Grab the Free Trial and join us there now!
Want more? Download our free Big Brother App, join us on Facebook & Twitter, and get our Email Updates! We'll keep you updated with the latest news and our in-depth reviews of the season.