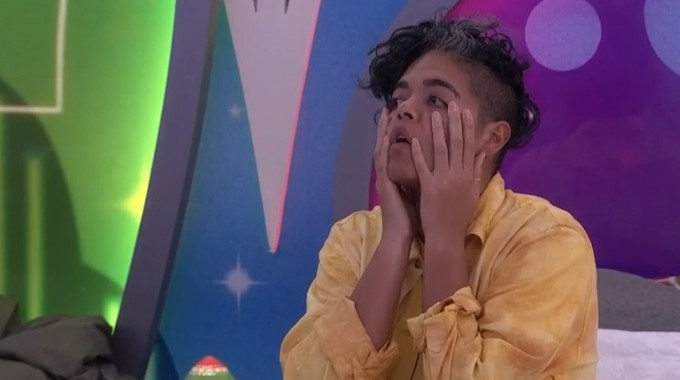 What a day of Feeds in the Big Brother 24 house! We started off Veto Day on Saturday with the formation of The Pound and by the night's end we had The Leftovers and a whole new target for the week with a band of outsiders ready to take control. They haven't pulled it off yet, but they're on their way with a little momentum to get them started.
Read on to find out who won the Veto, who became the new target, and which Houseguests have grown together to form a controlling voice in the next eviction on BB24.
If you've got the Live Feeds (Free Trial) then you can watch all of these moments with the Flashback feature to go back and watch those important conversations or funny scenes you may have missed.
Big Brother 24 Live Feed Highlights – Saturday, July 23, 2022:
6:00 AM BBT – New alliance, "The Pound," wraps up its late night / early morning game talk. Group includes Kyle, Monte, Turner, and Joseph.

6:10 AM BBT – Lights out.

7:15 AM BBT – Wake-up call time. HGs need to get up for Veto day.

8:30 AM BBT – Time to pick the Veto players.

9:05 AM BBT – Feeds are back. Nicole & Taylor were drawn to play.

9:15 AM BBT – Taylor is suggesting to Brittany she may want to save Michael/Brittany if she wins the Veto. Brittany offers to return safety if she does. Taylor says she has to talk to more people before she can commit to that.

9:20 AM BBT – Nicole tells Daniel she'll throw the Veto comp so she's not in the position to have to use it. She's upset at getting drawn to play.

9:25 AM BBT – Nicole mentions the surviving member of a Bestie pair doesn't get safety from that and might even get pushed into danger for it.

9:45 AM BBT – Joseph tells Taylor she can always hang out with him and he doesn't care if the house thinks that looks bad.

9:55 AM BBT – Ameerah is questioning Joseph on why he was talking with Taylor. He says she must have followed him into the room because he's close to the HOH and she'd want to know what Turner was thinking.

10:20 AM BBT – Ameerah is fired up and saying they can't trust Joseph anymore. She thinks he's sided with Taylor now. Nicole and Daniel agree.

10:25 AM BBT – Joseph is letting Turner and Monte know that Ameerah was questioning him. Monte says this could be their chance and they have the numbers in the Veto comp. Joseph says they need Ameerah going home this week or she's coming after him and Monte next week. Monte agrees.

10:40 AM BBT – Daniel and Nicole are all worked up about Joseph and plan to watch how he interacts with Taylor. Ameerah says she'll be okay because Joseph isn't on to her game.

11:30 AM BBT – Kyle lets Monte know that Ameerah is alert and thinks something is going on. They think their cover is still good with acting like they're going after Taylor but then after the Veto they'll talk to Michael and Taylor.

11:35 AM BBT – Nicole is back from the DR and she's sobbing. Daniel is comforting her. Nicole says she feels like a horrible person. HGs think maybe something happened with her mother (it wasn't that).

11:50 AM BBT – Turner promises Taylor she's totally safe this week.

11:55 AM BBT – Taylor asks Monte to say a prayer for Nicole's mom because she wants everything to be okay. Meanwhile, Nicole and Daniel are saying what a shitty person Taylor is.

12:15 PM BBT – Joseph lets the group know that Nicole's mom is okay and the crying wasn't related to that. (Seems more like DR gave Nicole a talking to about her attitude and words toward Taylor.)

1:00 PM BBT – Feeds have cut for the Veto comp.

6:20 PM BBT – Feeds are back. Michael and Brittany have won the Veto.

6:30 PM BBT – Finally alone, Brittany and Michael celebrate their win (his third straight Veto).

6:40 PM BBT – Jasmine is upset that she couldn't compete for Veto which eliminated Turner as well (played as pairs). Jasmine says she almost passed out and started seeing stars.)

6:50 PM BBT – Kyle is upstairs telling Turner about what happened just before the comp. He says Taylor went to Nicole to be supportive and say it would be okay for Nicole to focus on her mental well being. Kyle says Nicole flipped out on Taylor and chewed her out for ten minutes. Turner says he got another story from Daniel who said they've got to get Taylor out. Turner worries he follows through on this new plan to save Taylor and target Ameerah only to have the house turn on him for it. Kyle says he spoke with Michael who would support making a move.

7:20 PM BBT – Joseph talks with Taylor and supports her to go talk with Turner. She's sorry he's getting grief for talking with him but he doesn't mind. Joseph encourages Taylor to connect more with Brittany and Michael. She says she's doing that.

7:30 PM BBT – Joseph meets with Michael and says he (J) doesn't like how people who are being nice are getting targeted for it. They agree to talk later tonight and both feel like they're on the outside of everything.

8:15 PM BBT – Taylor has been talking with Michael then Monte about what's been going on in the house and how she had hoped to play after being inspired by the Cookout.

8:40 PM BBT – Terrance tells Monte he still thinks the house target is Taylor so he's going to go with that because it's easy. Monte tries to plant a seed for his concerns about where the Pooch plan started last week.

9:15 PM BBT – Joseph talks with Brittany that he feels like they're both on the outside and they need to stick together.

9:25 PM BBT – Kyle talks with Michael and Turner that he thinks Taylor is receptive to them after he told her she would be safe. The group says Taylor hasn't been treated well.

9:40 PM BBT – Joseph notes to the HOH crew that if he talks to Taylor that Ameerah gives him grief. Kyle points out that's them being manipulated.

9:45 PM BBT – Kyle suggests that Ameerah and Terrance could be put up as the renoms.

10:25 PM BBT – Joseph talks with Michael and Kyle to suggest they bring in Taylor later because he can't be seen with her. They want Monte to join them too.

10:45 PM BBT – Kyle lets Monte know the group is starting to form and wants to bring Taylor in. Monte likes it.

11:20 PM BBT – Jasmine tells Alyssa that she wants either Terrance or Turner out. Jasmine says she's had three tough weeks (this being her second straight week of safety).

11:30 PM BBT – Alyssa says Kyle has a sore so no kissing.

12:40 AM BBT – Kyle, Turner, Monte, and Joseph are upstairs meeting. Monte mentions Daniel told Taylor not to talk to him until after the finale.

1:00 AM BBT – Monte says this is their chance to get out Ameerah.

1:05 AM BBT – Kyle says he wants to gather in Taylor, Michael, and Brittany. He doesn't care how it appears. Joseph heads downstairs to find them.

1:20 AM BBT – Joseph stays downstairs to distract Jasmine so Michael and Brittany can go upstairs.

1:30 AM BBT – As the group assembles upstairs Monte starts to explain the shifts in the game/dynamics over the past week. Monte says Ameerah is the mastermind behind the other side. Brittany shares the plan on the other side was to target Turner and Taylor this week.

1:45 AM BBT – Turner notes that no one was excited that he won HOH and the group agrees the reaction was muted when Michael and Brittany won Veto.

2:05 AM BBT – Taylor tells the group she wants to stick with the outsiders and has needed people like them to trust.

2:25 AM BBT – Michael suggests "The Leftovers" for their group name. The alliance includes Michael, Kyle, Monte, Joseph, Turner, Taylor, Brittany, and Michael.

2:30 AM BBT – Group says they can never say the group name and don't name their targets. Joseph says the group can't be seen as close.

2:50 AM BBT – Michael and Taylor talking. They like the way Joseph is playing the game and how he didn't rush into making a ton of alliances so he could first see who he wanted to play with.

2:55 AM BBT – Taylor and Michael agree they can't be overconfident and still have to win comps to make this alliance work.
Well that was an interesting day! Ameerah is the new target and The Leftovers have a strong position in the game, but let's keep in mind we've seen more alliances rise and die on the vine this season than in most. Keep watching for Monday's Veto meeting to find out if the new alliance keeps their plan in motion with their target probably being pretty surprised.
You can watch all of these Big Brother events using the archives Flashback, the DVR-like feature of this year's Live Feeds which means it's always live, even when you missed it! Sign-up now to get the free trial to watch it all live & uncensored.

Download our Big Brother App, join us on Facebook & Twitter, and get our Email Updates for more!