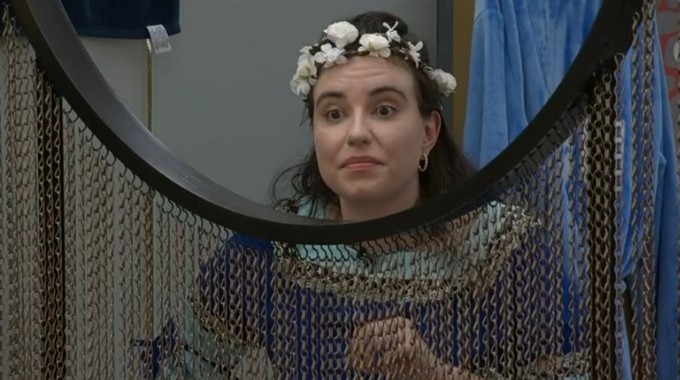 Saturday on the Big Brother 24 Feeds offered some interesting twists and turns through the day with the Power of Veto results throwing a wrench in HGs' plans. There's a scramble going on for next moves and the new target might not be surprised by what's coming down the road.
Heading into the Veto comp Daniel was clear with what he hoped the HGs could help him pull off, but not everything is as easy as that. Now we have to wait and see which way things go ahead of Monday's Veto meeting. Read on for what happened Saturday in the BB24 house.
If you've got the Live Feeds (Free Trial) then you can watch all of these moments with the Flashback feature to go back and watch those important conversations or funny scenes you may have missed.
Big Brother 24 Live Feed Highlights – Saturday, July 9, 2022:
7:15 AM BBT – HGs getting an early wake up call for Veto Day.

8:45 AM BBT – Feeds cut for Veto players.

9:11 AM BBT – Feeds are back. Ameerah, Indy, and Turner were selected to join the comp. Kyle will be hosting.

9:40 AM BBT – Ameerah asked Daniel if he has a BD plan. He says no and doesn't want to do a renom. Ameerah suggests they could throw the comp and he says only if Terrance and Michael are already out.

9:50 AM BBT – Daniel talks with Nicole about the Veto comp. He wants to win it and keep noms the same.

9:55 AM BBT – Turner tells Terrance if he (Turner) wins Veto he is not going to use it to save him because he's so confident Terrance will be okay.

9:55 AM BBT – Indy tells Daniel she probably won't use the Veto if she wins it.

10:00 AM BBT – Taylor promises Terrance her vote if he's still on the Block come Thursday.

10:20 AM BBT – Michael has been pacing and doing a peptalk that he'll perform well in the Veto and win it. He tries to think what would Janelle do.

10:25 AM BBT – Brittany joins Michael in the HN room and is giving him a peptalk for his upcoming Veto comp. She's being very supportive and encouraging him that he can win and they'll play a strong game. Brittany points out that Daniel would be the first to go from the Bros group if he teams up with them.

10:45 AM BBT – Daniel tells Kyle he didn't nominate the Bros this week because he wants to hang out with them this summer and then party in Vegas.

11:45 AM BBT – Nicole tells Daniel that Ameerah, Taylor, and Paloma are good to protect him next week. Daniel says he'll have to consider a big threat if Michael wins Veto and saves himself.

11:50 AM BBT – Taylor and Alyssa are discussing the option between Terrance or Michael. Alyssa points out that Michael has upped his social game since being nominated, but Terrance has not.

12:07 PM BBT – Kyle returns from the DR in pirate garb and announces, incorrectly, that it's time for the Veto Meeting. He needs to do it over.

12:10 PM BBT – Feeds cut for the Veto.

3:34 PM BBT – Feeds are back. Michael is wearing the medallion and has won the Power of Veto comp. HGs are dressed in Rennaisance Faire attire.

3:50 PM BBT – HGs continue to excitedly discuss the comp and what it was like. Sounds like jousting was involved.

4:05 PM BBT – Brittany is offering to help Kyle with his social media and discusses her work with content promotion.

4:15 PM BBT – Brittany tells Michael that Daniel and Nicole are an obvious pair now in the game. She was upstairs with the two of them and they were trading info. Brittany says she also observed a lot during the comp.

4:20 PM BBT – Brittany worries the Backstage Boss twist will let Pooch "fire" one of his Backstage teammates on Thursday. Brittany tells Jasmine and Paloma that she wants Terrance to go and hopes Daniel will put up a pawn to make that happen.

4:30 PM BBT – Terrance talks with Daniel in the HOH room and asks about his plans. Daniel says he might have to put up a bigger threat. Terrance points out there are definitely bigger game threats than him.

4:40 PM BBT – Turner and Daniel are discussing renoms in the HOH room. Taylor is mentioned and Turner says they'd have the votes. Daniel is considering Indy as the new target.

5:10 PM BBT – Turner talks with Terrance and promises him his vote to keep him. Turner says he was pushing Daniel to do a strong player renom and target.

5:20 PM BBT – Daniel lets Nicole know the women are pushing for Taylor to go up and out, but he doesn't like that idea and says the women can do that themselves.

5:40 PM BBT – Daniel meets with Monte upstairs. Daniel promises he won't renom one of the strong guys because he wants to hang out with them this summer and work together. Monte mentions Taylor has been name dropping targets. Monte says he'd support Taylor going up and out.

6:30 PM BBT – Jasmine is meeting with Daniel. She thinks Indy would be a good renom option to go. He also asks what she thinks of Taylor and Jasmine says she hasn't connected with her. Jasmine mentions she wants Terrance to stay this week.

7:00 PM BBT – Kyle's turn upstairs. Daniel again floating the options of Indy and Taylor. Kyle mentions Taylor said it was stupid of Daniel to not already have a backup plan.

7:30 PM BBT – Pooch is telling Paloma about the push to make Taylor the renom and target this week. Pooch is confident that keeping Terrance is safer because he thinks Terrance is less likely to win comps.

7:40 PM BBT – Daniel lets Brittany know it may be Indy going up and out and she's okay with that. Brittany is offering Daniel to continue being a fly on the wall for him and pass along information as she's stuck on the sidelines this week because of the Backstage twist.

9:00 PM BBT – Taylor is talking with Daniel upstairs about renom options. She doesn't think Indy would get voted out and suggests Joseph instead.

9:30 PM BBT – Pooch is going around campaigning to make Taylor the target. Alyssa says Ameerah and Jasmine would also vote out Taylor. He next talks with Jasmine, Nicole, and Turner about the same idea.

10:10 PM BBT – Dan is talking with Alyssa and Paloma upstairs. Alyssa offers up Taylor, Turner, Pooch, and Joseph as HGs she'd be okay with seeing go this week. Paloma chimes in that Taylor, Pooch, and Turner would be on her list too. Daniel says Taylor is his top pick to go for now.

11:00 PM BBT – HGs are gathered in the HOH room with chatter as they continue retells of the PoV comp.

11:15 PM BBT – Daniel tells Turner and Pooch that it'll probably be Taylor going up and they should have the votes to make it happen. Joseph comes into Storage and Daniel promises him safety this week.

11:30 PM BBT – Monte tells Paloma that Taylor told him that she (Paloma) was targeting the big guys. Paloma denies this.

11:35 PM BBT – The backyard is open again and HGs are heading out to enjoy the night.

11:40 PM BBT – Paloma goes to Indy and shares that Monte told her Taylor said Paloma was going after the big guys. Paloma says Daniel may renom her as the new target and she says they have the votes to get her out. Alyssa joins them in the Bathroom and Paloma tells her the same. A Taylor bashing session runs wild.

11:50 PM BBT – After HGs have gone outside the cams cut back to the Bathroom where Taylor is alone and sobbing. It's possible she was in the bathroom stall and overheard the entire discussion bashing her. Taylor soon wipes her tears and collects herself.

12:00 AM BBT – Michael assures Nicole that he is not out for revenge against Daniel.

12:10 AM BBT – Ameerah reports back to the HOH room that Paloma is outside crying because Taylor made up a lie about her targeting the big guys, Kyle and Monte.

12:30 AM BBT – Monte tells Ameerah that Taylor rubbed him the wrong way. Ameerah says Taylor is as good as gone now.

1:30 AM BBT – HGs in the backyard still discussing the Taylor vs Paloma situation. Jasmine doesn't like that Taylor would make up a lie.

1:35 AM BBT – Daniel says he will tell Taylor that he heard rumors about her and decided to put her up.

2:00 AM BBT – Monte and Daniel talk upstairs. Monte says Daniel has the support of the house on targeting Taylor.

2:30 AM BBT – Monte talks with Terrance about the situation. Monte is frustrated that Taylor would have done this and prevented them from working together.

4:00 AM BBT – Turner and Pooch are still outside hanging out and waiting on laundry. They're hanging out in the hammock talking for a long time.

5:30 AM BBT – Daniel is up and wandering the house and doing some laundry. He eventually heads back upstairs and falls asleep with the lights on.
Definitely some ups and downs for the house on Saturday. Michael pulling off the Veto win surely saved his game which means more Feeds-fun for us, but then seeing the treatment of Taylor was a downer. It's still early on in the week and things could change ahead of Monday's Veto meeting.
Side note, it does appear that Taylor was correct and Paloma told her she would target Monte if he got in a showmance. Flashback to 7/8 at 12:47AM, per @HOHmackenzie.
You can watch all of these Big Brother events using the archives Flashback, the DVR-like feature of this year's Live Feeds which means it's always live, even when you missed it! Sign-up now to get the free trial to watch it all live & uncensored.


Gallery: Live Feeds Highlights
Download our Big Brother App, join us on Facebook & Twitter, and get our Email Updates for more!