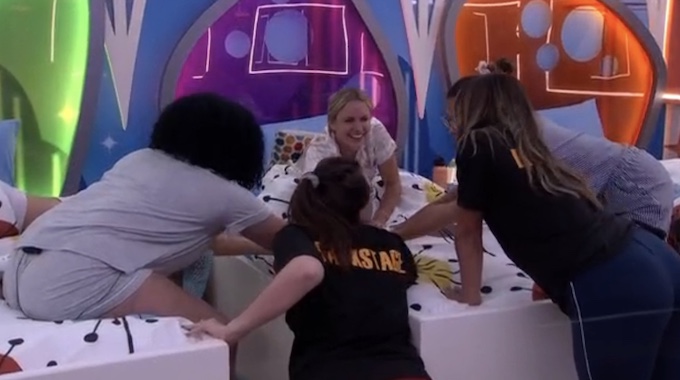 Last night we kicked off Big Brother 24 with 16 brand new houseguests moving in! After everyone was in and the Head of Household Competition took place, the Big Brother houseguests were able to get to know each other. We got to see some bonds form and even got to see a large group of women form an alliance. Keep reading to find out which were included and who was left out of the first official alliance of BB24!
Last night we watched a conversation between Paloma, Alyssa, Brittany, Jasmine, Indy, and Ameerah. The small talk turns into a conversation about how they are all "girls, girls" but Paloma mentions that she isn't getting a good vibe from Taylor. They all talk about how Nicole doesn't vibe with the other girls and has been hanging out with the guys a lot.
Alyssa tells them that if they are planning on doing this, they have to pay attention to who spends time with all the guys because they are strong. She mentions that the guys are strong and Paloma adds that they need to have some of the guys on their side so they don't pick off their alliance one by one. Jasmine told everyone that if they are going to work together, they need to stick together and have each other's backs. Everyone else agrees.
Paloma says that they have to make side alliances, but this is the core group and they have to report back. At 3:53 AM BBT on cameras 1 and 2, the six girls made their "Girls Girls" alliance official and quickly dispersed to avoid getting caught by the other houseguests.
What do you think of their decision to not include Nicole and Taylor in their alliance? Do you think that will help or hurt them?
Download our Big Brother App, join us on Facebook & Twitter, and get our Email Updates for more!