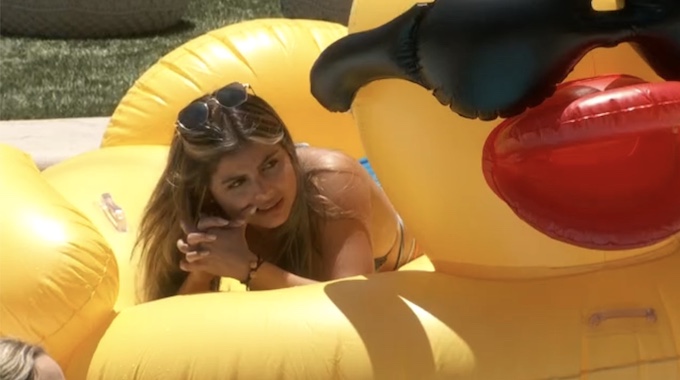 Last night on the Big Brother 24 live feeds, we watched as an all-girls alliance formed, but two of the women in the house were left out of this alliance. Today on the Big Brother live feeds we got a look at a newly formed F2 and some idea of what Daniel might want to do with his nominations this week.
If you've got the Live Feeds (Free Trial) then you can watch all of these moments with the Flashback feature to go back and watch those important conversations or funny scenes you may have missed.
Big Brother 24 Live Feed Highlights – Thursday, July 7, 2022:
7:40 AM BBT – Monte is up roaming around the house, everyone else is still sleeping.

8:30 AM BBT – Brittany is up helping Monte clean the kitchen.

8:40 AM BBT – Jasmine is now up talking to Brittany and Monte in the kitchen. Daniel is also up and moving around the HOH room.

9:15 AM BBT – The rest of the HGs get their wakeup call.

9:20 AM BBT – Ameerah tells Paloma, Alyssa, and Jasmine that she thinks Michael is going to be their in when it comes to getting into the guys group.

10:30 AM BBT – The HGs are all hanging out getting to know each other.

11:00 AM BBT – Ameerah and Alyssa are talking in the storage room about not being able to read Daniel. Ameerah hopes that she isn't the first one on the block. Alyssa suggests that Ameerah goes to talk to him first.

11:15 AM BBT – Ameerah tells Paloma that she doesn't think that anyone knows anything about the alliance.

11:18 AM BBT – Ameerah and Paloma talk about wanting to rename the alliance. Ameerah also tells Paloma that they need to start including Brittany in their conversations. She adds that when Brittany came into the bathroom earlier, they stopped talking. Says it wasn't intentional.

11:22 AM BBT – Paloma and Ameerah say they don't trust Indy.

11:47 AM BBT – Ameerah is in the HOH talking with Daniel and he is asking for strategy ideas. She tells him that people who are good physical players are going to be harder to take out later in the game.

11:50 AM BBT – Ameerah tells Daniel that she thinks she can get all the girls to back him up if he wants to get someone strong out. He asks who she is vibing with and she tells him Paloma and Alyssa. Daniel asks what she thinks about Indy and she tells him that she isn't sure if she trusts her and Daniel agrees.

12:00 PM BBT – The HGs are all waiting for the backyard to open. They have been told they will have it for two hours.

12:05 PM BBT – Daniel and Nicole are talking in the storage room. Daniel proposed a F2 and she says she's down.

12:25 PM BBT – The backyard opened. On their way out, Ameerah tells Paloma that they need to talk later (likely about her conversation with Daniel).

1:15 PM BBT – Daniel and Pooch are speculating on how the Backstage Boss twist could end up playing out.

1:17 PM BBT – Pooch and Kyle are talking about putting together a guys alliance and wondering which girl they might be able to bring in. They agree it should be someone strong and both mention Nicole's name. Cams cut to the yard.

1:45 PM BBT – BB tells the HGs that they have 30 minutes left in the backyard.

2:20 PM BBT – The HGs are called back inside.

2:45 PM BBT – Nicole and Daniel promise to be each other's number one in the house. Nicole asks if anyone has come to him and he tells her just Ameerah. Nicole can't believe that no one else has come to him. Nicole tells Daniel that she thinks she walked in on Monte and Joseph talking in the storage room.

2:50 PM BBT – Nicole and Daniel are speculating that the HNs are in an alliance because they all volunteered and Michael was asking if he could hear anything from the HN room. Nicole reiterates that she is surprised no one else has come to talk to Daniel.

2:52 PM BBT – Daniel and Nicole call themselves From Rats to Riches with them being the Rogue Rats (the core).

3:00 PM BBT – The HGs are all in the kitchen eating lunch and chatting.
Daniel does seem to be leaning towards Ameerah's idea of going after a strong competitor this week, but which one will it be? Ameerah gave him the idea of putting a pawn up with whoever he chooses to put on the block and if the strong player takes themselves down, they can put another strong player up in their place. Monte's name has been thrown around a little bit, however, now that Nicole and Daniel are working together and she's close with Monte and Terrance, that idea could go out the window.
Looks like the Nomination Ceremony will be taking place tomorrow, so make sure you come back tomorrow for our nighttime feeds highlights to find out if Daniel solidifies his plan!
You can watch all of these Big Brother events using the archives Flashback, the DVR-like feature of this year's Live Feeds which means it's always live, even when you missed it! Sign-up now to get the free trial to watch it all live & uncensored.

Gallery: Live Feeds Highlights
Download our Big Brother App, join us on Facebook & Twitter, and get our Email Updates for more!