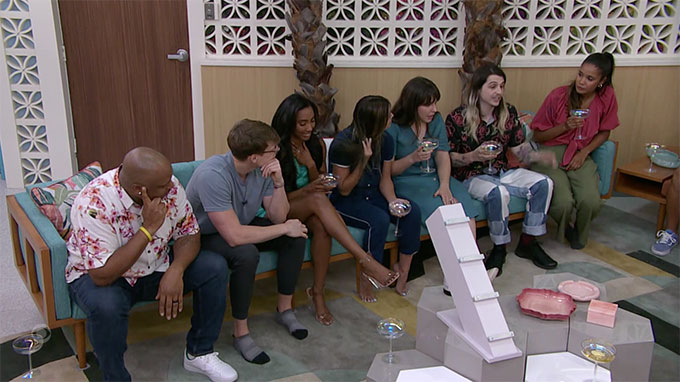 Big Brother 24 kicked into gear Sunday night as the first Head of Household of the season set his sights on another superfan, while another houseguest decided she was going to spend all of her energy going after someone for no legitimate reason.
The episode picks up after the Elvis impersonator Daniel won the HOH competition. And then we immediately get a bro-session, which is pretty typical Big Brother. 
Meanwhile, the Backstage Pass players, picked by Pooch (Alyssa, Brittany and Paloma), are panicking and wondering exactly what this will mean for them. Don't worry, HGs, we are all wondering that as well. I'm starting to think Big Brother isn't even sure exactly what that twist means yet.
We also get to see superfans Michael and Brittany lying to each other about their actual professions. He tells her he works at an escape room instead of admitting he's an attorney. She tells him that she is a toy tester instead of a clinical hypnotherapist. 
And then, with some champagne, they all get to know each other a little more and pretend like they're all going to love each other all summer. 
It doesn't take long for Daniel to call the players in to a meeting about the first have-nots of the season. And BB has given Daniel the task of naming the have-nots. But Michael volunteers to do it. He thinks it would be an easy way to gain favor with Daniel. Joseph, Kyle and Monte also volunteer. So Daniel doesn't have to make his first decision as HOH himself (which you will see will become a theme of his HOH reign). 
And then the alliances start to form. Daniel and Nicole make a Final 2 based on basically nothing. He tells her that the minute saw her walk into the back yard he knew she was going to be his Final 2 whether she likes it or not. And she agrees. She tells us in the Diary Room that he is her ride or die. And they agree that their duo name will be the Rogue Rats. 
The Rogue Rats agree to keep their thing super down low and not be seen together. And we know that almost never works unless you're Danielle Reyes and Jason Guy. 
And then Paloma and Alyssa bond over being a part of the backstage pass girls, sleeping in their makeup, and both being scorpios. They make their Final 2 also based on very little. OK, it's based on a little more than Daniel and Nicole, but not much more.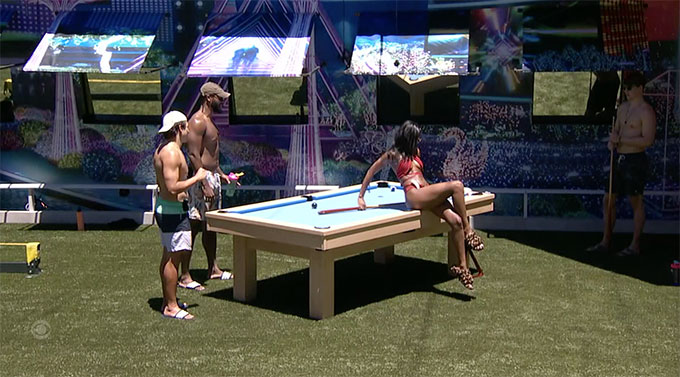 Meanwhile, Taylor is working on bonding with the guys because she knows that the guys tend to team up on Big Brother. But the Scorpio Sisters, particularly Paloma, take notice and Paloma tells us via the diary room that Taylor's digging a hole for herself. Keep in mind, this is all after less than 24 hours in the house.
And then all the girls get together and realize that two women are missing — Nicole and Taylor. Nicole is off on her own and Taylor is upstairs with the men. So they dub Taylor "pageant girl" and start ganging up on her right away. And while bonding over disliking Taylor, the women decide to form that ever-elusive girls alliance. 
So just like that, Paloma, Alyssa, Jasmine, Ameerah, Indy and Brittany formed the Girls Girls alliance and Paloma's random vendetta against Taylor is on. 
Ameerah decides to be one of the first people to go talk to Daniel about nominations. She wants to get the strong men on Daniel's radar. So she tells him that the strong men volunteered to be have-nots just to try to keep themselves safe this week. And he buys right into it (part 2 of Daniel not making any of his own decisions this HOH). 
Unlike Ameerah, Michael, the superfan, decides to listen more and talk less. He decides his best bet is to lay low. He even prefaces his first talk with Daniel with "I don't want to bombard you …" Sometimes laying low can be good, sometimes not. Michael, as a superfan, knows it can go either way.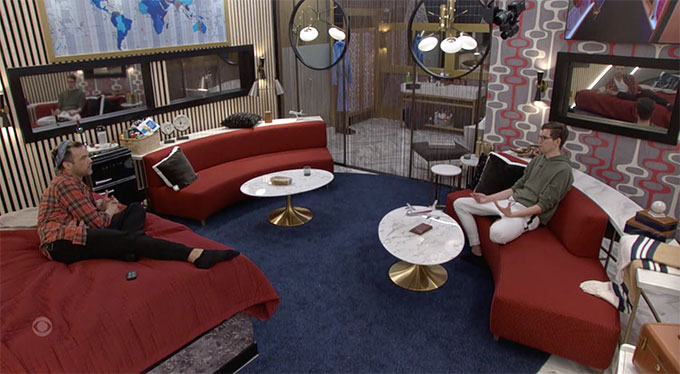 He decides to actually go talk to Daniel. It's pretty late the night before nominations, but he offers him a pretty good promise. He tells Daniel that if he spares him this week and Michael wins HOH next week, he will keep him safe. But he does throw in "I'm a big fan" and would hate to go home first. 
And Daniel lets us know that he isn't that interested in teaming up with another super fan. Daniel lets us know what he even noticed that Michael held the door open for the others when they went in because superstitious superfans know that if you enter the house first, you typically don't win. 
So from Ameerah's tip to Michael's superfan status, sounds like Daniel might have one of his nominations. But who will the other be? 
Paloma decides to go talk to Daniel about Taylor. As mentioned already, she has formed this really one-sided vendetta against Taylor and wants to persuade Daniel to go after Taylor. As you could tell from the lack of Diary Room footage from Taylor, this whole thing is very one-sided and arguably unwarranted.
We also get Terrance and Jasmine discussing who the nominations could be. Terrance is feeling a bit of an outsider because of his age and he doesn't want to talk game right away. So there's your next hint. Let's get to the nomination ceremony and find out. 
Daniel nominates Terrance and Michael for eviction.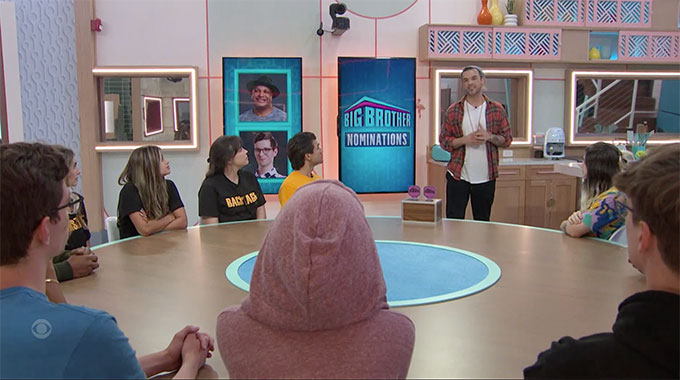 Be sure to head back here Wednesday night for our recap of the Power of Veto episode. And if you don't want to wait to find out who won the veto, be sure to check out our Big Brother Power of Veto Spoilers.
Want more Big Brother? Get our Big Brother App, join us on Facebook & Twitter, and get our Email Updates!