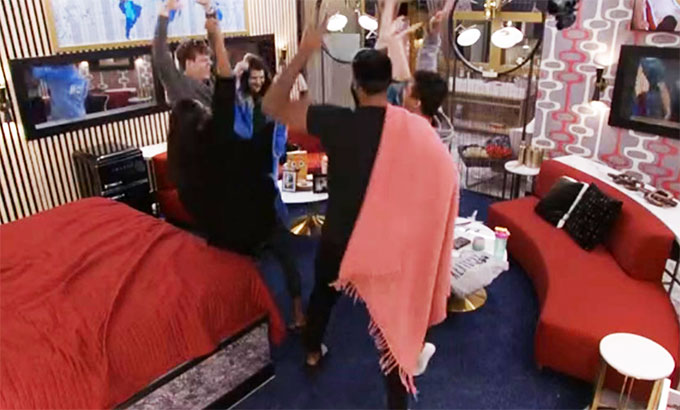 Normally on Mondays, we deliver a Big Brother 24 alliances and deals update, but today we are going to focus on one major development that happened over the weekend: The formation of The Leftovers alliance.
As you might have seen on Sunday night's episode, Turner became the new Head of Household, and immediately fellow houseguests began pushing for Taylor to be the target. Nicole was so into that idea that she chose Taylor as her "Festie Bestie" to make sure it would happen (and to hopefully get some kind of reward or power if Taylor is voted out).
SPOILERS AHEAD
So the plan was set into motion when Turner nominated Brittany and Michael, with Nicole and Taylor as the replacement nominee option. Everyone playing veto would focus on winning it to take down Michael and Brittany and put up Taylor and Nicole. And if Nicole and Taylor were chosen to play (spoiler: they were), Nicole would throw it.
But then Joseph and Kyle started thinking this all through. Turner wanted to get revenge on Pooch, so why go after Taylor. Ameerah, Daniel and company tried to pin the Pooch flip on Taylor, but that lie didn't gain much traction. Turner, Kyle and Joseph knew better and started thinking about going after Ameerah instead. So then those guys got with Monte, and they all started putting two and two together, and everyone realized that Taylor was never lying about the Paloma stuff, and also realized the girls have been going after Taylor for no real reason.
So the plan was hatched for those guys to pull in Taylor, Michael and Brittany to form a new alliance and go after Ameerah this week. And so The Leftovers were formed. Jump ahead to the veto competition, Brittany and Michael won. So the plan today is for Michael and Brittany to pull themselves off the block, and Turner to name Ameerah and Terrance as the replacements, with Ameerah as The Leftovers' target.
So let's recap. Most of the house relationships are the same, but The Leftovers will certainly change the dynamics. That group consists of Turner, Kyle, Joseph, Monte, Taylor, Brittany and Michael.
What do you think of this new alliance and their plan to save Taylor and target Ameerah and her side of the house?