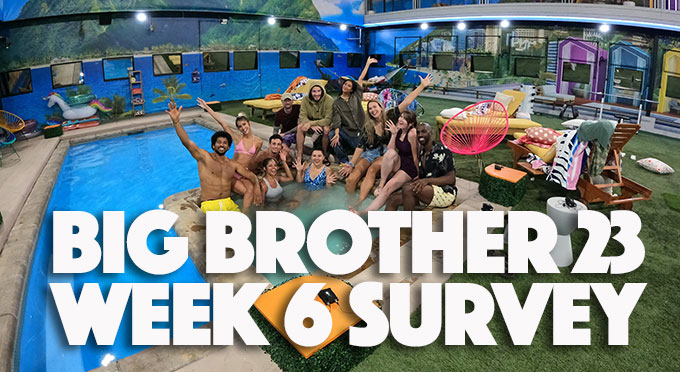 The Big Brother 23 Week 6 Survey results are in! And once again, Derek X took the No. 1 spot as the favorite houseguest. This week Derek X also took away the best player top spot from Tiffany, who dropped for the first time this season, to third place.
In the favorite houseguest poll this week, Tiffany also dropped from second to fourth. Xavier jumped from fourth to second and Hannah held on to her 3rd place spot. It looks like Xavier's Diary Rooms are helping him out, and Tiffany's aggressive gameplay is hurting her popularity. For some reason, a large number of BB fans can't stand to see a strong woman play this game, which is sadly a reflection of real life as well. But this isn't an op-ed, so let me move on from that. The top for percentages were: Derek X, 65.5 percent; Xavier,  25.2 percent; Hannah, 25.1 percent; and Tiffany, 24.3 percent.
At the other end of the poll are the evicted houseguests. It looks like our readers aren't petty enough to vote them above people still in the house like they do in other polls. And the very bottom are Brent, Whitney and Frenchie, all with very few votes, but even less than Travis.
Now let's look at who you think is playing the best game. As I mentioned, Derek X took the spot away from Tiffany this week, who had held onto it all season (see my mini rant above). Derek X finished with 34.2 pecent, followed by Xavier with 20.5 percent. Tiffany finished third with 14.5 percent, while Hannah rounded out the Top 4 with 10.4 perfect.
At the bottom of the heap, as far as gameplay goes were Azah in last, just below Britini and Alyssa.
This week, it looks like our readers are also ready to send Derek X 100 more BB Bucks. He won that poll with 47.9 percent. Tiffany came in second with 7.4 percent, and Xavier finished third with 7.2 percent. So based on this poll alone, those would be your 100 BB Bucks winners right there. But we can't tell for sure since Derek F won 100 last week. At the very least, Tiffany and Xavier will likely score 75 again this week.
And the season still seems to be going well for many of you, as the overall rating of the season is at 4.5 out of 5 once again.
For all the rankings and changes in the rankings, check out our full graphic below.
Click to view larger