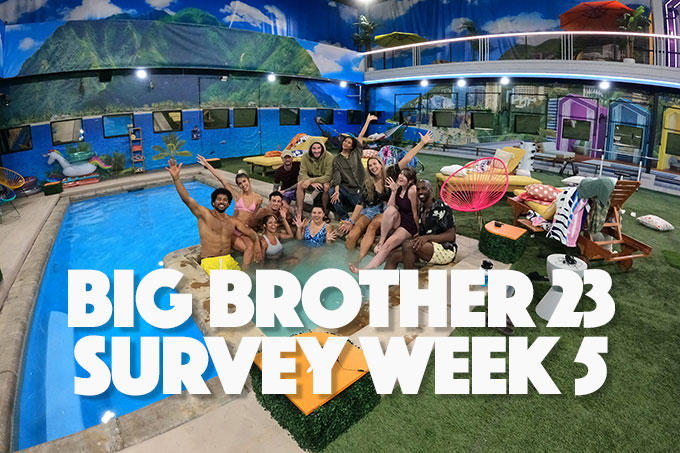 The results are in! For the third week in a row, Derek X is the favorite Big Brother 23 houseguest! And for the fifth week in a row, Tiffany takes the prize of the houseguest playing the best game.
Our newest poll asked our readers who they would vote for to receive a power next week if that is what the twist Julie recently mentioned entailed. Derek X also took that honor in our poll. Let's take a closer look at the results.
Derek X finished out the popular houseguest poll with 58 percent of the vote, followed by Tiffany with 39.5 percent. Hannah came in third with 28.4 percent, and Xavier was fourth with 23.5 percent. At the bottom of the list are all evicted houseguests. Travis is back at the bottom this week with .9 percent. Brent is only slightly better with .11 percent. Frenchie is the third lowest with 1.5 percent. The least popular houseguest still in the house is Alyssa.
As for who's playing the best game, Tiffany finished first with 42.4 percent, followed by Derek X with 24.1 percent. Xavier was third with 14 percent of the vote, while Hannah rounded out the Top 4 with 6.4 percent of the vote. On the other end, we've got Azah in last place with only 0.5 percent of the vote. Britini and Sarah Beth are the other two bottom players with .6 and .7 precent respectively.
As for who you would give your a power to this week, as I already mentioned, Derek X won that one and he did so with 33.1 percent of the vote. Hannah came in second with 11.3 percent, followed by Tiffany with 10.8. Sarah Beth finished fourth with 9.6. Christian came in dead last, of course, since he is the person expected to be evicted this week.
We also asked what you think of Big Brother 23 so far, and this week the rating rose a bit to 4.7 percent out of 5. Not bad.
Be sure to check out our survey graphic below to see where all your favorite and least favorite houseguests placed in the polls.
Click to view larger