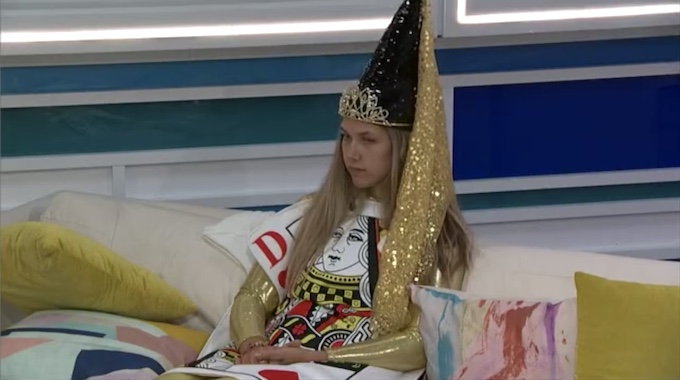 It is Week 5 of Big Brother 23 and it wouldn't be a season without some kind of punishment costumes! This past Saturday, the Big Brother 2021 houseguests competed in a prizes and punishments Power of Veto Competition. Derek X, Claire, and Kyland were all recipients of punishment costumes and we have all the details of what they entailed.
The first costume, which we have already touched base on was Derek X's "Lord of the Latrine" costume. For 24 hours, the bathroom had to stay locked and any time the HGs had to use it, DX had to unlock it for them. He then had to blow a horn and announce that the HG was using the porcelain throne.
The second costume punishment is for Claire and her costume is a 52-card costume and she will have to wear it for an entire week. Any time production prompts her, she has to throw a deck of cards into the air and play a game of 52-card pickup by herself. On Monday's live feeds, we got to watch this happen in the backyard while she was mid-conversation with Hannah and Tiffany and in the living room while Xavier was relaxing. Claire has to stay in this costume for the duration of the week.
The third costume punishment is for Kyland and he is dressed as a donkey and this punishment is also for a week. When prompted, he has to go to the storage room, grab a recipe for a club sandwich and all the items. He then has to make a sandwich for the specified houseguests, this includes the Have-Nots when he is prompted to make them for everyone. Kyland can take his costume off in between tasks if he chooses.
Check out some of the screengrabs of the HGs in their costumes in the gallery below!
Gallery: Costume Punishments
Download our Big Brother App, join us on Facebook & Twitter, and get our Email Updates for more!