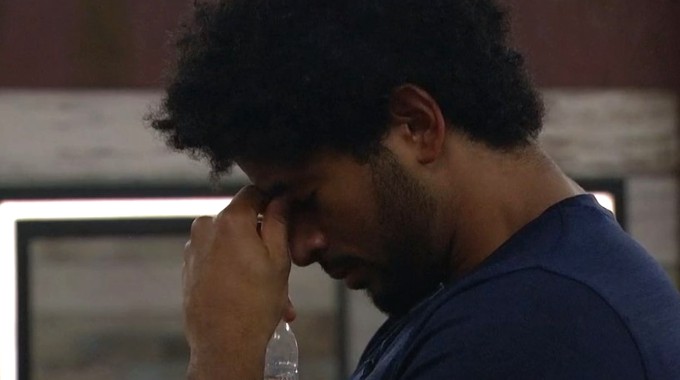 We've nearly reached the end of our Big Brother spoilers for BB23 with just five episodes left in the season and four, soon to be three, Houseguests left in the race for the $750K prize, the biggest ever in the series. Time to find out who is making the crucial wins in Week 11 and if you missed Friday's special broadcast then you might need to catch up on these results. Read on for all the latest BB23 spoilers!
Head of Household Comp:
With Azah as the outgoing HOH she had to sit on the sidelines as Xavier, Kyland, and Derek competed for the role of new HOH. We saw this playout as a CBS tie-in for their CSI series return and HGs had to find clues to match up and win the comp. Xavier tore through it and won HOH which also secured him a spot in the F3.
Read more on who won HOH in Week 11 >>
Nominations:
Not many options here and it didn't particularly matter with the Veto waiting in the wings. Three HGs to pick from and two had to hit the Block. Xavier sent Kyland and Azah to the Block and as it turned out that was intentional for the purpose of potentially forcing some blood onto DF's hands. If Noms were to stay the same then he'd be responsible for that last regular eviction.
Read more on who was nominated in Week 11 >>
Power of Veto Competition:
It all came down to this for Kyland's game. If he won then he'd move on to F3, but if not then the odds did not look good for him. This competition was the return of the days & events theme that all HGs study all season every season. One year I wish they'd skip this stuff just to throw them, but not this year. Now the winner is set and our F3 looks more certain.
Read who won the Veto in Week 11 >>
Power of Veto Meeting:
Ahh, the F4 week of Big Brother. No typical Veto Meeting this time around so don't watch for the ceremony to happen on Monday. Instead, the HGs will face this situation on Thursday's live show. There's just one vote and the Veto holder or his designee will be making that eviction decision all in one swoop. Right now Xavier isn't promising Kyland safety nor is he upfront denying it but it sounds like Kyland is toast. We'll know for sure on Thursday!
What do you think of this weekend's Big Brother spoilers? Are you happy with the results or did you want someone else to pull off the wins? If you have our Big Brother App then you received alert notifications as these results arrived. If you don't have it, then be sure to download our app now!