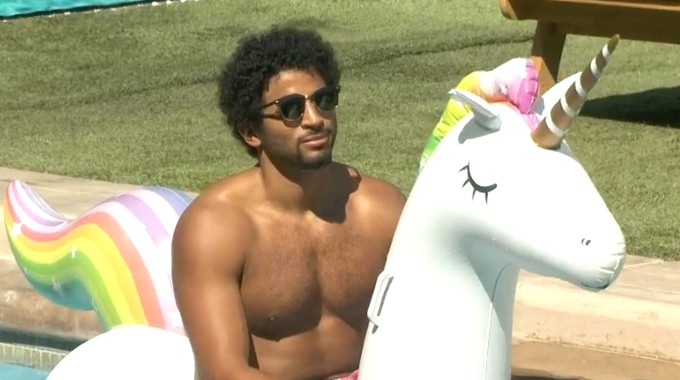 There isn't much left to do for Big Brother 23 Week 11 as the Veto is settled and the next decision to be made is on Thursday night. A sole vote will set the season's Final 3 and launch the endgame of BB23 with three final competitions. But first, we need to figure out which HG is heading to Jury at F4. Lots of assurances being passed around in the house these last few days, but you can't keep your word to everyone when someone must go! Read on to find out what the HGs discussed on Sunday.
Try Live Feeds 1 Week Free! Sign-up now!
If you've got the Live Feeds (Free Trial) then you can watch all of these moments with the Flashback feature to go back and watch those important conversations or funny scenes you may have missed.
Big Brother 23 Live Feed Highlights – Sunday, September 19, 2021:
10:20 AM BBT – HGs get their wake up call.

10:30 AM BBT – Xavier lets Azah and DF know his plan is to do meetings today. He plans to minimize the talk with Kyland because Ky feels okay with DF doing the voting and he (X) doesn't want Kyland getting worked up.

10:40 AM BBT – DF and Azah discuss how Frenchie talked about wanting to go far with women and minorities but then he nominated both. DF blames that on Xavier for not keeping tabs on Frenchie on the second day when Brent got in his ear.

11:05 AM BBT – Xavier tells Kyland he should be good but he won't know for sure until it's over. Xavier says he'll have to pretend to Azah like he's considering using the Veto on Kyland since Kyland saved him before.

11:55 AM BBT – HGs hanging out in the kitchen and chatting about the other HGs in light discussion.

12:15 PM BBT – Xavier tells DF that if he (X) cuts Kyland then that guarantees DF a spot in F2, so he (X) needs reassurances that DF can beat Azah in the F3 comps or else she could knock him (X) out and DF goes to F2 anyway. Derek is confident he can beat Azah.

12:50 PM BBT – Xavier and DF discussing the Cookout and how Azah contributed the least. Xavier feels more confident that they can beat Azah even though she could always pull a surprise win.

1:00 PM BBT – Xavier feels he is guaranteed F2 if he keeps Kyland, but riskier if he keeps Azah.

1:30 PM BBT – Kyland has come outside to exercise. DF is still lounging in the backyard too.

2:25 PM BBT – Xavier, DF, and Kyland are hanging around the pool. They start arguing over whether or not to answer the phone when it rings.

3:10 PM BBT – Azah joins the guys by the pool as the chatter continues.

4:10 PM BBT – Xavier and Kyland rehashing the week that they got DX out while some of their group pushed to keep DX another week. Xavier was frustrated by those that were willing to risk it and keep him longer.

4:25 PM BBT – DF and Xavier discussing again why they should not take Kyland to the end. DF says Kyland won't commit to previous promises he made with him.

4:50 PM BBT – Xavier, Kyland, and Azah hanging around the pool table chatting. They're discussing which of them were the best at playing pool.

5:55 PM BBT – Derek learns from Xavier that his vote will be in front of the HGs. He's surprised. Derek starts working on his speech and discusses how he has to pick between his best friend and his showmance.

6:00 PM BBT – Xavier questions Derek on if he had expected to play the whole season without getting blood on his hands. Derek admits it would be foolish not to send Kyland out.

6:10 PM BBT – Derek worries that Kyland will hold a grudge. Xavier assures Derek that the Jury will be impressed by the move.

7:20 PM BBT – Derek is giving shoutouts as he lounges in the backyard.

8:40 PM BBT – HGs are gathered for dinner. Azah cooked wings.

10:55 PM BBT – Xavier camtalking that he needs Kyland out so he doesn't get in DF's head.

11:00 PM BBT – X says he's starting to worry about DF's commitment to voting out Kyland. He's considering saving Azah so she takes the shot at Kyland. Xavier says he does not trust DF anymore.

11:05 PM BBT – Xavier goes to talk with Azah about whether or not DF will vote out Kyland. He doesn't understand the challenge to DF on doing this simple thing. Azah says she's competing for either third or first because DF is getting second.

11:30 PM BBT – Kyland moved to the HN room and is camtalking with shoutouts. He starts discussing the season and how things played out.

11:40 PM BBT – Kyland thinks Xavier won't want his nephew to see him (X) make a cowardly move like cutting Kyland now.

11:55 PM BBT – Kyland has been going over the votes and realizes he'd likely lose to Xavier in Jury votes even if both get to F2. He sees it best as 4-5, losing to X, or maybe even 3-6 of a loss.

12:10 AM BBT – Xavier, DF, and Azah having a little Kyland-bash session. DF is worked up about his argument earlier with Kyland and Xavier is fanning the flames.

12:20 AM BBT – Xavier tells Azah and DF that Kyland finds their soft spots and attacks them.

1:00 AM BBT – HGs are winding down and getting ready for bed.
Xavier is worrying about DF doing the right thing but I'm expecting DF to follow through and take care of it by voting out Kyland. But if X keeps feeling worried he could always make the switch and let Azah do it without fear. Of course that'll make things a little sloppier for X which he'll want to avoid. We've got 3.5 more days before it's time to make that happen though.
You can watch all of these Big Brother events using the archives Flashback, the DVR-like feature of this year's Live Feeds which means it's always live, even when you missed it! Sign-up now to get the free trial to watch it all live & uncensored.


Gallery: Live Feeds Highlights
Download our Big Brother App, join us on Facebook & Twitter, and get our Email Updates for more!