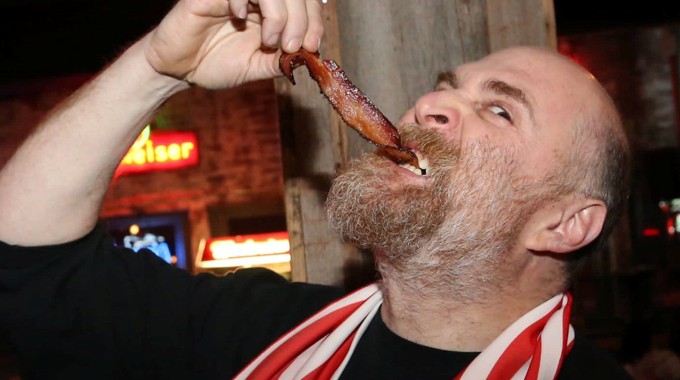 Just as a heatwave is going on all over the country, the game is really starting to heat up inside the Big Brother house. The cracks in the Cookout alliance started to get bigger and we are close to it breaking down altogether. There is a classic "Backdoor" going on – but even that showed signs of falling apart. This is what we, as fans, love so much about this show. When great plans fall apart and get messy along the way. The next HoH could really put the house into a frenzy as people are all loading up their guns and looking to take big shots!
BUT FIRST – let's take a look back at everyone's gameplay this past week on Big Brother 23.
Britini D'Angelo – 5 strips of Bacon – I say it every time – the best feeling in the BB Game (other than winning it all) is winning the Veto when you are on the block. Britini FINALLY won something and it could not come at a better time. While she was only a pawn, again, actually winning the Veto this week gave her some added confidence moving forward. Sure – she still does not have as many ties as others, and will always be an easy pawn – but Britini slept pretty well these last couple of nights.
Hannah Chaddha – 4 strips of Bacon – with all of the drama this week going on Hannah seemed to avoid most of it, or at least not get dragged through it and is probably in the best spot of all the Cookout alliance right now. In addition – the way she handled Christian when he was campaigning to the girl he nominated last week was very mature beyond her years. This is what we are seeing from her lately and could lead to more weeks at or near the top of the rankings.
Xavier Prather – 3 strips of Bacon – staying cool calm and collected is what we have grown to expect from Xavier and we are seeing him trying to hold all the strings together for the Cookout as well as the former Kings team. Obviously one of those strings is going to be gone this week and Xavier is probably losing a big shield. This is not what he wants to do – but he cannot speak out too much and will have to just play along.
Christian Birkenberger – 3 strips of Bacon – yeah yeah yeah, he's most likely leaving tonight – but not without a fight. If this was an earlier Big Brother season, his amazing campaigning could have led to a flip of the vote. Unfortunately in the new era of BB – "going with the house" and "honoring the HoH" – he's a goner. Let's see if he has any last second magic he can pull off
Claire Rehfuss – 2 strips of Bacon – not a floater, not a coaster, not a coattail rider – but also not a target & not a pawn – Claire seems perfectly content playing Switzerland at the moment. As others are firing shots at each other – she is just having a leisurely stroll for the moment.
Azah Awasum & Derek Frazier – 1 strip of Bacon each – good for these 2 for finally seeing through Tiffany's game. And not just seeing through it – but also for not being afraid to confront her about it. For any alliance to work – they all need to be on the same page and Derek realized that Tiffany wanting them to tell Christian they were voting him out benefitted her more than them. If the Cookout splits – these 2 would be on their own – and are probably not going to be able to surround themselves with as many stronger players. But for now – let them eat bacon!
Kyland Young – 1 strip of Tofu – while he may not have had as bad of a week as some others, Kyland is no longer that nice guy we saw the first couple of weeks. His friendship with Sarah Beth is starting to make people suspicious. He's still sitting pretty for the moment, but each week it seems like he is trending downward.
Derek Xiao – 2 strips of Tofu – just when we thought Derek X was coming into his own as a Big Brother strategic player – Derek was completely manipulated this week and may have hurt his game too much to come back from. He will need to rely on his ability to win comps moving forward as this "big move" could spiral his game downward.
Alyssa Lopez – 3 strips of Tofu – as a HUGE BB fan – Alyssa should have known when making a deal in an HoH, if you are in a showmance, ask for safety for them as well. Her leaving Christian out of her deal is what may have sealed his fate. She is now going to be an easy target for many and wont have her shield to protect her. However – we may see her slip into the background depending on the implosion of the Cookout.
Sarah Beth Steagall – 4 strips of Tofu – SB's aggressive push to get Hannah out last week is still causing major ripples in her game. That is what got her nominated this week and now she will not be able to shake that stink off her moving into the next stage of the game. Sure – her campaigning was not really necessary as her fate was more depending on what people want to do with Christian. But she also could have used this time to reshuffle her cards and start something else to get her some safety.
This brings us to the Tofurkey of the Week – and that goes to Tiffany Mitchell The masterful game Tiffany had been playing so far hit a few speed bumps this week and I'm not really sure if she can repair it. She got too confident and got a little sloppy when she blurted out the Royal Flush name in front of Hannah – and did not even realize it when called out by Hannah. Then her tone & demeanor when talking to Azah & Derek F was very off-putting. Juggling all those balls at the same time is dangerous and while we are not quite at the #TiffanyExposedParty yet – that may not be too far away.
Well now that was a fun week of Big Brother – and who knows where this house will go from here. Regardless, we are in for some more laughs, tears, fights, and triumphs as the last pre-jury person will be evicted, and a new twist will be introduced tonight.
My question of the week is – at this point in the game – who do you think is in the best position to make a run for the title of Winner of Big Brother 23?
Let me know what you think of my rankings and the answer to my question of the week in the comments section below. From outside the Big Brother House, this is Adam Poch reminding you, ignorance is temporary, stupid is forever.
Catch me here every week during the BB season for my rankings. If you want more of my thoughts during the season. follow me on Twitter @HeavyMetalTeddy – and listen to my Podcast – @BigBrothersPod.