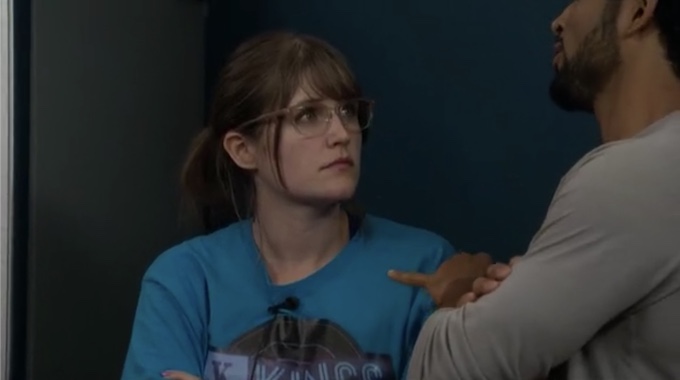 We kicked off Week 8 of Big Brother with Tiffany winning the Head of Household competition after Derek X was evicted from the Big Brother house. Now it's time to find out who Tiffany is planning to nominate, even though her HOH could end after the High Roller's Room twist takes place later today. Don't forget that this plan will also include Xavier on the block as a third nominee on Big Brother 2021.
After Derek X was targeted by Sarah Beth last week on Big Brother and Claire ended up on the block two weeks in a row, Tiffany made it quite clear that she would be going after SB if she won the HOH. Now that she has won the HOH, her plan has not changed and SB knows that she could be in danger this week, but she has been trying to shift the target to Alyssa.
During Tiffany's first talk with SB, she told her that there are two strong duos in this game, SB & Ky and Alyssa & Xavier. Tiffany tells her that she feels like the strong duos are targeting the weaker players (Tiffany, Hannah, Azah, and Claire). She tells SB that she doesn't know how far she will get in this game if these strong duos are still together in the house. She tells SB that she knows that if she or Claire didn't win this week, they would have ended up on the block.
In her second conversation with SB, she threw Alyssa and Xavier way under the bus trying to take the target off her. SB tells Tiffany that she is worried about where Xavier's head is at and because of that she doesn't have any loyalties to him. She reminds Tiffany about how Alyssa tried to pin Hannah and SB against each other, how Alyssa campaigned against her when she was on the block next to Christian even though she said she wouldn't, and more.
After her conversation with SB, Tiffany spoke with Kyland. She told him that regardless of SB's attempt to throw Alyssa and X under the bus, she has to put SB on the block and he is going to be the one sitting next to her. This solidified her plan to plan to put Kyland and Sarah Beth up with Xavier as a third nominee to start off the week. Make sure to check back later for confirmation on this week's noms a little later today!
Download our Big Brother App, join us on Facebook & Twitter, and get our Email Updates for more!