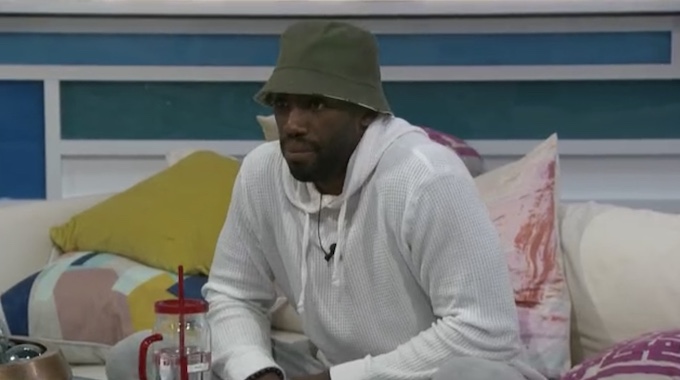 Now that the Wildcard Competition has been played inside the Big Brother 23 house (Wildcard spoilers here), it's time for this week's Head of Household to figure out their next step. There have been some talks inside on the Big Brother live feeds about who could see their pictures pop up on the Memory Wall at this week's Nomination Ceremony. Read on to find out which Big Brother houseguests could be in trouble!
Towards the end of last week, the Big Brother houseguests talked a lot about who they would target if they won this week's HOH competition. Now that Xavier is officially in that spot, we are starting to get a pretty good idea about what his plans are for this week. Brent has been a popular option for most of the HGs and Xavier is fully prepared for his name to be thrown out there by almost everyone in the house. Much like Frenchie's name was last week during Kyland's HOH.
Xavier is okay with taking a shot against Brent this week, but he wasn't sure who he was going to put up next to him. There were also talks about whether or not he would put him up at the Nomination Ceremony or backdoor him at the POV Ceremony.
Whitney's name has been thrown around a lot as a possible nominee. Even though she has been throwing Brent under the bus, some people don't trust that she wouldn't feel obligated to save him if she won the POV. Putting her up would eliminate that possibility altogether.
Another name that has been thrown out there is Britini, but Xavier has said that he would prefer not to use her if he can help it. However, considering the number of allies he has in the house, he doesn't have many choices. And sure enough, the more talks he's had this afternoon the more it sounds like Xavier will be using Britini as the pawn. Well that should be entertaining for us and stressful yet again for Britini.
The fun part is in this latest talk between Xavier and Derek X, they talked like trying to convince Brent that Britini being the target was his (Brent's) idea and that Brent is on the Block as the pawn just to play in the Veto comp and help them secure her eviction. Oops!
Who do you think Xavier should put on the block next to Brent? Do you think that Brent should be given the chance at competing in the POV or should he be backdoored? Be on the lookout for confirmation of this week's nominees!
Download our Big Brother App, join us on Facebook & Twitter, and get our Email Updates for more!