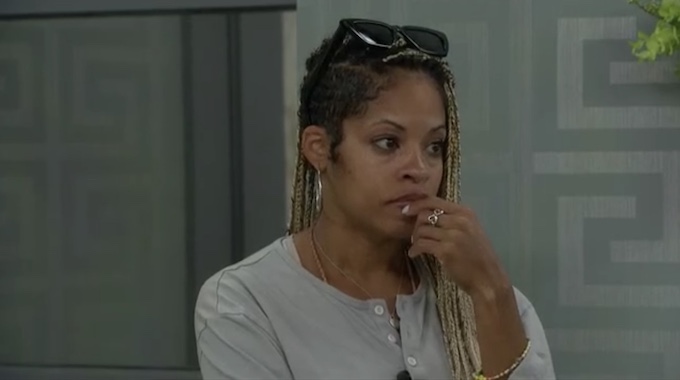 It is Veto Day inside the Big Brother 23 house and the houseguests are up nice and early in preparation for this week's visit from Zingbot! All but two Big Brother 2021 houseguests will be playing in this week's Power of Veto, but that isn't going to stop Zingbot from roasting them all. It's going to be a fun day for the Big Brother HGs for sure, but let's find out what the plan is for this week's Veto Competition.
Tiffany is the HOH and she has nominated Xavier and Alyssa for eviction this week with Alyssa being her target. Xavier is pretty perturbed that Tiffany won the HOH this week because it put her in a position where she didn't have to lose her number one this week as planned. Xavier was hoping to have Alyssa in the house one more week because that's what's best for his game, but here we are.
If Tiffany wins the POV this week, she will likely keep the nominations the same, this is what she is hoping for since she really doesn't want to have to expose her game and put Claire up. Alyssa will obviously use the Veto on her self which will force Tiffany to put Claire up. No matter how many times Xavier said that he wants to use the Veto on Alyssa just to blow up Tiffany's game this week, there isn't a chance that he saves Alyssa over himself if he wins the Veto later today.
That leaves us with the remainder of the house, we have Hannah who has told Alyssa that she would play for her if she gets HGs choice, however, she didn't promise to use it on her. Derek told Alyssa that he would try to win the Veto for Alyssa if he gets picked to play. Claire won't use the Veto if she wins it, but I'm sure most are hoping that she uses it on Alyssa to shake things up. As for Azah and Kyland, they will likely not use it either just to keep the Cookout a secret a little longer.
UPDATE: Players have been picked for this week's POV! Azah, Hannah, and Derek will join Tiffany, Xavier, and Alyssa in this week's Veto Competition.
Who do you want to see win this week's Power of Veto competition? Stay tuned for Veto Competition spoilers coming up later today!
Download our Big Brother App, join us on Facebook & Twitter, and get our Email Updates for more!