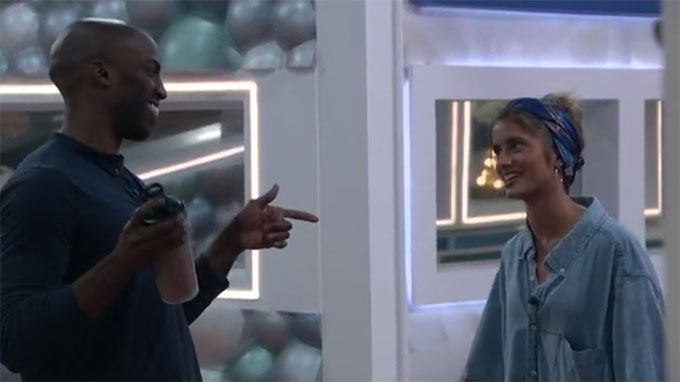 It was nomination day in the Big Brother house, and Tiffany's Head of Household reign continued to cause friction among the Cookout. Xavier just wouldn't let up on her winning this week, and he has even hatched a possible plan if he wins the veto. Read on to find out what Xavier is thinking, and if he's actually serious about the arguably dumb plan.
Try Live Feeds 1 Week Free! Sign-up now!
If you've got the Live Feeds (Free Trial) then you can watch all of these moments with the Flashback feature to go back and watch those important conversations or funny scenes you may have missed.
Big Brother 23 Live Feed Highlights – Friday, September 3, 2021:
4:47 PM BBT – Feeds return after nomination ceremony. Tiffany nominated Alyssa and Xavier.

4:50 PM BBT – Derek tells Xavier that he will win HOH next week and put up Tiffany and Claire. He says if Claire wins veto, he puts Hannah up and they will go from there.

4:51 PM BBT – Tiffany talking to the cameras says she has to win the veto so she can have all the power this week to be sure Alyssa leaves this week.

4:55 PM BBT – Derek says to Azah she knows who he's going for first when they get to the six. Azah tells him that Tiffany has a feeling she or Kyland will go first.

4:57 PM BBT – It's time to start preparing dinner.

5:06 PM BBT – Tiffany and Azah talk about the veto comp. Tiffany says she knows it'll be Zingbot, but the competition can't be in the backyard because it's open tonight.

6:08 PM BBT – Xavier is moping to Derek about Tiffany winning HOH again. Derek tells Xavier that Tiffany is nervous because he thinks she feels she'll be the first one of the six to go.

6:13 PM BBT – Derek asks Xavier if he thinks it's best for Tiffany or Kyland to go first. Xavier says probably Tiffany, and not just because of this week. He says if any of them sit next to her, they lose. Derek agrees.

6:14 PM BBT – Xaiver says Tiffany really made him mad this week. He says he doesn't know what he's going to do with the veto. he asks what Derek thinks happens if he wins veto and uses it on Alyssa instead of himself. Derek says not to do that to himself.

6:15 PM BBT – Xavier says if he wanted to put himself first like Tiffany and Kyland have, then he wins veto, pulls Alyssa off the block and that gives Tiffany the choice to put up Claire, which ruins her game, or put up another Cookout member, which also ruins her game. Xavier says seeing people playing for their own self-interest makes him want to F their game over.

6:21 PM BBT – Derek tells Xavier the best thing would be just to follow through with Tiffany's plan this week. Derek says it's not a big deal that Alyssa goes and Claire stays. He says they can win out and get themselves to final 3.

6:23 PM BBT – Xavier goes back to the thought of using the veto on Alyssa and making Tiffany put up Claire. Derek says that worries him.

7:50 PM BBT – Xavier tells Kyland that the evil side of him was thinking about using the veto on Alyssa and asked himself if he'd really go through with that, but he says probably not.

8:23 PM BBT – Derek tells Alyssa that he will try to win the veto for her.

8:36 PM BBT – Tiffany, Hannah, and Xavier are in the HOH room. Tiffany asks Xavier if he still wants to get to the end with her and Hannah. He says yes. She says that's good because today Derek wouldn't tell her anything and she didn't get a good feeling from that.

8:53 PM BBT – Tiffany and Hannah agree that they can't get rid of Kyland. Tiffany says they have to get rid of Derek first then Azah. Hannah says if Kyland wins he takes then over Xavier.

8:58 PM BBT – Tiffany says if Claire wins the next HOH, she can take out Derek then they can get rid of Claire after that.

9:10 PM BBT – Hannah warns Alyssa she could end up next to DF on the Block if Xavier comes down. Alyssa is surprised it isn't Kyland, but Hannah suggests maybe Tiffany has some deal with Kyland and it'd be good to keep a big target like Kyland in the game.

9:40 PM BBT – Hannah tells Alyssa that if she does end up next to Kyland then she (A) has her (H's) vote then plus Azah's and X's vote Alyssa could stay.

9:50 PM BBT – Alyssa pitches the idea of offering a F4 to Tiffany if she doesn't get off the Block. She'd include the two of them (Hannah & Alyssa) plus Tiffany and Claire since she see's T&C as another duo.

9:55 PM BBT – Alyssa says she needs to get close to DF because he'll be the swing vote.

10:11 PM BBT – Hannah and Claire agree that last week was slow and probably didn't get viewers the excitement that they want.

11:20 PM BBT – Hannah, Azah, and Claire are lounging outside discussing who might stay in touch after the season and who might date. They don't expect Christian and Alyssa to last long if they date.

12:15 AM BBT – Claire, Kyland, Azah, and Hannah chatting about past seasons and funny events from other years of Big Brother.

1:00 AM BBT – Tiffany, Claire, and Hannah talking about Zingbot as they anticipate his arrival tomorrow. They try to guess at their zings.

1:10 AM BBT – Hannah and Tiffany alone discuss how they can get to F2. Tiffany says she doesn't trust Xavier and thinks he'll take her out over options like Azah or DF.

1:30 AM BBT – Tiffany upstairs alone is camtalking and says she's focusing on the goal of getting out Alyssa and trying not to think about what could go wrong (having to expose herself to Claire). She's worried about the risk she took by winning HOH this week.

1:40 AM BBT – Lights out for HGs.
A lot hangs in the balance with Saturday's Veto comp as we await the Zingbot and the HGs will have to battle it out with Alyssa's game in the balance. Will she pull off the victory and throw a wrench in Tiffany's plans by forcing her hand to keep the Cookout? We'll find out on Saturday!
You can watch all of these Big Brother events using the archives Flashback, the DVR-like feature of this year's Live Feeds which means it's always live, even when you missed it! Sign-up now to get the free trial to watch it all live & uncensored.

Gallery: Live Feeds Highlights
Download our Big Brother App, join us on Facebook & Twitter, and get our Email Updates for more!